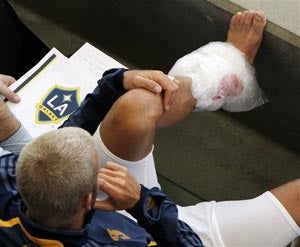 As people are still discussing whether or not David Beckham is really gonna help out the MLS that much, we pause for a moment for an empty moment of non-hype.
It looks, after all, like Beckham isn't even going to play tomorrow in the Galaxy-Chelsea exhibition — sorry; "friendly" — which is going to make the ESPN coverage rather, uh, awkward.
We remain in our stance that Beckham coming here is a good thing, though we will never quite understand the Posh Spice thing. People still care about the Spice Girls? Really?
Ticket Brokers Blue Over Beckham Sitting Out Against Chelsea [Sports By Brooks]