As we noted last week — and The New York Times observed Sunday — more and more athletes are reportedly suffering from mental issues.
In the last month alone, three baseball players have retreated to the disabled list with cases of social anxiety disorder. Some doctors — including Dr. Allan Lans, who called the diagnoses "a little off the wall" — are beginning to question the validity of these mental disorders, but these illnesses are not necessarily new among athletes. And as more athletes admit to their struggles with depression, social anxiety and burnout, recovery narratives are abundant.
Zack Greinke, Sports Illustrated
That's the game Bell and Baird grew up in. But on that February morning, they saw a young pitcher in pain, and they told him to go home and stop thinking about baseball. "There's business and there's personal," says Baird, now a special assistant with the Boston Red Sox. "And most times in the game, business comes ahead of personal. But I think in this situation, we were talking something bigger than business. There's right and wrong, and I don't think there was any gray area here."
G/O Media may get a commission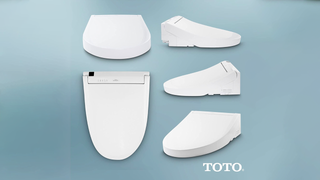 44% off
Toto Washlet Electronic Bidet Toilet Seat
Greinke took two months off, during which he was found to have social anxiety disorder, a condition marked by tension in social settings. He began taking medication, which made a big difference. He began to think more positively about baseball, too, which made a big difference. When he returned to pitch that June, at Double-A Wichita, he found himself enjoying the experience. He started to throw as hard as he could.
Elena Delle Donne, The New York Times
But, by age 13, she said, she began to notice a lack of fulfillment. She did not seem to enjoy basketball as much as the other girls. This startled her because she was the star and thought she should be having even more fun than her teammates. She kept her feelings to herself but felt a growing, gnawing discontent. Why am I doing this? Because I want to? Because everybody else wants me to?
"I was overdriving myself because I was so into becoming the best," Delle Donne said. "I always thought someone else was working harder than me, which really made me go nuts with it. It wasn't fun. It was like a job, and it was a job I wasn't getting paid for."
Chamique Holdsclaw, Sports Illustrated
On July 28 Holdsclaw played in her final game of the '04 season, and the Mystics' front office cited undisclosed "medical reasons" to explain her departure. Rumors swirled: Was she pregnant? Addicted to drugs? Suffering from cancer? Three months later Holdsclaw went public with her diagnoses of clinical depression, discussing it with reporters in her lawyer's office.
"Looking back, I wish I had gone up to somebody in the front office earlier and said, 'Look, I'm having a tough time. I need some time off,'" she says. "But I saw my situation as embarrassing. There's a stigma, especially in the African-American community. We're such prayerful people, the answer is always, 'Let's go and pray.'"
Shaun Andrews, The New York Times
Andrews said he had seen a psychiatrist last summer in Little Rock, and then in Philadelphia, but that he was not currently undergoing counseling. He did say he was taking antidepressant medication, along with the drug Adderall to treat attention-deficit disorder. He said he understood that some people had little sympathy for a highly paid professional athlete, that even some of his teammates might feel he was exaggerating, or using depression as an excuse for an indifference to football. "That's fine," he said. "I don't work for them. They don't pay my bills. They don't take care of my family."
"A lot of people say football should help you channel your anger and aggression," Andrews said. "But it's not as easy as people think it is."
Josh Hamilton, ESPN The Magazine
Two years earlier, in 2006, not long before he was reinstated by Major League Baseball after years of drug addiction and depression, Hamilton had a dream. In it he was being interviewed by a female TV reporter at a Home Run Derby at Yankee Stadium. He had a bat in his hands, but he didn't know how many home runs he had hit. He couldn't even tell what uniform he was wearing.
"The nerves don't hit you until you're actually there," he said, recounting the Derby as a line formed inside the bookstore. "I was the last guy to hit, so after the introductions, I went back inside the clubhouse and took off my shirt and unbuckled my pants and flopped down on a couch. The couches are so deep, people behind me didn't even know I was there. When the contest got to about the fifth guy, I popped up, and everybody was like, 'Aren't you in this thing?' That's when I started to get ready. That's when I started feeling it."
Warrick Dunn, The Sporting News
Yet there is a sad irony to his warm deeds. No matter the considerable joy he has brought others, he has been engulfed all these years by a void that even his kindness can't negate. The depression that has overwhelmed him for the past 12 years, since robbers gunned down his mother just after his 18th birthday, has prevented him from truly feeling good about himself or about what he has done for others.
"His mother wasn't just his mother; she was his soul mate," says Maelen "Choo-Choo" Brooks, who coached Dunn as a youngster and is a man so close to Dunn that Dunn calls him "Pops." Brooks says, "She would call him 'my little man.' When she passed, she left a hole inside him that didn't want to heal."
Barret Robbins, San Francisco Chronicle
This time, Barret Robbins says, he didn't check into a country club. A probation violation last spring landed him in a locked-down, substance-abuse treatment facility in Houston, where he sleeps in a dormitory room filled with bunk beds and as many as 19 other men wrestling with drug addiction and mental illness. His day starts at 5 a.m. and ends with lights out at 10 p.m. Usually, he says, he is so drained by all the group meetings and heavy emotional lifting that he falls asleep by 8:30, his 350-pound body stretched over a narrow, twin-bed mattress.
"I can't complain about a single bed," Robbins said by phone the other day, "not when you consider where I've been."
Ricky Williams, Los Angeles Times
It wasn't until a year ago that he was diagnosed with social-anxiety disorder, a syndrome that leaves sufferers with an intense fear of scrutiny by people in social situations. With therapy and medication, he has made what he and others believe are dramatic steps toward a normal lifestyle.
"I'm finally at peace with myself," he said Tuesday. "I'm getting through this. I'm definitely at a point where I can help a lot of people."