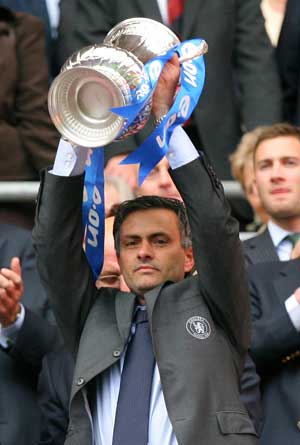 David Hirshey writes regularly for Deadspin about soccer.
I suppose it could have been worse. The Special One's little rat-faced fugitive terrier might have turned up at Kinsale on Saturday morning and infected us all with rabies. Then again, would that have been any more painful than the poison dart Drogba fired into our aorta in extra time?
So here's the final, gruesome tally for silverware this season: ManU takes home the Premiership trophy; Chelsea wins the FA and Carling Cups; and Liverpool plays for the biggest prize (Champions League title) on Wednesday.
Arsenal? We get to sweep up whatever special treat Mourinho's dog has left for us on the steps of Emirates.
And it's all my fault. By calling for a fatwa on Mourinho's head last week and turning the FA Cup final into a Holy War between Pretty Good and Evil, I had obviously pissed off the Soccer Gods .So I got what I deserved — an execrable game so devoid of any excitement for the first half that the Hague convened a tribunal to look into its various crimes against the sport. Then just when I least expected it, after 116 tense and exasperating minutes and an equivalent number of beers, Drogba struck as only he can, with his 33rd goal of the season. A couple of months ago, I wrote that I thought Drogba, not ol' Twinkletoes, deserved to be the EPL's player of the year for the simple reason that without him, Chelsea is Bolton. For all of Ronaldo's dazzling party tricks, United still have Rooney, Giggs and Scholes to deliver the payload. Who does Chelsea have? Shevchenko? Ballack? Hilario?
(more after the jump)
But even Drogba, despite a couple of screamers from distance, was strangely mute for those first narcolepsy-inducing 45 minutes, when both teams seemed more intent on stifling the creativity of the flair players than in trying to score a goal. "I had to come all the way to New York to suffer this?" asked Anthony Holden, distinguished British author/journalist/poker player/ Arsenal fan." The only thing that can salvage the game is if someone dies."
Holden was jammed into a corner of Kinsale that had been taken over by Deadspinners, who had shelled out 20 bucks to watch the game and drink on Fire Island Leitch's tab (Will, the damage came to $347.50, not including the shattered television screen when Drogba scored). Along with all the regulars like Fifth Place Mikey, Stevie Q, Siggy The Poet, Roma Mike, Norwich James, NewYorkAddick, Tommy the Toffee and Mary the Czech Babe, there were newbies like Dave and Tracy of CNBC, who were bummed that Leitch had opted to attend that tea dance (or was it tea bagging?) with AJ Daulerio in the Pines rather than the Cup final. "I wanted to show him my tattoo," said Tracy, whose left ankle sports the St. Louis Cardinals insignia, the same one Leitch has on his ass (let's just say AJ told me). (Ed. Note: Mr. Daulerio did not accompany the editor to Fire Island this weekend. The editor does very much love the idea of people coming to bars to show him their tattoos, however.) (Hirshey Retort: "Ah yes, the ol' John Amaeche defense—non-denial denials until your memoir comes out.")



When Dave asked me if I thought the first half was worth the $20 cover charge, I replied, "Hell, it wasn't worth the sweat off Maria Bartiromo's balls."
The second half, however, did have its moments, most notably those created by Rooney. The rampaging pitbull ran himself into Wembley's hallowed turf, and had either Giggs' aging legs or Ronaldo's dancing feet been able to keep up with him on his two box-to-box bursts, United would have won in regular time. Of course, a case could be made — and Lord knows, Fergie nearly popped a vessel trying to make it—that United should have been ahead 1-0 in the 104th minute when Giggs slid onto Rooney's cross and forced the ball and Van Der Saar Cech over the line. Was it a goal? Was it a foul on Giggs? Was it a penalty on Essian, who appeared to trip Giggs in the box? I mean it had to be something, right? Please God, make it a goal and I'll stop drinking on Saturday mornings until August. But nothing was given and I ordered another Stella, knowing in my heart that this was not going to end well.
Cue Drogba. The Ivorian hitman carried the Blues on his broad back through their injury-depleted, feud-wearying season (unfortunately, he could not do the same for my fantasy team, Missing Foreskins United, but that was more the fault of our feckless GM Frank Foer), and when all those around him were running on fumes — did anybody else see Ronaldo walking at the end? — Drogba had one more piece of predatory genius in him.
Mikel, the precocious Nigerian midfielder, spotted Drogba with his back to the goal at the edge of the box and slid a pass into him. Drogba scooped the ball to Lampard on his right and then spun around his marker Ferdinand. With great composure, Lampard chose not to control the knee high ball but simply divert it back into Drogba's path, who flicked it over the onrushing Van Der Saar. Fini.
Mourinho, for his part, took off down the sideline, pumping his fists like a man who was desperately trying to save his precious terrier from being run over. In the end, though, it was only ManU that was lying dead on the pavement, a victim of a Drogba shooting.