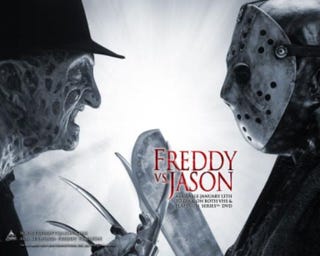 Basketbawful can't make the Spurs-Lakers series new and interesting, but he can tell you what to watch out for when these two horror move monsters go head-to-head.
Dracula San Antonio versus Frankenstein L.A.: Game 1
The season series. It was a 2-2 tie, although the Lakers won the most recent meeting on April 13 by the score of 106-85. That should give them the kind of smug self-assurance that the Spurs feed on. Also note that Manu Ginobili missed that game with a creaky groin.
Rest versus rhythm: Well, we saw what rest did for the Pistons: Jack and shit, and Jack just left town. Of course, Detroit didn't have the benefit of opening their conference finals series at home. The Lakers do. And like the Celtics, L.A. hasn't lost at home this postseason. Oh, and unlike the Spurs, the Lakers didn't have to spend a night on a plane.
Roads? Where we're going, we don't need roads. The Spurs have been there, done that, did it again, thought about doing it a different way, went ahead and did it again the old way anyway. My point? I forget. Oh, yeah. Don't expect Timmy and the boys to get rattled by playing in the Staples Center or having a night of highly uncomfortable sleep. On the other hand...
San Antonio Duncan and the Arthritic Joints of Doom. My grandpa never got rattled, either. But that didn't win him any foot races after he turned 70. So all that calm clutchtasticness won't do much good if the old geezers are running on fumes.
Kobe Bryant. Mamba's going to be the focus of any and every series that involves the Lakers until somebody shoves a stake through his heart. And could we get some men on that? Please?? But seriously (and I was serious), Bruce Bowen might find it a tad harder to stick with Kobe than it was to handcuff Peja "The Gimp" Stojakovic. Also: Have we gotten any recent updates on Mamba's fake back injury?
Lords of the...well, you know. The Spurs and Lakers have combined to win seven of the last nine championships, with San Antonio taking the title in 1999, 2003, 2005 and 2007 and the Lakers doing it from 2000-02.
History is on their side, Part XXI: The Lakers are 7-3 against the Spurs in the playoffs, including 3-0 in the Western Conference Finals. The last time they went at it for NBA Finals rights, some seven years ago, L.A. swept San Antonio on their way to a 15-1 all-time playoff record.
Somebody better wake Tony up. Monsieur Longoria is a wee bit too excited about this matchup. "It's always great to play against the Lakers. Kobe's at his best; they have a great team. It reminds me of my first couple of years in the league. Back to the rivalry. It will be great." If this series was a human leg, TP would be humping the hell out of it right now.
Oh, and about that plane. Gregg Popovich was his usual cryptic self when describing the Spurs' sleepover in First Class. "Not what you would hope for. Mechanical problem, no mechanic, then no plane, no hotel. Eventful, strange, weird. Reminded me of Division III basketball." But, ultimately, not a big deal. "Everybody goes through that stuff during the season. Every team can tell you a horror story. It'll be forgotten by tomorrow. It was a good story today." Of course, it might have been different if the Spurs had lost Game 7 to the Hornets. "If this had been a loss, we would have been fighting each other. There would have been deaths on that plane." I...assume he's speaking figuratively...