Every morning, the fine folks at Sports Radio Interviews sift through the a.m. drive-time chatter to bring you the best interviews with coaches, players, and personalities across the sports landscape. Today: Barker salted the Minnesota earth in his wake.
A.J. Barker joined ESPN 1500 in Minneapolis with Judd Zulgad to discuss the potential fallout of his letter to Jerry Kill, the disconnect between Tim Brewster recruited players and Jerry Kill recruited players, the three week delay in getting an MRI for his ankle, trust issues between Jerry Kill and the Minnesota medical training staff, the motive behind his letter to Jerry Kill and the fallout on his future based on the letter to Jerry Kill.
Are you worried at all by doing this that you are hurting your teammates and the University of Minnesota?
"Oh yeah and I alluded to that in the letter that there's no way when we are dealing with a team of 115 people that the letter can't come off as self-serving. There's really no way to avoid that because it is at this point. I am making the decision for my future and for my benefit. That is hard on them and like I said those players still have respect for me. So many of them are thanking me saying, 'Thank you for saying what I would have never been able to.' "
Is there a clear disconnect between Tim Brewster players and Jerry Kill players? You were brought in by Tim Brewster:
"I think there's a disconnect whenever a new coach comes into a university and I would say there is potentially a disconnect, but when it comes down to it you are playing the game of football and you are trying to win and once you get on the field you throw it to the side and you play."
G/O Media may get a commission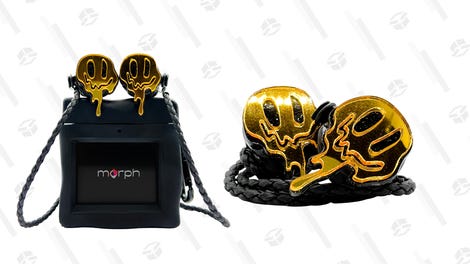 morph audio
Morph Earphones
Why did it take three weeks to undergo the MRI on your ankle? Is that your fault? The training staff's fault?
"This was something we mutually agreed to, not do it after the Purdue game and the mentality behind it was and I know the mentality for me was that I don't want to entertain the fact that it's hurt, but put all my focus into getting back by the Michigan game. I told myself this isn't too bad and let's really push it hard in the rehab process and let's get back by mid-October and then once I tweaked it in Michigan warmups I was saying, 'God I don't want to find out that I hurt it worse.' That was hard for me. There is no doubt that there was a denial period that no I didn't do anything. I don't think that the training staff had that denial period. It just stayed there. It was the 'Purdue Injury,' and you should be healthy from that. No. No. I got the high ankle sprain in the Michigan warmups."
Is there an issue of trust between the medical training staff and Jerry Kill? Are you the only one who feels this way?
"There are definitely others that feel the same way."
Is your motive to get Jerry Kill fired?
"No. My motive was to expose the reality of that it didn't just fly by me and I saw it happening, so here you go and I am moving on."
How worried are you about the fallout on your future based on this letter to Jerry Kill?
"I think it's more of the fact that it will follow me. I don't say I look at it being worried about it because at the end of the day there are more important things than just what you put on the internet, but I think more and more people are using it as a tool to have their voice heard. As more and more people do that it'll dilute this event. As time goes on and I can show how I respond to situations and how I work with the media going forward hopefully it can help clearing up many things and doubts. You won't ever get them all."
This post, written by Steven Cuce, appears courtesy of Sports Radio Interviews. For the complete highlights of the interview, as well as audio, click here.
More from Sports Radio Interviews
• Larry Fitzgerald is being very patient with Arizona's QB situation.
• Lance Ball says there's no reason to panic with Willis McGahee out.
• Julian Edelman had himself a hell of a Sunday.