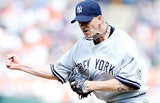 Let me tell you a little bit about what A.J. Burnett did on the day Tim McCarver did the right thing by outting the Yankees organization as Nazi Communist airbrush artists.
After serving noted Rays slugger Reid Brignac a two-run home run in the second, he took it out on the clubhouse doors, cutting his hands on a plastic line-up card holder. Then, he pulled a Brian Griese (he of "I tripped over my dog" fame) and told the N.Y. Nazi Communists that his handies were all scwaped because he fall down go boom on the steps. A wild pitch in the third ensued, as did removal from the game. A coming-clean moment came after six more innings.
"A.J. got frustrated," Girardi said. "He's embarrassed. He's disappointed in himself. We're fortunate the cuts aren't in his fingers."

Burnett was able to use both hands after the game to send text messages on his cell phone. Both Girardi and Burnett said Burnett would probably not miss a start.
Say what you will about Burnett, but his offense is nowhere near the top of the Great Moments in Sports Lying list. Here, in no particular order, are four that came to mind while I walked Charlie Dawg this morning. Please top them.
Baseball: Rafael "I Have Not Used Steroids Ever, Period" Palmeiro. (I Will Not Forgive Him For Casting Suspicion Upon a Noble, Clean Guy Like Sammy Sosa Ever, Period. Si, se puede.)
Youth Baseball: Manchild Danny Almonte's parents.
College Football: Former Notre Dame Coach (of five days) George O'Leary.
Pro Football: Michael "What dogfighting ring?" Vick.
Burnett loses his control, then he loses his cool [NY Times]