Each week during college football season we put the conventional polls to shame by ranking every FBS team from 1-125, by whatever standard we see fit. As always, last week's rankings were not consulted.
1. ALABAMA (11-0). A.J. McCarron is, by far, the most boring Heisman candidate of the past 30 years. Which, given the award's considerably lower profile prior to that, puts him in the running for most boring candidate ever. I'd argue he's the most boring possible candidate, the clean-cut, long-serving QB for the nation's No. 1 team having served as the de facto frontrunner from time immemorial. Being as boring as possible is the entire point of playing quarterback for Nick Saban, and in this particular season counts as a prevailing virtue. Consider the alternatives: Every other quarterback who has taken his turn at the top of the rotation has either looked terrible in a demoralizing, high-profile loss (Tajh Boyd, Marcus Mariota, Johnny Manziel, Bryce Petty), or racked up big numbers against terrible competition (Derek Carr, Jordan Lynch, Teddy Bridgewater), or is under investigation for a terrible crime. Meanwhile, McCarron has been at his best in Alabama's biggest games, and the worst he can be accused of on a personal level is questionable taste in body art. His team hasn't budged, and neither has he.
Of course, as a discerning fanatic, no doubt you're ready with the name of a truly deserving, under-the-radar candidate, who would obviously win if stodgy, out-of-touch voters could only, like, free their minds. Of course you're right. (That guy is awesome.) But of course, as long as McCarron is his usual, efficient self this weekend in the Iron Bowl, and (presumably) in the SEC championship game, he's going to land at or near the top of nearly every ballot, if only as the one guy who doesn't raise any obvious red flags. As David Halberstam once wrote of Dean Rusk's rise to secretary of state, "thus their choice would be determined neither by talent nor brilliance, but to a degree by mediocrity. … He was everybody's number two."
2. FLORIDA STATE (11-0). What little drama remains here is strictly concerning Jameis Winston's status for the BCS title game, because there is certainly none to be had on the field. Florida is no threat whatsoever–even in the Swamp, an FSU loss this weekend would be 10 times as stupefying as the Gators' death rattle against Georgia Southern–and beyond that the token lamb to the slaughter in the ACC championship game is either a) Duke, or b) A team that lost to Duke. If the Coastal division winds up in a five-way tie for first place, which is very possible, the prevailing sentiment online is that those five teams should be allowed to assemble an all-star roster to face the Seminoles, just to make it interesting. I still doubt it would be.
G/O Media may get a commission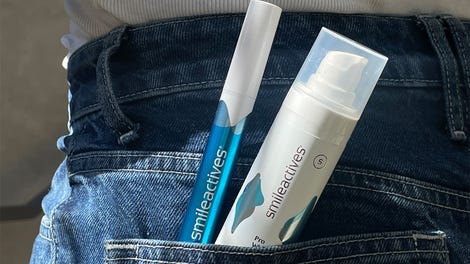 58% off
Whitening Powerhouse Pen & Gel Duo
3. OHIO STATE (11-0). Despite the best efforts of authorities to mitigate the chaos, OSU students celebrated Michigan Week the same way they always do, by immersing themselves in the hypothermic, urine-flavored waters of campus's Mirror Lake while screaming obscenities re: the school up north. This year's jump was actually a double-dip: On Monday, students ignored snow to stage a protest jump, overwhelming officers in defiance of a buzz-killing wristband policy and the appearance of a fence around the lake, which didn't survive the night. (Surprise! Reckless college kids don't respond very well to the idea of needing official permission to behave like reckless college kids. As if stripping down to wade around in a freezing, disgusting lake is the point.) The traditional Tuesday-night jump went more smoothly, which is to say, more like your standard-issue winter frat party.
4. OKLAHOMA STATE (10-1). Saturday's thorough, 49-17 romp over Baylor was the first look at Oklahoma State for many national viewers, who must have been left wondering, "How the hell did this team lose to West Virginia?" But for those of us who actually watched the Cowboys' flop in Morgantown, the transformation is no less bizarre: At that point, in late September, OSU looked like a team in the throes of an identity crisis, which seemed to last for most of October, as well. The apparent turning point was the decision to return to the opening-day starter at quarterback, Clint Chelf, who has subsequently vindicated his brother by leading the offense to 48 points per game over the last five. But the defense has held up its end of the deal by holding three straight opponents to season lows on the scoreboard, as well. No other team has come so far, so quickly.
5. BAYLOR (9-1). It might be possible to chalk up the beatdown in Stillwater to an untimely rash of injuries on offense, if essentially the exact same lineup hadn't dropped 675 yards and 63 points on Texas Tech seven days earlier. Either way, skeptics of Baylor's sudden appearance in the first-class cabin have the reason they were looking for to dismiss the Bears as con-artists, or frauds, or whatever happens to be prevailing at the moment as the epithet du jour on Neanderthal sports radio, and will still be wielding it long after a healthy lineup dominates its bowl game and clinches the highest postseason ranking in school history. Up here, you're nobody till you've hung around on a more or less consistent basis for 30 years.
6. MISSOURI (10-1). Saturday's win at Ole Miss marked the Tigers' narrowest margin of victory this season, 14 points, which is all the more impressive when you consider the improbable, scrotum-wracking circumstances of their only defeat. A win over Texas A&M this weekend would be Mizzou's best to date, and put any remaining doubt about its merit as SEC East champ to bed.
7. AUBURN (10-1). The Tigers were off Saturday, the perfect opportunity for tailgaters to begin staking out territory for the Iron Bowl a full week in advance. Not that anyone is actually spending Thanksgiving in the parking lot of Jordan-Hare Stadium: Although RV lots were open for early arrivals to claim a spot, technically they can't be occupied until much later in the week. Still, it's safe to assume in this state that if a rule like that didn't exist, a thriving community would spring up there 365 days a year.
8. STANFORD (9-2). Oregon's uncharacteristic lapse at Arizona (see below) means the Cardinal are Pac-12 North champions for the second year in a row, putting them on track for back-to-back Rose Bowls for the first time since 1970-71, when they were still known as the Stanford Indians and had cheerleaders dressed as squaws and so forth. The university officially dropped all that a year later, and four decades on still has no official mascot. (Officially, the Stanford Tree is a member of the band, an appropriate avatar for the most devoutly ramshackle outfit in the sport.) Many schools were changing their patently offensive mascots around this time–until 1972, my alma mater paraded a student in a Confederate uniform known as "General Nat," after Nathaniel Bedford Forrest–but as missed opportunities go, Stanford's decision to ignore a 1975 student body vote in favor of adopting the nickname "Robber Barons" stands alone.
9. ARIZONA STATE (9-2). The other sideline in the Pac-12 title game will be occupied by the Sun Devils, who wrapped up the South division Saturday against UCLA and can wrap up home field for the championship this weekend against Arizona. Despite an earlier loss at Stanford, that might be enough to tip the oddsmakers in their favor: ASU has taken seven in a row in Sun Devil Stadium, including two this year over ranked teams (Wisconsin and Washington) and six by double digits.
10. OREGON (9-2). It may sound melodramatic to outsiders, but from a local perspective, it's hardly surprising that a blowout loss at the hands of an unranked imitator feels like "the end of an era," or "Black Saturday." If that's hyperbole, so is Oregon's track record against random also-rans like Arizona. The Ducks don't really do "random." Before Saturday, they hadn't lost to an unranked opponent since October 2009, a span of 35 consecutive games, the last 25 of which were decided by at least 17 points. The last five teams to beat Oregon under Chip Kelly all went on to finish in the top seven in the final polls, and three of those losses were decided by a field goal on the final play. The final margin in Tucson, 26 points, marked the Ducks' most lopsided loss since 2007. Forty-two points marked the most they'd allowed in a loss since 2009. The Wildcats racked up 304 yards rushing, most against Oregon since the 2007 opener. Marcus Mariota, more than a full calendar year removed from his last interception, was picked off twice. Even by the standards of their previous defeats, the Ducks have never looked less like themselves. Part of the disappointment comes with a sense of missed opportunity: At 8-0, this team seemed destined for the BCS championship game; at 9-2, after two emasculating losses in three weeks, it looks destined for the Alamo Bowl. This weekend's visit from Oregon State will be the first game any active Duck has played that doesn't stand to further any tangible goal beyond the game itself. Doubts about Kelly's successor, Mark Helfrich, are already beginning to simmer. A no-show in the Civil War could boil over into full-on panic.
11. CLEMSON (10-1). The Tigers can clinch an at-large BCS bid Saturday against South Carolina, but of course beating the Gamecocks doesn't require any extra incentive: Carolina has won four in a row over Clemson, all by double digits, matching its longest streak in the history of the series. In the last two meetings, QB Tajh Boyd has been sacked eleven times, including five times last year by Jadeveon Clowney alone.
12. WISCONSIN (9-2).
13. MICHIGAN STATE (10-1).
14. SOUTH CAROLINA (9-2). SC joins Stanford this week as the only two-loss teams in the top 10 of the BCS standings, and unlike the Cardinal, the Gamecocks still have a chance to crash the championship game. All they need to do this weekend is beat Clemson, then hope like hell Texas A&M knocks off Missouri to deliver the SEC East crown to Carolina; from there, it's only a matter of upsetting the Alabama-Auburn winner (preferably Alabama) in the SEC title game and riding a wave of 11th-hour prostrations by Florida State, Ohio State, Oklahoma State and/or Baylor into Pasadena. Yeah, I know, but an infinitesimal chance is still a chance, right?
15. LSU (8-3).
16. UCLA (8-3).
17. USC (9-3). In August, I was one of many gullible pundits who picked the Trojans to finish in the top 10, and was immediately made to look like an idiot. But here they are, two months removed from ditching Lane Kiffin at LAX, heading into the UCLA game on the verge of ten wins and possibly (with some help from Arizona) a share of the Pac-12 South title with the same team that broke Kiffin's back. It turns out we had the blue-chip lineup sized up more or less correctly. It was just stuck with the wrong coach.
18. OKLAHOMA (9-2).
19. CENTRAL FLORIDA (9-1).
20. NORTHERN ILLINOIS (12-0). Baylor's loss notwithstanding, the most consequential development in the new BCS standings is Northern Illinois's move from 16th to 14th, courtesy of a surge in the relevant computer polls. For some reason, the BCS computers love this team: All six rank the Huskies in the top 10, roughly 10 spots higher on average than their standing in the human polls, despite collectively ranking the Huskies' schedule the 103rd-toughest in the nation. (Including Tuesday night's win over Western Michigan, eight of NIU's dozen victories have come at the expense of an opponent with four wins or less.) Anyway, the difference between No. 16 and No. 14 is small, but potentially dramatic. By moving ahead of Fresno State, suddenly Northern Illinois is back in the driver's seat for an big-money bid, which is automatically extended to the champion of a non-AQ conference that lands in the top 16 of the final BCS standings and ranks ahead of at least one champion with an AQ bid. (The frontrunner in the BIG AMERICA, Central Florida, currently ranks 19th.) There is only one such ticket on offer, and it is the Huskies' to lose. Hold off Fresno over the next two weeks, and the Fiesta Bowl is their oyster.
21. FRESNO STATE (10-0).
22. LOUISVILLE (10-1).
23. TEXAS A&M (8-3). Seeking to avenge the worst performance of his career in 2012, Johnny Manziel fared even worse in Saturday's loss to LSU, finishing with two interceptions and career lows for both pass efficiency (83.2) and total offense (278 yards) in a full start. Altogether, A&M managed just 10 points against a Tiger defense that had allowed at least 21 points to every other SEC offense it faced except Florida's, the first time this year the Aggies have failed to score forty.
24. NOTRE DAME (8-3).
25. DUKE (9-2). It speaks volumes to the perception of Duke football that even with a 9-2 record, even after seven consecutive wins, even after the end of an epic bowl drought and every other stain of futility that has plagued this program for two decades, the Blue Devils are still considered underdogs this weekend at North Carolina. True, the Tar Heels are hitting their stride after a 1-5 start. (On Saturday, they agreed to shorten the fourth quarter from 15 minutes to ten after dropping 80 points on Old Dominion in the first three.) But UNC is no better than Virginia Tech or Miami, teams the Devils have already beaten in the past month. No matter what they do, it's going to be years before our lizard brains are able to grasp that Duke ≠ Duke.
26. WASHINGTON (7-4).
27. ARIZONA (7-4).
28. GEORGIA (7-4). All injuries are shitty, none more so than an injury to a respected senior at the end of his final season. (Colt McCoy's premature exit from the 2010 BCS title game stands at the pinnacle of the genre.) The latest, shittiest addition to that list is Georgia QB Aaron Murray, whose amateur career is over–and his pro career in some doubt–due to a torn ACL in Saturday's win over Kentucky. Murray goes out as the SEC's all-time leader in total offense, passing yards, and touchdown passes, but without the championship he came so close to winning last December, which would have entitled him under Georgia law to free beers throughout the state for life. He'll still get his share.
29. OLE MISS (7-4).
30. BYU (7-4).
31. TEXAS (7-3).
32. MIAMI (8-3).
33. VIRGINIA TECH (7-4).
34. GEORGIA TECH (7-4).
35. VANDERBILT (7-4).
36. WASHINGTON STATE (6-5). Back-to-back wins over Arizona (the same Arizona that subsequently crushed Oregon) and Utah (the same Utah that upset Stanford) has Wazzu bound for a bowl game for the first time since 2003, and even that doesn't quite capture the magnitude of the turnaround under Mike Leach. Of the Cougars' five losses, four of them came at the hands of teams currently ranked in the BCS's top thirteen.
37. IOWA (7-4).
38. MINNESOTA (8-3).
39. NEBRASKA (8-3).
40. MICHIGAN (7-4). Dedicated opponents of bullshit should read this response to coach Brady Hoke, who attributed the inevitable swathes of scarlet and gray invading Michigan Stadium this weekend to the fact* that "people are fickle" and "that's the world we live in." We also live in a world where the cost of attending a Michigan game has increased exponentially, and in inverse proportion to the quality of the product. But I don't want to steal any of Brian Cook's thunder–just click on it.
(* Not a fact)
41. EAST CAROLINA (9-2).
42. CINCINNATI (9-2).
43. KANSAS STATE (6-5).
44. TEXAS TECH (7-4).
45. OREGON STATE (6-5). Already this month I've singled out the Beavers' starting quarterback, Sean Mannion, for his sudden regression amid the most prolific passing season in school history. This week, the defense deserves most of the blame after yielding an incredible 530 yards rushing on 9.1 per carry to Washington in an ugly, 69-27 rout that wasn't nearly as close as the final score. (At the end of three quarters, the Huskies led 48-0, and were unable to throw on the brakes in the fourth because OSU couldn't stop them from ripping off huge gains on the ground.) But then, Mannion is hardly off the hook after serving up three interceptions for the third consecutive game. The larger point is that the Beavers are a team in a free-fall: After a 6-1 start, they've dropped four in a row, the last three by double digits.
46. UTAH (4-7).
47. BOISE STATE (7-4). Did Chris Petersen miss his window? Almost from the moment he was promoted to head coach in 2006, Petersen has been on the short list for every major job opening west of the Mississippi, and quite a few to the east. In that time, he's quietly said "thanks but no thanks" to every suitor. But how much higher can this program rise? Right now, its stock is going in the opposite direction: With Saturday's overtime loss at San Diego State, the Broncos have suffered as many losses this season as they did in Petersen's first four years combined. Barring a Wyoming upset over Utah State this weekend, they're also on their way to finishing without so much as a share of the conference championship for the second time in three years as members of the Mountain West. Unless the next Kellen Moore is already in the pipeline, the upwardly mobile, BCS boom years are quickly becoming a relic of the past.
48. UTAH STATE (7-4).
49. HOUSTON (7-4).
50. NAVY (7-4).
51. NORTH CAROLINA (6-5).
52. BOSTON COLLEGE (7-4). I don't have empirical proof, but if I had to guess, I'd say a majority of Heisman voters have not seen one second of Boston College football this season outside of highlight shows. (Unlike most Heisman voters, I don't cover a specific team, and I've only watched a few scattered plays against Wake Forest and Virginia Tech.) But that doesn't seem to matter when it comes to the Eagles' prolific tailback, Andre Williams, who is quickly rising to the top of the pack on the strength of his numbers alone: With 263 yards Saturday against Maryland, Williams is already over 2,000 yards for the season, putting him on pace for 2,450 if he finishes at the same clip–more than any FBS back in a single season except Barry Sanders (2,628 in 1988) and Kevin Smith (2,565 in 2007). With the sudden dearth of palatable quarterback candidates, Williams also came in for a flattering profile this week on SI.com, touting him as a Renaissance Man. I can't speak to that, but I do know he's the only Heisman candidate who, when you Google his name, will lead you to a song called "Pussy Stank." So that's certainly a point in his favor.
53. PITTSBURGH (6-5). If any voters want to get really hipster with it, they'll take a long look at the nation's most productive defender, Pitt DT Aaron Donald. At 6'0", 285 pounds, Donald bears no resemblance to Ndamukong Suh, and has nowhere near the hype that fueled Suh's darkhorse Heisman campaign in 2009. But he is delivering the same kind of production: With four tackles for loss Saturday against Syracuse–not to mention five additional tackles, two QB hurries and a blocked PAT in a one-point victory–Donald has recorded multiple TFLs in seven of 11 games, leaving him well ahead of the pack nationally with 26 for the year. That's an absurd number for anyone, but especially for a tackle who lines up exclusively on the interior: As a senior, Suh finished with 20.5 TFLs, and subsequent no-brainer All-Americans Brian Price, Nick Fairley and Will Sutton all fell short of twenty-five. (So did unanimous All-American Jadeveon Clowney in 2012, for the record.) Assuming Pitt is on its way to a bowl game, Donald still has two more chances to pad his legacy among that group.
54. MARYLAND (6-5).
55. PENN STATE (6-5).
56. NORTHWESTERN (4-7). Look, no one is happy about a losing record for a team that started 4-0 with high expectations. (Remember, on the first weekend of October the Wildcats were ranked 16th in the Associated Press poll and led Ohio State with six minutes to play in the fourth quarter.) But after a solid month of being trolled by the universe in increasingly absurd fashion, frankly a decisive blowout at the hands of Michigan State is an act of mercy.
57. MISSISSIPPI STATE (5-6).
58. BALL STATE (9-2).
59. TOLEDO (7-4).
60. BOWLING GREEN (8-3).
61. BUFFALO (8-3).
62. LOUISIANA-LAFAYETTE (8-2).
63. SAN DIEGO STATE (7-4). The Aztecs are this week's occupants of the CRATER OF MEDIOCRITY, the depressing hole at the dead center of the rankings, and they have to feel pretty good about that. Since starting 0-3, SDSU has won seven of its last eight, the last six by a touchdown or less, the last two in overtime. (It also won an overtime game in October over Nevada, matching an FBS record with three OT victories in the same season.) The Aztecs' only loss in that span: A tight, 35-28 decision against Mountain West frontrunner Fresno State, also in overtime. However it ends, you can bet they're going to keep it close.
64. MARSHALL (8-3).
65. NORTH TEXAS (7-4).
66. RICE (8-3).
67. FLORIDA (4-7). What is there to add here? Florida lost to an FCS opponent that racked up 429 yards rushing without completing a single pass, thereby extending its losing streak to six games and clinching its first losing season since 1979. Will Muschamp apparently will be back as head coach in 2014, regardless of the impending carnage against Florida State. Many of his assistants will not be back. The Gators are at their lowest point in two generations, and the torches are lit for the next 10 months. It's going to feel like a lot longer than that.
68. TENNESSEE (4-7).
69. SYRACUSE (5-6).
70. WEST VIRGINIA (4-7).
71. TCU (4-7).
72. INDIANA (4-7).
73. ILLINOIS (4-7). The Illini snapped a 20-game Big Ten losing streak Saturday against a truly horrible outfit from Purdue, holding off the Boilermakers late–the game was tied at the start of the fourth quarter–despite failing to convert any of four Purdue turnovers into points. Had the streak reached 21, Beckman may have been fired on the spot. Instead, he gets a chance to make it two in a row this weekend against Northwestern, which has been vastly more competitive but has yet to notch a conference win itself.
74. MIDDLE TENNESSEE (7-4).
75. TEXAS-SAN ANTONIO (6-5).
76. TULANE (7-4).
77. WESTERN KENTUCKY (7-4).
78. ARKANSAS STATE (7-4).
79. RUTGERS (5-5).
80. SMU (5-5).
81. COLORADO (4-7).
82. SAN JOSE STATE (5-6). The Spartans did the thing last week where they let the opposing offense score at the end of the game in order to get the ball back, and it worked! Kind of! Let's say it temporarily worked: Trailing Navy by one point near the end of regulation, 31-30, San Jose seemed to intentionally roll over on a 20-yard touchdown run by Midshipmen QB Keenan Reynolds, extending the lead to 38-30 with a little over two minutes to play–just enough time, as it turned out, for David Fales to lead the Spartans for a touchdown and game-tying two-point conversion with no time on the clock. But then, after trading touchdowns in the first two OT sessions, SJSU let Reynolds run free for the game-winning score in the third, and it looked pretty much exactly the same.
83. COLORADO STATE (6-6).
84. UNLV (6-5).
85. OHIO (6-5).
86. FLORIDA ATLANTIC (5-6).
87. ARKANSAS (3-8). There's plenty bad to say about the Razorbacks, now suffering through the first seven-game losing streak in school history, but the worst part of Saturday's overtime loss to Mississippi State was the awful, slate-gray uniforms supplied by Nike. Tennessee and Texas A&M wore similar atrocities courtesy of Adidas–also in losses–and looked similarly atrocious. There's a reason that no college anywhere, ever, has adopted slate gray as one of its actual school colors. End the madness.
88. WAKE FOREST (3-8).
89. VIRGINIA (2-9).
90. N.C. STATE (3-8).
91. IOWA STATE (2-9).
92. TROY (5-6).
93. TEXAS STATE (6-5).
94. SOUTH ALABAMA (4-6).
95. LOUISIANA-MONROE (5-6).
96. NEVADA (4-7).
97. WYOMING (5-6).
98. KANSAS (3-8).
99. KENTUCKY (2-9).
100. CALIFORNIA (1-11). Cal ended its season in appropriately horrific fashion Saturday at Stanford, a 63-13 debacle that leaves the Bears winless against FBS opponents in their first season under head coach Sonny Dykes. (They did beat an FCS team, Portland State, but had to rally from a fourth-quarter deficit even then.) Granted, not much was expected from one of the greenest lineups in the nation against one of the most brutal schedules. After showing some early signs of life offensively, though, the baby Bears regressed badly over the course of the season, ultimately dropping eight of nine Pac-12 games by at least 17 points; in the final accounting, they scored exactly the same number of points in 2013 (276) as in 2012. Aside from Portland State, they never held a second-half lead and never gave any indication of turning a corner toward a more promising 2014.
101. CENTRAL MICHIGAN (5-6).
102. AKRON (4-7).
103. KENT STATE (4-8).
104. MEMPHIS (3-7).
105. SOUTH FLORIDA (2-8).
106. PURDUE (1-10).
107. LOUISIANA TECH (4-6).
108. TULSA (3-8).
109. ARMY (3-7).
110. NEW MEXICO (3-8).
111. AIR FORCE (2-9).
112. HAWAII (0-11). The Rainbow Warriors let another one slip from their grasp Saturday, dropping a 59-56 shootout to Wyoming in overtime despite six touchdown passes–all in regulation–from QB Sean Schroeder. (His counterpart for Wyoming, Brett Smith, had seven touchdown passes.) The loss was Hawaii's second overtime defeat in as many weeks, and third this season, leaving the Warriors one game away from a winless infamy they probably deserve less than many teams that have actually managed to eke out a win.
113. CONNECTICUT (1-9).
114. TEMPLE (1-10).
115. UAB (2-9). Official attendance for last week's overtime loss to Rice was 5,831, worst for a UAB home game since 1998, a number so low even the university's effort to condense the entire crowd into a TV-friendly island on the stadium's east side couldn't hide the ocean of empty seats. This week, the Blazers host a noon kickoff against winless Southern Miss, which will still be going when the Iron Bowl kicks off at 2:30 p.m. and will therefore be attended by no one. Truly, it is the Most Superfluous Game of the year.
116. UTEP (2-9).
117. IDAHO (1-10).
118. EASTERN MICHIGAN (2-9).
119. WESTERN MICHIGAN (1-11).
120. MASSACHUSETTS (1-10).
121. FLORIDA INTERNATIONAL (1-10).
122. NEW MEXICO STATE (1-10).
123. GEORGIA STATE (0-11). The Panthers came as close as they've come to a win Saturday, failing to convert a late two-point conversion to tie in a 35-33 loss at Arkansas State. Of all the winless doormats down here (including Hawaii), GSU has the best chance to end the season with a positive this weekend against South Alabama, which is also in the "provisional/transitioning" phase. But the curve can only be so generous: 0-6 in the Sun Belt with three losses against FCS teams is 0-6 in the Sun Belt with three losses to FCS teams.
124. MIAMI, OHIO (0-11).
125. SOUTHERN MISS (0-11). USM scored 21 points Saturday for just the second time this season, no small feat for an offense that yielded seven sacks and two interceptions returned for touchdowns in the first half alone. This week, an inevitable defeat at UAB will extend the Golden Eagles' losing streak to 24, surpassing Duke's 23-game skid from 1999-2002 as the most depressing run since the turn of the century. At which point the 2014 chase for Northwestern's all-time record for futility will officially begin.
Matt Hinton writes about college football for Football Outsiders and SB Nation's Football Study Hall. Follow on Twitter, @MattRHinton.