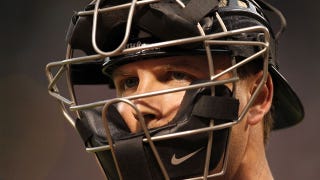 Fox Sports announced today, per USA Today, that once-blond nuisance (and current White Sox starting catcher) AJ Pierzynski would join Eric Karros' pompadour and the formerly frosted, still gelled tips of Chris Rose on Fox's World Series pregame and postgame coverage. Yuck. (We presume Jeanne Zelasko and Kevin Kennedy are in a storage unit somewhere.)
Then again, even though the active-player-as-broadcaster thing normally leads to encomia ("Miguel Cabrera's got a great physique"), we know Pierzynski well enough that we can trust him to say horrible, horrible things about his peers. And he'll mean them. Game one's October 19.
*
Thank you for your continued support of Deadspin. Open thread coming your way shortly, with video updates from MNF and MLB hijinks. Rock it.