So, the 2015 NFL Health and Safety Report opens with a message from Roger Goodell, in which the thumb-puppet-looking doofus proudly mentions the lifelong commitment the NFL makes to its players, specifically free comprehensive health and wellness screening made available to former players.
The NFL is doing things to address player safety—since 2012 they've instituted 40 rule changes and developed a long-overdue yet (and wholly inadequate) concussion protocol, measures which serve mostly to highlight the complexity and probable fruitlessness of trying to curb brain injuries in a sport as violent as NFL football—but care of former players remains an area of, umm, opportunity.
Aaron Gordon of Vice Sports has the rundown in this three-part look at the NFL's benefits program for former players. You should read the whole thing, but the upshot is the resources made available to former players are at best piecemeal and confusing, and at their worst, flat-out nonoperational. Gordon highlights the frightening case of Kyle Turley, who turned to NFL Life Line, a program he conceived and helped start whose sole purpose was interfacing with former players in crisis, only to find it functionally did not exist:
As Turley eyed the glove compartment, he remembered the NFL Life Line, a free, 24/7 confidential phone number for current or former players to call in times of distress, a service he helped create for moments exactly like this. He figured he couldn't be a hypocrite. So he dialed the number, put the phone on speaker and rested it against the center console. As the phone rang, he leaned back in his truck seat and tried his best to relax.

Turley just wanted someone to talk him out of his irrational anger and depression. He needed someone to talk some sense into him, to keep him from reaching into the glove box. Instead, he was put on hold for 30 minutes.

[...]

When someone finally got on the line, Turley asked the person on the other end if this was the NFL Life Line. The person had no idea what he was talking about.

Turley hung up and called back. This time, he spoke to an operator who had no idea what the NFL Life Line was, but who talked him through his problems for over an hour.
Despite all the explosive reports and feverish hand-waving, our understanding of the link between football and cognitive impairment is no more certain than that hits to the head—even what are described as subconcussive hits—are very dangerous. What's clear, though, is that some number of former football players have a profoundly difficult time navigating not only the physical and mental consequences of the game, but the hazy and byzantine and jury-rigged apparatus of post-career benefits. It's a bizarre choice as the opening bars of Roger Goodell's annual victory lap.
So, right, if you don't feel like watching, here's some other stuff:
Other Sports
12:15 p.m. — beIN Sports Español — La Liga Soccer: Getafe vs Levante
Getafe and Levante are pretty lousy. Both sides are far underwater, goal-differential-wise, and they sport a combined 1-3-6 record.
G/O Media may get a commission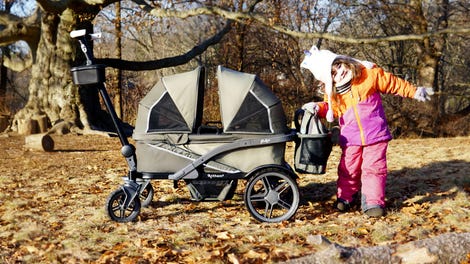 30% off
The Anthem All-Terrain Stroller Wagon Adventure Bundle
Go everywhere with your kids
This must-have bundle nets you either of Gladly's award-winning Anthem2 or Anthem4 All-Terrain Stroller Wagons as well as must-have accessories like a parent cupholder, a removable storage basket, extra-large canopies, a nap system, quilted comfort seats, a cooler bag with a padded shoulder strap, and a travel bag.
1 p.m. — ESPN — WNBA Basketball Eastern Conference Finals: Liberty @ Fever
The Liberty beat the hell out of the Fever Wednesday night to take a 1-0 lead in the series.
1:30 p.m. — NBC — PGA Tour Golf: PGA Tour Championship Final Round
From East Lake Golf Course in Atlanta. Jordan Spieth has a one-shot lead over Henrik Stenson. Golf!
2 p.m. — TBS — Baseball: Rangers @ Astros
The Astros are half a game up on the Angels in the AL Wild Card and 3.5 back of the Rangers in the AL West. The second Wild Card and the West crown are the only things realistically left up for grabs in the AL, with the Yankees 4.5 games ahead of the field for the first Wild Card.
2:30 p.m. — beIN Sports Español — La Liga Soccer: Real Sociedad vs Athletic Bilbao
Sociedad have just one win and five points despite a positive goal differential overall. Bilbao took three points from Getafe back in Week 3 and have otherwise lost everything.
2:45 p.m. — beIN Sports — Serie A Soccer: Inter Milan vs Fiorentina
These are, right now, the top two sides in Serie A. Inter have won five straight to open the campaign, while Fiorentina have won three straight after a loss to Torino in Week 2.
3 p.m. — ESPN — WNBA Basketball Western Conference Finals: Lynx @ Mercury
The Lynx took Game 1 behind a combined 45 points and 40 rebounds from their starting frontcourt.
3 p.m. — ESPN 2 — World Series of Poker
Presented by DraftKings [shudders].
4 p.m. — ESPN 3 — NASL Soccer: FC Edmonton vs New York Cosmos
The two sides are separated by just a point, near the top of the NASL standings.
5 p.m. — ESPN — MLS Soccer: Sporting Kansas City vs Seattle Sounders
Similar story, here: the Sounders and KC are just a point apart in the upper half of the Western Conference. The Sounders are an interesting all-or-nothing team: only the Whitecaps have more wins, and no team in the conference has more losses.
5 p.m. — twitch — Spite Pro League 2015 Fall Split

OK, so, the game is Spite, the league is the Spite Pro League (SPL), and this is a seasonal tournament. Holler down in the comments if you're gonna be watching this or feel like filling everyone in/bumping your jam.
7 p.m. — Fox Sports 1 — MLS Soccer: San Jose Earthquakes vs Real Salt Lake
San Jose could jump a few spots in the West if they grab full points, whereas Salt Lake are garbage.
8 p.m. — ESPN — Baseball: Pirates @ Cubs
Both teams have clinched Wild Card spots, and the National League is, realistically, locked into place.
TV Reruns
1 p.m. — USA — Law & Order: Special Victims Unit
The usual all-day marathon of silliness.
1 p.m. — TV Land — The Golden Girls
Another Sunday, another early-afternoon mini-marathon of good comedy. But don't watch, though! As males of the species, surely you will be substantially diminished by watching women who are funny.
1:30 p.m. — VH-1 Classic — Coach
Ah yes. A marathon of sports men who are far less funny than the funny women. This is more your speed.
4 p.m. — FXX — The Simpsons
Episodes include The War of the Simpsons, which is spectacular, and a bunch of sad-ass bullcrap. Why do you do this to yourself. That's what I want to know.
6:51 p.m. — AMC — Fear the Walking Dead
It's the normal routine: AMC runs back the previous two episodes before dropping the premier of the next episode. The start time is weird because of movies scheduled throughout the afternoon.
Movies
Noon — TNT — Minority Report
This movie did very well with critics and is imaginative and stuff, but it's also incredibly dreary and weirdly atonal and bad-looking. I'm glad Stephen Spielberg eventually exited this particular phase of his career.
Noon — BBC America — Psycho
This is the original, not the unbelievably ill-advised Gus Van Sant/Vince Vaughn/Anne Heche remake. Woof. What a total piece of crap.
1 p.m. — Syfy — Friday the 13th
Syfy is busting out the classic 80s slasher flicks today, which is cool. Everyone's seen this, yeah? If you haven't, the very scariest scene in the whole thing comes in the last 30 seconds of the movie.
1 p.m. — Comedy Central — Trading Places
OK, so, like a couple other big Eddie Murphy comedies from the 80s, this one has a few lines and jokes in it that will cause you to cringe. A lot of this shit would not fly in a big-budget comedy star-vehicle released today. Some of the laughs will be guilty laughs, is what I'm saying. It's still a really funny movie, though.
1:20 p.m. — MTV — The Dark Knight
The absurd plot-holes in Christopher Nolan's Batman movies are too numerous to count. This is what he does to himself by determinedly cramming his stories full of as many connections and twists as they can bear. Good music and good performances keep this thing afloat, which is fortunate, because it is far, far too silly for its dead-serious tone.
2 p.m. — The CW — Kill Bill: Vol. 2
Meh.
2:30 p.m. — BBC America — The Birds
Right, so, BBC America is running back-to-back Alfred Hitchcock classics today. If you miss the Psycho/The Birds combo the first time around, you can still catch them on the rebound, starting at 5 p.m.
5 p.m. — Reelz — Mystic River
This is one of those stories where you have to turn off the part of your brain that was programmed in American public school English classes to look for symbolism and deeper meaning in everything. That shit is poison. Mystic River is about some terrible shit that happened to some people, and that later follows them on into adulthood, as happens. Not everything is The Metamorphosis. Hell, The Metamorphosis might not even be The Metamorphosis.
5 p.m. — Syfy — A Nightmare on Elm Street
This is considered a slasher flick, and there sure is a lot of slashing, but what works about it is what makes it distinct from the basic shadowy-figure-follows-dumb-teens setup of true slasher flicks. The weird dream/reality confusion of this first Elm Street flick is really jarring and effective, to the point that it's a bummer that it became part of a fairly repetitive series of throwaway movies.
5 p.m. — Sundance — Uncle Buck
One of the four or five best American comedies ever.
5:30 p.m. — Comedy Central — Dumb & Dumber
Not one of the four or five best American comedies ever.
5:30 p.m. — Ovation — The Terminator
The special effects hold up surprisingly well if judged solely by whether they achieve the desired effect, which is to freak you the hell out.
6 p.m. — abc Family — Cast Away
Poor fuckin' volleyball.
7 p.m. — FX — The Avengers
Hey, the second week in a row someone's thrown out The Avengers to go against primetime football. That's good counterprogramming.
7 p.m. — chiller — Bug
This is one dark, creepy movie, and Michael Shannon is, as always, terrific.
Here's a cool list of good shit to be found on Netflix Instant.
Also, I have found the worst television station of them all: DirecTV channel 558. At six o'clock every morning they air something called DraftKings 1-Week Fantasy Football, and they air it ALL FUCKING DAY.
Hey, the weather is supposed to be bullshit today. Thankfully, the networks came correct with the movies, and there's lots of non-football sports content. Hang tight.