What a weird, weird scene this must have been. Saturday night the Nassau Coliseum, just days after learning it would soon lose the Islanders, played host to some kind of electronic music concert called "Haunted Coliseum" and people—"teens"—went crazy. Depending on which report you read, anywhere from 50 to 100 people were hospitalized for being ill or drunk or for having overdosed on something.
A Halloween-themed dance party at the Nassau Coliseum turned into a horror show when at least 50 underage revelers were hospitalized for booze and drug use, sources said.

The massive event, called the Haunted Coliseum, attracted thousands. It was shut down early after someone reported a sick teen at around 9:50 p.m., sources said.

The DJ's screeched to a halt when dozens of police cars and ambulances rushed to the scene, sources said. Responders found dozens of young people passing out and throwing up, sources added.
IslandersPointBlank has more details, some coming from alleged attendees. The concert goers blame most of the chaos on the lack of security presence. According to one commenter she saw:
at least 11 ambulances, 3 firetrucks, and a countless number of cop cars lined the building, followed by a low flying helicopter overhead, as well as police on horseback. The major downfall of this event was the extreme lack of security at the doors and inside the concert. In case your wondering the most disturbing thing I had to witness last night; it was probably the two young teenagers having public sex on the dance floor. That pretty much sums it up.
G/O Media may get a commission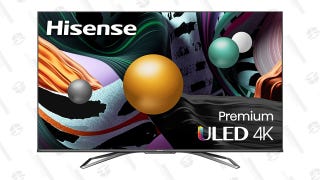 Save $350
Hisense ULED 65" Android 4K HDR Smart TV
That public sexing probably had something to do with all the ecstasy they were chowing down. Not to mention all the booze.
Newsday on the substance use; "Molly and ecstasy were two drugs that witnesses noticed being used as well as alcohol disguised in bottles of Gatorade."
That's all well and good—you put teenagers, booze, drugs and bass-pumping music in the same room and you're asking for some sloppy sexy times—but what the hell was that guy doing landing a helicopter at the Coliseum? According to Fox, the civilian pilot (i.e. not an EMS-related chopper) had to abort his initial landing because people were in the area and then, just went ahead and landed it anyway, "despite at least 20 people being in the area."
Image via
What the Heck Happened at the 'Haunted Coliseum' Concert Last Night? (UPDATES) [IslandersPointBlank]
Chaos at event at Nassau Coliseum [FOX]
Dozens of teens fall ill at LI rave [NY Post]