On Friday, UM defensive lineman Dyron Dye filed an incident report with Coral Gables police, claiming NCAA investigators coerced him into giving certain answers regarding their investigation into the Hurricanes' potential violations. Why yes, this giant mess can get messier.
This tiny slice of the controversy deals with Dye's recruitment, and former UM assistant coach Aubrey Hill, who has been charged with unethical conduct. The NCAA claims Hill allowed recruits, including Dye, to stay at his house during visits, and arranged for social outings on booster Nevin Shapiro's dime. Dye signed an affidavit denying that he received any of the alleged benefits from Hill, but that's not what Dye told an NCAA investigator during a 2011 interview.
Dye had a pair of interviews on the same day with now-retired investigator Rich Johanningmeier, who also led the NCAA's troubled probe of USC, and reportedly implicated Hill. Citing inconsistencies between his story then and his later affidavit, the NCAA called Dye in for another chat last week—he could face unethical conduct charges and lose his eligibility.
In the affidavit, Dye had alleged that he felt intimidated by Johanningmeier, and testified a certain way because he felt his scholarship would be threatened otherwise. Dye and his lawyer doubled down on this in the police report:
In the report, Heitner said that "prior to the start of the second interview, Mr. Johanningmeier coerced Mr. Dye into providing favorable answers for his investigation."
Dye, according to Heitner, "did not recall specifics of what Mr. Johanningmeier was asking. Mr. Dye stated that he felt intimidated by Mr. Johanningmeier."

Heitner said Johanningmeier "threatened Mr. Dye's football eligibility if he did not cooperate during the interview."
G/O Media may get a commission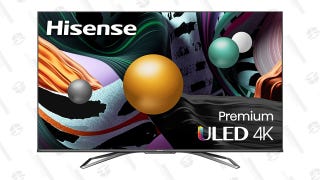 Save $350
Hisense ULED 65" Android 4K HDR Smart TV
Police aren't obligated to investigate Dye's claims, and a spokesperson wouldn't tell the Miami Herald if they'd be following up. But this is the logical endpoint for the NCAA, which desperately wants to keep its kangaroo court in-house. Johanningmeier has been sued multiple times for defamation relating to past investigations, and perhaps now we'll see if the NCAA's fast-and-loose methods will fly in a criminal court.