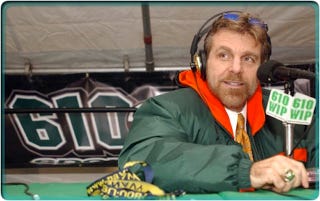 Howard Eskin has been one of Philadelphia's biggest sports radio personalities for more than 20 years. His reign as the city's self-professed "king" of the genre came to an end last month, however, when WIP switched to an FM format and his radio duties were cut back to a couple of hours on Saturday mornings, though he still does a lot of work as a television reporter. Eskin made his bones by never being shy about expressing an opinion, but his credibility took a hit with many listeners in recent years because he often refrained from being as critical of the Eagles (and head coach Andy Reid in particular) as he was with just about everyone else in the city.
Friday afternoon, Eskin took some of his renowned Eagles homerism on the road. He appeared on the Bay Area station KNBR and backed up his prediction about yesterday's 49ers-Eagles game after first making a guarantee. "There is no chance the 49ers win—zero. This is a stone-cold mortal lock," he said. At that point, his San Francisco interlocutors asked if he was sure enough about that to do something like walk between the cities if the Eagles were to lose. Eskin didn't flinch: "I'll take a bike from Philadelphia to San Francisco [if the Niners beat the Eagles]. Yes. There's no way the Eagles go 1-3. None. Absolutely none. ... They can't lose to the 49ers."
Eskin can't hide from this, either. KNBR has a podcast of his appearance on its website, and the part where Eskin gets bold begins at the 10:30 mark. In 1989, former Pirates announcer Jim Rooker said he'd walk from Philly to Pittsburgh if the Pirates blew a 10-0 first-inning lead against the Phillies, which they eventually did. After the season, Rooker made good on his promise and walked the 300 miles that separates Pennsylvania's two largest cities. But Philadelphia, it should be noted, is approximately 2,900 miles from San Francisco.
[via Larry Brown Sports]