The NHL Closer is written by five epic heroes from Melt Your Face Off. When not slaying the monsters on goalie masks, they constantly polish their swords. Raskolnikov recounts last night's act of valor.
In 1942, the brave Toronto Maple Leafs rebounded from a 3-0 series deficit to win the Stanley Cup over the Detroit Red Wings. Thirty-three years later, the fearless New York Islanders climbed out of the same proverbial hole against the Pittsburgh Penguins. Time is like a river, and history repeats. Can the Dallas Stars succeed where the San Jose Sharks failed in the previous round? They took the first step yesterday with a 3-1 victory.
Dallas played more aggressively to start the contest, drawing three Detroit penalties in the first 13 minutes. However, as Detroit is wont to do, they handled the Stars best shot. Although Dallas controlled the tempo in the first period, Chris Osgood only had to make nine saves, as the Red Wings covered most of the shooting lanes. Henrik Zetterberg and Pavel Datsyuk demonstrated their defensive prowess during this time by accruing three takeaways and not allowing any major problems in their defensive zone.
Detroit should have taken control of the game in the second period. Datsyuk put a shot past Marty Turco, but referee Kelly Sutherland immediately waved off, citing Tomas Holmstrom for crease infringement. Replays showed that Holmstrom's feet stayed outside the blue ice. Swedes are the new victims of profiling. With 23 seconds left in the period, Loui Eriksson scored his fourth goal of the playoffs off a rebound that Osgood could not control.
Zetterberg silenced the American Airlines Center 49 seconds into the third period. Toby Petersen, in a similar spot to Steve Downie in Game 3 of the Eastern Conference Final, turned the puck over at the Detroit blue line to Datsyuk. The Russian skated into the Dallas zone, shoveled a quick pass to Zetterberg, who wristed it past Turco. Four minutes later, Mike Modano's power play one-timer in the slot gave Dallas the lead again. Brendan Morrow added an insurance goal from the same spot on the ice nine minutes later.
G/O Media may get a commission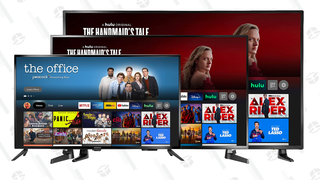 Up to 44% off
Prime Early Access - Insignia Fire TVs
Will the Stars overcome the odds? Will Sir Modano bring back the head of the octopus to his fair lady Willa? Will Marty Turco stop playing the puck too often? Eh, probably not.
Puckdumps
The OFB Team speaks for most, if not all hockey fans on Tony Kornheiser's buyout. [ On Frozen Blog ]
In three weeks, Mark Bell will be wearing a throwback Craig McTavish jersey. [Battle of Ontario]
Campbellnomics is not as destructive to lower-class citizens as Reaganomics, but it didn't end the Cold War either. [The Hockey News]
Finally, who or what is the most lifelike in this Little Caesar's ad?