I know what you're thinking. $98 for a garbage bin? But if you consider that thissimplehuman stainless steel kitchen trash can looks terrific, carries a Sweethome recommendation, and has a pedal rated for 20 steps/day for 20 years, it starts to look like a wise investment. [simplehuman Wide-Step Rectangular Step Trash Can, $98]
Update: Amazon has sold out at $98, but Target has it for $108 after a 10% discount when you choose in-store pickup. Use a Target REDcard, and that'll come down to $102. It's not quite as good a deal, but it's way better than the usual ~$120-$140 price. -h/t Tristan
---
Groupon is currently offering a $10 Starbucks eGift card for just $5. I wouldn't expect this deal to last long, so secure yours now. Limit 1 per account. [$10 Starbucks Card, $5]
G/O Media may get a commission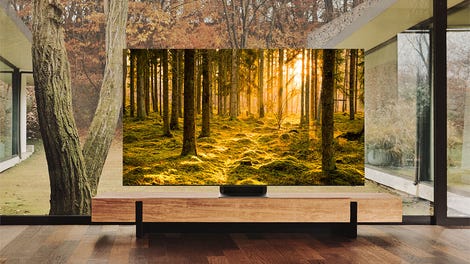 Up to 40% off
Samsung Smart TVs
---
You'll still want a stainless steel chef's knife around for certain jobs, but ceramic knives have plenty of uses too, especially at this price. [Shenzhen Knives. Ceramic Knife Set - 3-piece, $28]
---
This little Bluetooth remote can pair to your iOS or Android smartphone to control music playback, invoke voice control, and even control your camera's shutter from up to 30' away. [New: GOgroove BlueGATE RMT Bluetooth Multimedia Photo Shutter Remote Control, $20 with code DEALSRMT]
---
Looking for an awesome camera at a crazy price? Here's the Sony RX100 for $330- which is a whole lot of camera for that price point. It's had a couple of follow-ups since release, but it's still a very, very good point and shoot. [Sony RX100, $330]
---
Amazon is back with another Gold Box deal on flash storage, with a few bonus portable USB chargers thrown in for good measure. Today's selection comes from PNY, and includes some ultra-fast 90 MB/s SD and MicroSD cards for terrific prices.
As always with Gold Box deals, these prices are only valid today, or until sold out, so grab whatever you want as early as possible. [ Amazon]
---
As long as Timbuk2 is in business, I can't see myself buying a backpack or messenger bag from anyone else. [Timbuk2 Sidebar Briefcase Messenger for up to 15" Laptops, $28 with promo code EMCWWWB76]
---
Here's a great starter kit to make your smartphone the center of your car's sound system.
---
Two more good 2DS deals today, including one on the new crystal version.
---
The now optionally first-person Grand Theft Auto V current gen port gets a day one $10 discount. [GTAV, $50]
---
The latest Humble Books Bundle includes, among other things, the Hunger Games Trilogy.
---
Guardians of the Galaxy's preorder price continues to drop.
---
$35 is a good price for a Bluetooth speaker; doubly so when it includes a USB battery pack and FM radio. [Gogroove BlueSYNC SPB Portable Battery Charger for Smartphones with Wireless Bluetooth Speaker , Integrated FM radio and Power Bank, $35]
---
The excellent Brother EHL-2270DW laser printer sells like hotcakes whenever we see refurbs for $60. Today, it's $58, so it should sell like...hotter cakes? [refurb Brother EHL-2270DW Compact Laser Printer with Wireless Networking and Duplex, $58]
---
I can't say I understand the appeal, but these trackball mice are always incredibly popular whenever we post a deal. [Logitech Trackman Marble Mouse, $20]
---
We're big proponents of rechargeable batteries around here (particularly Eneloops), but if you prefer standard alkaline, this is a fantastic bargain. [Rayovac Batteries - 40x AA-20/AAA-20 Combo Pack, $10]
---
Your favorite products shape the deals we find and cover, so be sure to go vote in these two categories.
---
A lot of people have the wrong impression about Pinterest. It's actually an incredibly useful bookmarking tool that you'll get far more value out of than the other major social networks. We're using it to collect and organize the huge amount of product coverage from us, our Editorial Staffs, and you.
---
Inventory
---
Home
Kitchen
Tools
Auto
Kids
Apparel
Bonus
---
Media
---
Movies & TV
Books & Magazines
Apps
Music
Gaming
---
Tech
---
Storage
Power
Headphones
Home Theater
---
Black Friday and Cyber Monday are right around the corner. Keep it locked here for the Internet's best coverage.
We work together with you to find the best products and the best deals on them, click here to learn more. We operate independently of Editorial and Advertising, and if you take advantage of an item we cover, we may get a small share of the sale. We want your feedback.