Hello fellow sports enthusiasts! It's that time again: World Art Day. But also, the NBA playoffs, the best* postseason tournament of all, begin today. Another thing that began today: My work on this playoff preview blog! Let's run down the first-round series that are starting this afternoon: the storylines of interest, the players to watch, and as much other stuff as I can fit in here before it takes too long and I get fired. (We'll leave the other ones for tomorrow.)

*Longest
Cleveland Cavaliers (2) vs. Indiana Pacers (7)

What time does the game start?
3:00 p.m., Eastern, on ABC.
Who are these basketball groups?
The Cavaliers, of course, are your reigning NBA champions, who rose valiantly from a three-games-to-one deficit and triumphed over the vile Golden State Warriors in last year's Finals. For much of the season—certainly up through February's All-Star break—the Cavs seemed like they were cruising to the East's top seed and the smoothest possible route to a third chapter in their Finals rivalry with the Warriors. Then their defense, which never was all that good to begin with, completely imploded and they went 12-15 after the break; now the most persuasive reason to expect they'll make the Finals is a skeptical look at Boston's roster. It's been a rough second half.
G/O Media may get a commission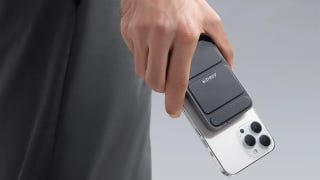 15% off
15% off Anker Top Ten Products
Take charge
Treat yourself to a portable power bank, a magnetic wireless battery for iPhones, or even a solar generator. There is a reason these are in the top ten. For instance, the Anker 747 Power Bank is a 4-in-1 charger utilizing USB-A and USB-C to be capable of charging up to four devices at once. Great to take with you when traveling and in need of keeping your phone, laptop, and even Nintendo Switch powered on.
As for the Pacers, fuck the Pacers. They stink.
Who are the key players in the series?
LeBron James is the key player in the series, for two reasons. For one, if LeBron stays healthy and wants to advance, the Cavaliers almost certainly will advance, pretty much no matter what else happens in this series. For another, the most important factor in Cleveland's hopes for another Finals appearance is LeBron's freshness. Merely getting past the Pacers is not quite good enough: They have to get past the Pacers without requiring LeBron to grind himself to death in the process. That's far from certain: The main storyline of the Cavs' season to this point has been the size of the workload he's had to take on, and his frustration with it.
That makes Kyrie Irving, Kevin Love, J.R. Smith, and Tristan Thompson—and even bozos like Iman Shumpert, Channing Frye, Richard Jefferson, Kyle Korver, and possibly Deron Williams—key players, too. If the Cavs can produce on offense without LeBron doing everything, then he might be able to take the occasional breather. If they can play defense without him having to lock down Indiana's Paul George on every possession, then he can float around in a less taxing role at that end of the court and save his Playoff LeBron gear for when it's most desperately needed. Nothing about this dynamic is particularly new; what's different between this season and the last two is, LeBron's a year older, and the Cavs are a lot worse at taking pressure off him than they were last year.
I suppose Paul George is a key player, too, in that if the Pacers are going to make things miserable for LeBron, he'll probably be the main reason why. If you are not a Pacers fan, or if you'd rather see the best possible Finals than the most tightly contested first round, then this is a thing to root against.
Is this series good or butt?
Probably butt. The Pacers are pretty miserable to watch. The best hope for a fun series is if neither team plays any defense, which is a real possibility!
What should I say, at the bar, when this game is on the television?
"Ugh, I hate the fuckin' Pacers."
Who will advance?
The Cavaliers will advance.
---
Toronto Raptors (3) vs. Milwaukee Bucks (6)
What time does the game start?
5:30 p.m., Eastern, on ESPN.
Who are these basketball groups?
The Raptors are basically the same aggressively uninteresting dinguses they were last season, when they shook off a couple years' worth of disappointing playoff outings to make their way to the Eastern Conference Finals. Kyle Lowry shoots threes and flails his way into endless undeserved free-throws; DeMar DeRozan shoots long twos and flails his way into endless undeserved free-throws; Serge Ibaka, acquired at the All-Star break, is like if you took last year's Bismack Biyombo and Patrick Patterson and smushed them together into one player who was better than either of them. This time around, Lowry missed 22 games, so they're in third instead of second. That's about it.
The Bucks, meanwhile, are dope! They've finally become more-or-less the team everybody thought they were going to be last season, loose and long-limbed and outrageously fun, thanks to an insane breakout year by Giannis Antetokounmpo, their seven-foot point guard, who is so ridiculous and ferocious and good that sometimes he's like a bright light that kind of hurts to look at. I would bite the tip off my ring finger to get him on the Wizards, but alas that is not how professional basketball works.
Anyway, after a slow start to the season, the Bucks came on extremely strong in the second half. By the season's final weeks, they may have been, after the Cavaliers, the East team the other East teams most hoped to avoid in the first round. The Raptors got 'em.
Now do the key players. Who are they.
Well, shit, I kind of think I gave this away up above. For the Raps, it's Lowry and DeRozan; if their FT-spamming shit works in the playoffs as well as it does in the regular season (it generally hasn't in the past), they won't see the huge efficiency drop-offs that turned the Raptors, collectively, into a giant reeking turd in 2014 and 2015's postseasons. If it doesn't, the Bucks will have lots and lots of chances to get out and run off defensive rebounds, and the Raptors will be in trouble.
For the Bucks, it's Giannis! Who rules! But also it's fabulous rookie guard Malcolm Brogdon, and swingmen Khris Middleton and Tony Snell, and sixth man Greg Monroe, and basically anybody else who might reflect some of Antetokounmpo's blinding glow in a good way. Which I guess is another way of saying: It's Giannis. He led the Bucks in every counting stat. He is the Bucks.
Is this series good or butt?
It's good! The best break the NBA caught in the playoff seeding was the Bucks landing in sixth, to bring some electricity and fun to what would have been the bracket's most dismal series if the Raptors had landed virtually any other plausible opponent. Instead, we get Giannis with a nonzero shot at advancing, and it ought to be great TV.
What do I say when this game is on TV?
"YAH-niss Ahn-TET-oh-KOOM-po." Practice it a few times first.
Who will advance?
The Bucks will advance, if the universe bends toward joy and light. So, uh, probably the Raptors will advance.
---
San Antonio Spurs (2) vs. Memphis Grizzlies (7)
What time does the game start?
8:00 p.m., Eastern, on ESPN.
What's with the teams?
Tim Duncan retired after last spring's disappointing second-round exit, and the Spurs' win total dipped from 67 last season to 61 in 2016-17. How many teams could lose one of the best players in basketball history, the cornerstone of the franchise for 19 years and the foundation of its entire identity, an outrageously efficient plus-minus monster right up into his 40s ... and bear it more smoothly the Mavericks registered the end of their one-season Zaza Pachulia rental? No teams. No teams could do that. The Spurs are from outer space.
But so are the Grizzlies, in their weird-ass un-telegenic sort of way! They are still relying on cagey old farts like Zach Randolph, Tony Allen, and Vince freaking Carter for meaningful contributions, and it's still working! Carter is less than a year younger than Tim Duncan, and he is still doing stuff like this, in the NBA, for a team that is good and not bad:
That's fucking bonkers. The Grizzlies are ridiculous and I love them.
And now the guys.
The Spurs still get a lot out of Duncan-era mummies Tony Parker and Manu Ginobili, of course, as well as fellow elders LaMarcus Aldridge, Pau Gasol, and David Lee. Broadly, these old persons are Fine (except maybe Parker, who by many measures was pretty shitty this season), and of course do-everything superstar Kawhi Leonard is a great deal more than Fine (but also definitely not the MVP). They also get contributions from springy relative youngsters Patty Mills, Dewayne Dedmon, Danny Green, and extremely fun dunk-beast Jonathon Simmons. That's a lot of key basketball guys!
All of this is to say, now more than ever, the Spurs are living the decentralized interchangeable robo-basketball for which they have been taking shit for like 15 years. This is a fine formula for winning a lot of regular-season games, but then again it was last season, too, when the Spurs were one of the best regular-season teams ever but still got torpedoed by their own lack of pure one-on-one matchup-winning oomph at least one round earlier than expected.
There is a very delightful irony, here. Kawhi Leonard's MVP candidacy is propped up by the simultaneously and paradoxically basketblogger-friendly and old-fashioned idea that the ability to function with extreme efficiency within a system is more important and valuable than the ability or willingness to create independently—to be a system unto oneself. That you can be the MVP by being, essentially, a phenomenally efficient role player. But the Spurs' postseason fate will be decided by how willing and able Leonard is to adopt traits (creative brilliance, improvisation when the scheme grinds its gears, and, yes, a certain amount of sheer greed for the ball and the shine) associated with the kind of traditional star player he is not—the kind his MVP case is predicated on devaluing. Maybe he'll do it! That would rule.
As for the Grizzlies, yeah, they're getting work from Carter and Randolph and Allen, but they'll only go as far as their two stars, Mike Conley and Marc Gasol, take them. No disrespect to those two, but, if they take the Grizzlies any further than the seventh game of this series, that will be a stunning choke-job by the Spurs.
Is this series good or butt?
Eh, probably butt, unless you reeeally like defensive rebounds.
What do I say, at the bar, when this game is on the television?
"Why, look, those two very tall Spanish men are the Gasol brothers, Pau and Marc, playing on opposing teams in the playoffs."
Who will advance?
The Spurs will advance, unless Kawhi Leonard sneezes out his brain.
---
Los Angeles Clippers (4) vs. Utah Jazz (5)
Ugh, this blog is getting really long.
The game starts at 10:30 p.m., Eastern, on ESPN.
Do the frickin' teams. 
No, you are not trapped in a particularly miserable time loop. The Clippers are hosting a first-round series, again, and have a nonzero but also not particularly real chance of making the Finals, again, and they're kind of inexplicably hard to like, again. I dunno, man, they're the Clippers. Y'know, same as ever.
The Jazz are interesting, though! After a few years of being, basically, Bucks West (in that everybody kept looking at their roster full of appealing youths and going "Oh man, they're gonna be so good this year," and then gradually realizing that actually they still stunk), they finally came of age this season, the same year the actual Bucks did. They're crazily deep and crazily good at defense and Gordon Hayward is crazily handsome and Rudy Gobert is crazily tall and they'd probably be shoo-in Finals picks if they played in the Eastern Conference. They're really good! They also, with their size and frontcourt depth, might be a particularly bad matchup for the Clippers. Which, if you're sick of the Clippers like I am, is a reason for optimism.
Now the players. Do the players.
The Clippers are the same guys they have been, for going on what sure as hell seems like 50 fucking years. Chris Paul will do all the dribbling, forever, until the Jazz through sheer boredom have presented a moment of opportunity. Blake Griffin will shoot ugly midrange jumpers and get frustrated whenever the referees do not call a foul on Rudy Gobert and not dunk because he doesn't dunk anymore. DeAndre Jordan will leap into orbit at both ends of the court. Austin Rivers, if he returns from a hamstring injury before the series is over, will do a very slick-looking crossover that creates zero space for him and then fall over. You will have seen it all a million times.
The Jazz, as mentioned above, are just obscenely deep in useful players. They have more useful wing/combo-guard type guys than any two other teams. But their key guys are: the very sharp-shooting and attractive Gordon Hayward; the extremely tall and terrifying Rudy Gobert; and, for this series anyway, point guard George Hill, who likely will shoulder the bulk of responsibility for defending and disrupting Chris Paul. Als—
That's enough. Is this series good or butt?
It's good! The Clippers are good villains, established enough to make for a good validating test for the extremely talented, up-and-coming Jazz, whose ceiling is far up there that a win in this round might make them actual Finals contenders. It'll be a good se—
Just tell me what to say at the fucking bar.
"I'm an asshole who interrupts playoff previews."
Who will advance?
Go to hell! This blog is over.