The Utah Jazz have been out on the fringes of the NBA for most of the decade. They haven't made the playoffs since the lockout-shortened season of 2011-12 and the last time Utah had an all-star was Deron Williams in 2011. However, both short droughts are probably going to end this season, as the 24-16 Jazz are just getting healthy now, and they're led by an ever-improving Gordon Hayward. The Jazz have yet to find their consistency this season, but tonight they put the defending champs to sleep and showed how good they can be when they click.

Jokic? Embiid? The NBA MVP is obvious... right? | Keep it a Buck(et)
Hayward was phenomenal. He scored 28 points on just 12 shots and added nine boards and a pair of assists. That sort of efficiency is characteristic for Hayward, who gets about the same amount of touches per game as Nic Batum but produces like Paul George. With both George Hill and Dante Exum missing time with injuries, Hayward has been steady as a pick-and-roll ballhandler for Utah, but tonight, he mostly jammed it and nailed threes from long distance. As this highlight reel shows, Hayward is an expert at finding little seams in the defense and finding the right time to run at the rim. Utah doesn't have a particularly exciting offense, but they have a large group of shooters and Hayward is a versatile conductor.
While the Jazz offense has been better than expected (they've hovered around the top-ten in offensive efficiency for most of the year), they are primarily a defensive team. The Jazz currently have the fourth-best defensive efficiency in the league, despite having forcing the second fewest turnovers. That's an odd statistical pairing, and it comes down to Rudy Gobert. The Frenchman is the proud owner of the longest wingspan in NBA history, and he uses it to block 2.6 shots a game and disrupt countless more. Gobert is an imposing rim defender partially because he's also incredibly athletic. Take this awkward shot that he forced LeBron James into in the fourth quarter. Normally, when James lowers his shoulder like this, it's over. Gobert weighs around the same as James, but his tree-limb arms force James to shoot from a very unfavorable angle, one that he's not used to.
G/O Media may get a commission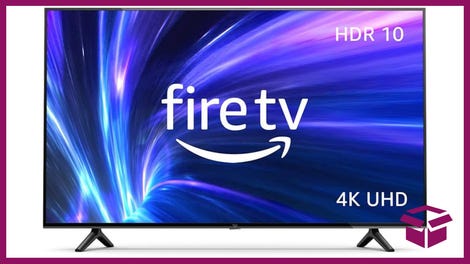 42% Off
Amazon Fire TV 50" 4K Smart TV
Of course, he's also an ace rebounder.
The Jazz like to play 4-out with Gobert in the middle, which means they can fire away from three. Nine of the 11 players who play more than 19 minutes per game take at least one three per game, and as a team, Utah shoots the eighth-best percentage in the league. That will only improve as the team works Alec Burks back into regular minutes. Utah is already a fairly deep team—with Joe Johnson, Trey Lyles, and Joe Ingles anchoring a strong bench group—and the additions of Burks and Exum will only make them deeper.
Utah's ceiling still probably puts them below the Houston-Golden State-San Antonio triumvirate, but their grind-it-out style seems well-suited to the playoffs. They already play the slowest pace in the league, and when transition opportunities dry up in the playoffs, they won't skip a beat. That's far away, and the Jazz are still very young, but they're more than just the team with the good-hair guy. They could legitimately make some noise in the playoffs this year, untested as they are.