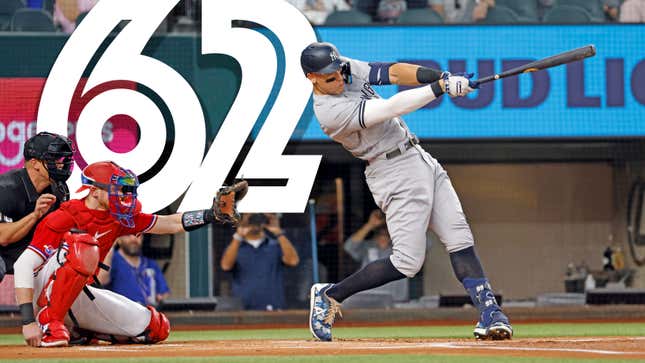 The wait is over.

Yankees' Aaron Judge slugged his American League record-setting 62nd home run tonight in Texas.
The Yankees best player this month is who?!
With just two games left to set the AL mark, and move ahead of Yankee great Roger Maris, Judge led off the second game of a double dip at Globe Life Field in Arlington with a shot into the left-field stands off Rangers righty Jesus Tinoco.
"It's a big relief. I think that everyone can sit back down in their seats and watch the ballgame, you know? No, but it's been a fun ride so far," Judge said. "Getting a chance to do this, with the team we've got, the guys surrounding me, the constant support from my family whose been with me through this whole thing ... it's been a great honor."
Judge had been sitting on 61 homers since Sept. 28.
The home run ball was caught by a fan wearing a Rangers cap in the left-field stands who'd brought his glove. After catching the coveted ball, the fan proceeded to high-five all those around him.
Just off homeplate, Judge's Yankee teammates were waiting to share the moment
"Pretty surreal," Judge said of the scene at the plate. "Just like in Toronto, it was pretty awesome, having their support. I think, in Texas, they were a little more excited. They could finally exhale..
The Major League record for homers in a season was set by Barry Bonds in 2001 with 73.