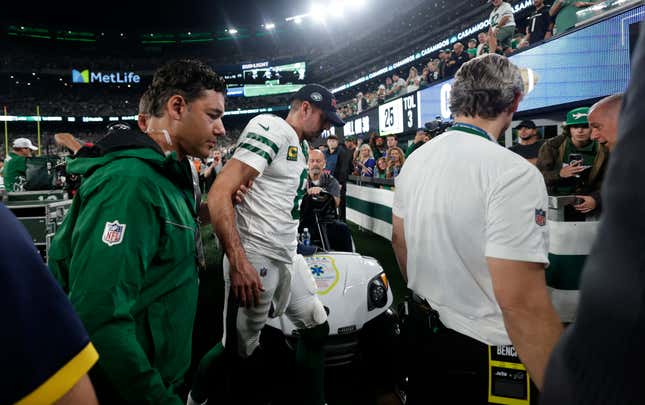 Updated Sept. 12: Aaron Rodgers tore his Achilles and is done for the 2023 season, per ESPN.
Aaron Rodgers on the brink of disaster | Trash Talkin' Tuesday
Well, that didn't take long.

The buildup for Aaron Rodgers' debut with the New York Jets started before he even signed with the team. We spent an entire spring and one month of summer figuring out how he fits with the Jets, and then he signed the contract on July 26. And after a five-week Hard Knocks season was largely dedicated to Rodgers, his 2023 season is in serious jeopardy after he suffered an injury on his first drive against the Buffalo Bills on Monday Night Football.
The Bills pass rush came from the blindside and Rodgers tried to get away. He ended up getting sacked. Rodgers stood up and immediately sat right down. He was assisted off of the field, placed onto the cart, and then helped into the tunnel. The Jets announced that Rodgers suffered an ankle injury, but did not provide any more details.
Rodgers is having an MRI on Tuesday, according to coach Robert Saleh.
"The MRI is probably going to confirm what we think is going to happen, so prayers tonight," Saleh said after the Jets' 22-16 OT win over the Bills Monday night. "But it's not good."
ESPN's Lisa Salters provided an update in the second quarter, giving a glimmer of hope, saying that Rodgers' X-rays were negative, but he is officially out for the rest of the game.
"He's dealing with an ankle right now, he's getting checked out," coach Robert Saleh told Salters.
But that glimmer of hope is all but extinguished now that the 39-year-old future Hall of Famer is likely out for the year, and could be facing the end of his career.
According to reports, Rodgers wore a walking boot as he made his way to the Jets locker room after getting X-rays.
Since fracturing his collarbone during the 2017 season, Rodgers has been fairly healthy. He won the MVP in 2020 and 2021, but he did play through much of last season with an avulsion fracture in his left thumb.

Two of the Jets' biggest issues bit them on the play in which Rodgers went down: Offensive line play and the MetLife Stadium turf. Last season, both Sterling Shepard and Kyle Fuller suffered season-ending injuries on it. As for the line play, Mekhi Becton missed most of the last two seasons due to injury, and Duane Brown missed much of training camp after receiving surgery on his torn left rotator cuff that he played through for most of 2022.
Becton had been gradually worked into the starting rotation this summer, and the Jets activated Brown off of the PUP list on Aug. 23.
And then there's the turf problem: This was supposedly fixed by replacing the slit-film surface with FieldTurf Core. The artificial surface certainly did not look as tight as it was splashing onto Daniel Jones' face, as the Dallas Cowboys repeatedly slung him onto it during their 40-0, Week 1 victory.

On the play in which Rodgers got hurt, the pass rusher on Brown's side got to Rodgers pretty quickly. As Rodgers went down, it did look like his foot got caught in the turf underneath his body.

All of that hope and hype, dashed in less than a half hour after kickoff. Rodgers arriving to save their season was the story of the offseason. At halftime of Week 1, a happy ending to that story may not be physically possible.