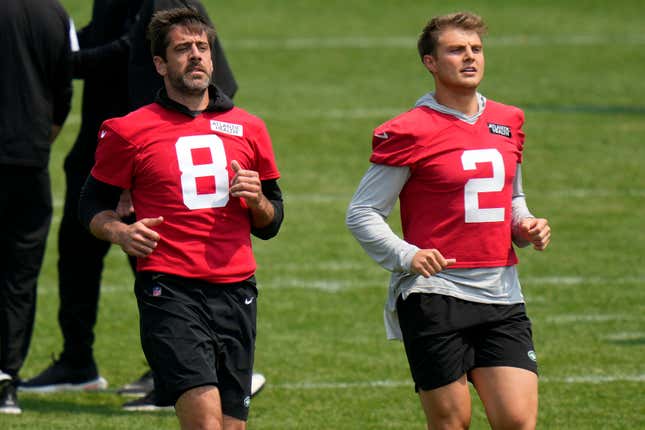 Get ready, New York Jets fans; it looks like you're about to get much more access to your team in the form of Hard Knocks. With all the attention and hype surrounding Aaron Rodgers' arrival, the Jets only make sense. Even if there is some hesitation, the Jets are among four finalists who could be chosen (read: forced) to do the show. In all honesty, the way New York chased headlines earlier this offseason with the Rodgers saga, they should be put in this spotlight and made to entertain the masses with their potential dysfunction.
Will Aaron Rodgers turn the Jets into instant contenders?
The Chicago Bears, Washington Commanders, Jets, and New Orleans Saints are all in the running for the next Hard Knocks subject. None of these teams have been to the postseason the past couple of years, don't have a new head coach, and have not been on the show within the past decade. That's the criteria for the league to be able to push one of these teams into the spotlight of Hard Knocks regardless of their wishes.
Whether they like it or not, the Jets have earned this with all the hoopla centered around them and Rodgers during the offseason. The trade that took forever to finally happen had every sports media outlet's attention, so of course, they'd be the NFL's pick among the four teams in the running. Because of the so-called, Hard Knocks "curse,' it's become harder to find willing candidates. Despite some teams doing well after participating in the HBO creation, some think there's a curse attached to the show.
It really comes down to franchises' lack of interest more than anything. Some superstitious folk around certain organizations could believe in the curse talk, but overall it feels like coaches and players are over it. That's what it ultimately comes down to.
Of the four leading contenders for the next season, the Jets are the most intriguing team and would likely yield the best ratings. After all, this is a television series, and they want as many eyes on the product as possible. New York welcomed all the attention in February, March, and April that surrounded the team while pursuing Mr. Rodgers. Now that they've secured his services and he's settling into the neighborhood, they don't want to play ball. Unfortunately, for head coach Robert Saleh and his locker room, it sounds like they better prepare for lights, camera, action.