A Hail Mary seems like a weird thing to be good at, no? Even etymologically, it's a prayer, a low-expectation play that has a much better chance of being picked off—to say nothing of being knocked down—than of being completed. And by definition, once that thing is up there, it's anybody's ball. And yet Aaron Rodgers is good at Hail Marys.
"That's three in the last calendar year or so," Rodgers said, and he's right. There was the one against the Lions last December, and the one in Arizona a month later. "It's fun. Every single time, it's fun. I think we're starting to believe any time that ball goes up there, we've got a chance."
Yesterday's came at the end of the first half, a half in which, until the last couple of minutes, Rodgers and the Packers couldn't get anything going. It changed the entire complexion of the game when Rodgers found Randall Cobb in the very back of the end zone.
Rodgers's arm strength has always stood out, and that counts vertically as well. The thing about this bomb, and his others, is how high he throws the ball, and how steep an angle it comes down in. (See this field-level angle of the Hail Mary against the Lions.) Rodgers's throw comes in behind the entire Giants' secondary; he's basically dropping the ball in a bucket from 60 yards out.
This is no accident. "The high arc is definitely by design," Rodgers said last night. D-backs are used to throws of that length coming in at shallower angles, so they're used to just making sure they're in front of any receivers, and can just jump and knock it down. But Rodgers avoids throwing through the forest of arms.
"I mean, it's like a perfect ball," Bryan Bulaga said. "I'd love to see the Sports Science of how it actually goes. He throws it so high, and the way it descends, I think, gives the receiver a real chance to catch it. But I think it also makes guys misjudge it."
G/O Media may get a commission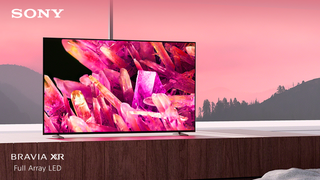 $400 off
Sony 55 Inch 4K Ultra HD TV X90K Series
The Packers practice Hail Marys, and every other team practices defending Hail Marys, but they're barely the same play. There's a mental clock that starts ticking when a QB releases the ball, and a mental projection of how it's going to come in. Rodgers's throws mess with both of those calculations.
"It looks like, as is the case many times, there's a little bit of misjudging of the football by the middle of the pack there," Rodgers said. "As I watch it, it reminds me of the Flutie-to-Phelan catch there, where he just kind of sneaks behind the last defender and he's the only one there."
The Hail Mary is just another weapon in Rodgers's arsenal, one that for most QBs isn't supposed to be a weapon at all. But why trust to luck when your arm doubles as a mortar?