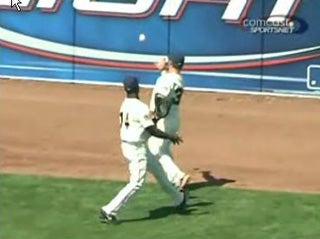 Well, the All-Star rosters are complete, except for one spot on each team. Internet voting to determine those last two spots ends on Thursday at 2 p.m. PST, and Aaron Rowand of the San Francisco Giants would like your vote. Following the jump you will find his campaign video. The action is from Friday's game with the Dodgers, as Giants center fielder Fred Lewis tracks down a fly ball, but has it pop out of his glove for a sure error. But wait, there's Rowand! Will he catch it?
Ironically only the second-weirdest play in the outfield in the majors on Friday, Rowand barehanded the carom out of Lewis' glove for the out. The Giants went on to lose to the Dodgers however, 10-7.
For reviving the lost art of backing up a teammate in the outfield, Wizard Cat gives this play: Seven wands.
Giants Highlights [MLB.com]
A-Rod Receives Most Votes; Red Sox, Cubs Fill Up All-Star Rosters [CBS Sportsline]