It's time for the biennial "Tom Brady restructures his contract" news cycle, and it always goes the same way: the initial release, passed along by a useful media mouthpiece, makes it seem as if Brady is forfeiting money to help the Patriots afford to get him better teammates; then, the details come out, and it emerges that both Brady and the Patriots stand to benefit from the deal. Here we go again.
Brady's supposed selflessness was burnished when Adam Schefter reported that the quarterback had redone his deal with the Patriots to free up $24 million "to use on other players." The way Schefter worded his scoop, however, was confusing. Here's his report, in full:
In a deal turned into NFL today, Tom Brady restructured his contract to give NE $24 million more in cash to spend this winter, per sources.

Under the new deal, Brady changed the $24 million in "skill" guarantee to only "injury" guarantee, meaning that Brady now would get the guaranteed money only if he were injured. Brady also now can be released from the Patriots without any liability, but he then would become an unrestricted free agent, free to command the type of guaranteed money he has agreed to surrender. This frees up cash for the Patriots to use on other players. New England needs the cash to help re-sign some of its own free agents such as Darrelle Revis, Devin McCourty, Nate Solder and Shane Vereen, amongst others.
In the 2013 offseason, Brady restructured his contract through 2017, something he's done a few times in his career, usually receiving more up-front money in exchange for spreading out his salary cap hit. That new contract stipulated his base salaries for the 2015, 2016, and 2017 seasons would be $7 million, $8 million, and $9 million. As ESPN's Field Yates pointed out last Friday, those salaries were set to become fully guaranteed, for both injury and "skill," on Saturday, Dec. 27, 2014.
G/O Media may get a commission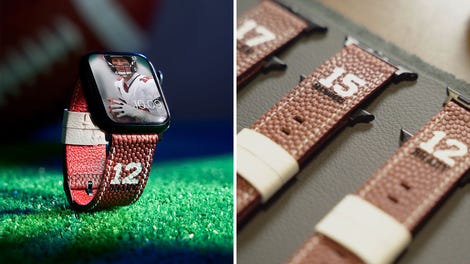 Official NFL PRODUCTS
Official NFL Apple Watch Bands
Because it would have been guaranteed under all circumstances, that $24 million would have gone into a third-party escrow account, and been paid out to Brady over the course of the deal. From the Patriots' point of view, the key is that they would have had to deposit all $24 million right away.
What this restructuring does is absolve the Patriots of having to deposit that money. Instead, they can keep the cash on hand—and cut Brady's paychecks directly over the next three years.
So, what's in it for New England?
With this restructuring, that $24 million is now technically available to use for this offseason's free agents; since the Patriots have it, they can spend it. The move does not affect cap space, however. It does not give the Patriots more room than they had last week to sign players; it just gives them more liquidity.
But Schefter wasn't entirely talking out of his ass. The freed money could help keep players in New England in the form of more up-front cash. Mike Reiss of ESPN Boston explains:
[The Patriots] now have more ready cash. Thus, it potentially puts them in a position where they can get creative with some critical upcoming negotiations, as cornerback Darrelle Revis, safety Devin McCourty, left tackle Nate Solder (fifth-year option), running back Shane Vereen and kicker Stephen Gostkowski are some of the team's notable players scheduled to be free agents after this season. In a situation where the Patriots could be competing against other teams for those players, the possibility of being able to commit more cash to them in the 2015 calendar year could be an advantage.
Additionally, this benefits the Patriots via exactly what it says on the label—if Brady turns terrible over the next few seasons, the Pats can now cut him without having to pay him. No one expects that to happen, but this restructuring is all about flexibility for New England.
There is one major nagging issue, though: why would multi-billionaire Robert Kraft worry about obtaining a relatively measly $24 million in cash on hand? That's an excellent question, and one which no one without access to Kraft's books could possibly answer right now. The Patriots would appear to be thriving financially, but remember: they are far from Kraft's only holding.
What's in this for Tom Brady?
More money! Not a ton—a relatively small $3 million, spread out over three years—but a raise nonetheless. Unreported in Schefter's original story was that the Patriots are upping the base salaries for Brady's next three seasons. Reiss:
As part of the restructure, the Patriots added $1 million to each of the base salaries in Brady's contract, per a source. Brady will now get $8 million in 2015, $9 million in 2016 and $10 million in 2017. That is still a significant bargain for the team based on market rates. But more than that for Brady, what he hopefully gains is better players around him as the team can now spend more cash in 2015 on key players.
(Brady's $30 million signing bonus from 2013 is still being paid out, and is unchanged by this restructuring. And it has to be emphasized that Brady remains a ridiculous bargain compared to what he could command on the open market.)
So, Brady turned guaranteed money for the future into more money for the future, with slightly less security. He still gets the wad of cash if he's injured, so he's not left hanging. In exchange for $3 million, the Patriots get more flexibility this winter, and more options in the future should the 37-year old Brady hit a rapid decline. As with most restructurings of Brady's contract, both sides win. And as with most restructurings of Brady's contract, it's almost pointless to think too far ahead on this one: they'll probably just restructure it again next year.
Photo: Getty Images