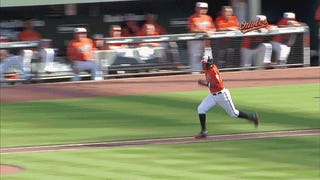 Umpire Hunter Wendelstedt took a hard fall during Saturday's Blue Jays/Orioles game when Baltimore outfielder Adam Jones went for second base on an error. Ow.
Jones clearly didn't push Wendelstedt down intentionally, and even turned back to check on him. It was all momentum.
Wendelstedt remained in the game, but he sat out today's series finale. The guy probably deserves a day off after that tumble.