Adrian Peterson is under contract with the Vikings through 2017. He has absolutely no interest in playing out that contract, demanding either a raise or a trade, depending on the day and the audience. Yesterday was the most public trade demand yet, with agent Ben Dogra declaring that Peterson is fed up.
"I don't think it's in Adrian's best interest to play in Minnesota,'' Dogra told reporters at the NFL owners meetings in Phoenix. "Why would it be?''

Dogra, speaking in the Arizona Biltmore hotel, site of the meetings, also told USA Today about Peterson: "We want out of Minnesota."
Those are strong words, but it's good to keep in mind that this is all part of the negotiations. I don't know whether Peterson actually wants out, but it's in his best interests to make it appear that he'll be a nightmare if he has to report to the team with things as they are.
Peterson makes good money, but his deal is almost up, and he just turned 30 years old after missing almost an entire season. This offseason is his best chance at one more mammoth contract—if he has to wait another year or two, either his production will have started to slip or his age will just be too scary to justify a significant deal. Peterson wants the Vikings to re-work his current deal to give him guaranteed money, and who can blame him? It's probably his last chance.
Complicating things from both sides is Peterson's apparently frayed relationship with certain members of the Vikings, and with Minnesota fans and media, after serving essentially a 15-game suspension as he was arrested for (and eventually pleaded down from) child abuse charges. Peterson reportedly believes that the Vikings' general counsel Kevin Warren conspired with the NFL to keep Peterson from getting back on the field in 2015. Last month, Warren received a big promotion.
G/O Media may get a commission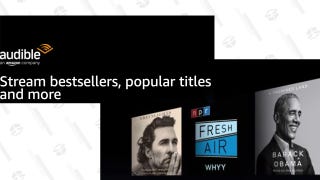 FREE
Audible Premium Plus 3-Month Free Trial
The problem is, we have no idea how much of this is legitimate bitterness and how much is for show. Dogra's altercation with a Vikings executive at the combine, Peterson's rejection of a dinner meeting invitation by GM Rick Spielman, all of this could be how Peterson's camp has decided to maximize its chances of getting a new contract. And if that new contract happens to come from a different team? So be it.
So far, the Vikings front office isn't budging—although that's almost surely for show, too.
"Adrian's a member of our football team," Spielman said. "He is under contract with us, and we are focused on the 2015 season and expect Adrian to be a part of that."