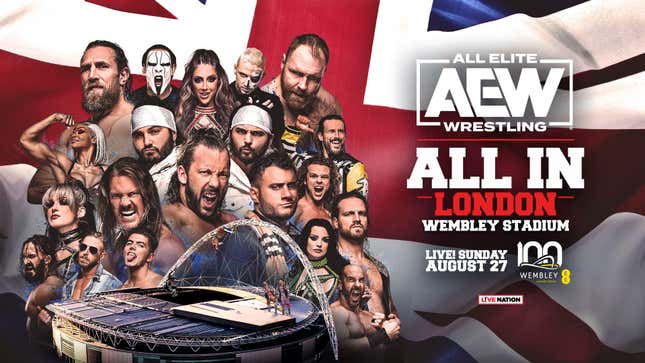 Let's be clear about what the main story is about AEW's All In show at Wembley Stadium on Sunday, which has currently sold 80,000+ tickets and will be the highest-paid attendance for a wrestling show ever (despite whatever figures WWE makes up about past WrestleManias). The story isn't whether or not WWE could sell out Wembley or the like, because we know they could. Probably for two nights if they wanted. The story is that AEW, a company barely four years old, in such a short time created such a following, and a following overseas, that they could sell that many tickets to a show. And most of them before a single match had been announced. It is a wondrous accomplishment.
Shame more people won't get to see it.
It's hardly surprising that Tony Khan decided to make All In a pay-per-view. It is the biggest event he has put on, and maybe will be for a long while, and AEW fans will crave to see it. They'll want to see a celebration of all that AEW is and has accomplished, which is what this show will be. There could hardly be a bigger statement of how far it has come than 85,000 Brits singing "Judas." That's a party AEW fans will gladly pay to be a part of. And certainly the accountants are happy with another $5 million or so in the coffers from the PPV buys, maybe more. That money makes a difference, on top of the $10 million Khan said the gate has already provided yesterday.
Still, it feels like a lost opportunity for a show of this magnitude from an upstart company to not be more accessible. To whatever extent the "casual wrestling fan" actually exists (and it might not at all), what better way to rope them in than having them pass TNT or TBS on a Sunday afternoon and seeing the scale of this show? A football stadium full of people absolutely losing their rag will make anyone pause for at least a minute. It's how a lot of people get into soccer, after all.
To boot, it's a pretty barren spot on the sporting calendar. There's only one preseason NFL game on Sunday, and it's at night after All In would have ended. There isn't college football moonlighting on Sunday as it will on Labor Day next weekend. It would only be running up against baseball, which is not something AEW has ever been terribly worried about on Saturday or Wednesday nights.
Maybe TBS or TNT has schedule conflicts? But could TBS not find a way to shove yet another cycle of the Fockers trilogy to the dumpster for an afternoon? TNT has a NCIS marathon followed by X-Men Apocalypse and anyone showing that movie to the public should be tarred and feathered. Seriously how do you fuck up Oscar Isaac?! Sorry, tiger got out of the cage there…
This is certainly wrestling's time, the most it's ever been in the bloodstream. WWE is shattering ratings records, or was until they hit the brakes recently, almost on a weekly basis. Being on Fox on Friday nights has certainly been a reason for that. AEW immediately carved out a place for itself in the marketplace and seems quite entrenched. Is that the limit of its ambition, though? Here is a different brand, a different flavor, that could be featured to a whole new audience.
On a lower level, Khan and AEW are asking a lot of fans to pay for two PPVs in a week's time, with their normal Labor Day Weekend show, All Out, following up the next Sunday. Most AEW fans will gladly fork over the combined $100 or whatever the total ends up being. But just because they will doesn't mean they should have to. And putting All In in front of the most eyes possible would only funnel more people toward paying for All Out. It feels a little Use Your Illusion-y, where instead of a double album fans could buy at once they're being forced to buy two simply because the producers know they can get away with it. But then again, everything feels Use Your Illusion-y to me.
It won't matter much to AEW's fans, or their bottom line, and despite yet more injuries and other complications (did no one backstage realize booking Ray Fenix for a show out of the country when he doesn't have a green card yet might be an issue?) that have affected the booking, it promises to be an excellent showcase of what AEW is built on does best. Just put on killer goddamn matches for a few hours. Sure, some of it feels a little thrown together at the last minute, but that's kind of how the company works. It's run by Khan, who is the definition of "Ready Fire Aim!" The company was started on that kind of whim. It's just that Khan might have done himself a bigger service if he put that showcase where more people could see it.
---
Follow Sam on Twitter @Felsgate and on Bluesky @Felsgate.bsky.social