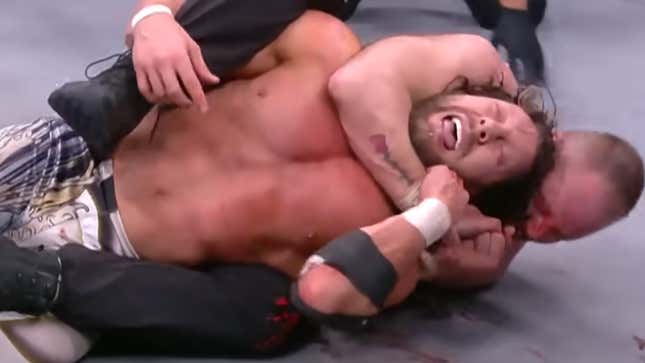 Even four-plus years into its existence, AEW still has that magic of being able to get its fans excited by just having two guys step into the ring. Just the sight of a certain matchup coming to fruition — be it simply a fantasy booking dream, a high point in another well-told story, or some combination thereof — can send spectators into a frenzy. Maybe this is where all those empty-arena pandemic shows helped, because there's still a novelty to it that might have worn off if we'd already seen these wrestlers face off in front of a baying mob for four years straight. Or maybe AEW is just that good at making things still feel special.
How will The Elite return to AEW? | Deadspin Dropkick
It happens on smaller scales. The Chase Center crowd went loopy when Malakai Black climbed through the ropes to encounter Kenny Omega in a trios match, in a kind of, "Holy shit we never even thought of these two together and this is great!" mode. There was the Katsuyori Shibata-Orange Cassidy blowup, which was more in the "never-thought-it-would-happen-and-it-doesn't-really-make-sense-but-fuck-it" joy. But what AEW does best is the big spectacle of the big match, for its own sake.
Jon Moxley and Kenny Omega have now had four bouts together, and all of them felt immense before they even started. The sight of them staring down one another from across the ring is theatre by itself. It probably has something to do with both of them representing the two poles that AEW was founded on. Moxley is the leading light of the ex-WWE contingent — the former indie darlings who were underused and underappreciated in New York, and have been reborn in AEW by doing what they've always wanted. Omega is the biggest cult wrestler around, the one that never dipped a toe in the mainstream but attained a mainstream audience by being that good and forcing people to seek him out in Japan, and Ring of Honor. Basically, Kenny is wrestling's Tool, because I have to get a Tool reference in every month or I die.
Along with the "pillar" types which were essentially developed through AEW after making minor waves on the indies, this is the entire composition of the company. Which is why every Mox and Omega encounter feels massive, because they're two of AEW's truest identities crashing into each other.
Peanut butter and jelly (and violence)
Also, they're just incredible wrestlers. Moxley's 3 a.m. back-alley fight aura and Omega's acrobatic showmanship are two styles that simply blend together seamlessly, especially when these two are as good as they are. Omega wants to put on a show but can crawl into the muck if he has to, and Moxley just wants to create mayhem but can make that crowd-pleasing. It is a version or a modern update of the Shawn Michaels-Bret Hart dichotomy, except Omega doesn't come with any of the empty, cock-rock horseshit that Michaels could be enveloped in, and Moxley is Hart's dedication to the craft if it also had an incredibly bad childhood. Mox and Omega have essentially brought that Michaels and Hart juxtaposition closer together and twisted it just enough to give it layers.
It is notable that in two of their last three matches, when one met the other on his terms, the former needed a backdoor to beat the other, with that backdoor being named "Don Callis" (a more apt metaphor than it appears on the surface). When Omega beat Moxley for the AEW title, it was a straight wrestling match, and Callis interfered on Omega's behalf — before strangely fucking off to Impact for a brief respite that we'll leave unstudied. Last night, in a caged no-DQ match that should be Moxley's wheelhouse given his predilection to violence and bleeding, Callis flipped the script and turned on Omega before he could claim victory. AEW rewards you for paying attention, while also showing that both wrestlers have an incredibly wide range.
And in the middle was a match with a bunch of exploding barbed wire except for the last one that was a dud but hey shit happens.
It is not much of a surprise that heading into a summer that could change the company and maybe even wrestling, AEW went in with what it does best. Before you have to stop wearing white in September, the company will run three PPVs, including Forbidden Door with NJPW, will debut a new show on Saturday nights, perhaps unveil a new TV Deal, bring back CM Punk (and goddammit get Mercedes in here already!), and put on a show at Wembley Stadium in front of anywhere between 65-80,000 people. While it needs to expand its scope to fill two new hours of television — Miro and Thunder Rosa returning last night are about just that — it still needs to be anchored. Mox and Omega (and by extension, Blackpool Combat Club and The Elite) are just that, with BCC being filled with guys getting to let it all hang out after either stunted or finished-out careers in WWE (and Wheeler Yuta) while The Elite are the guys who brought NJPW and ROH styles into every fan's home. They are the imports and the domestics, in some kind of strange fashion given that the domestics made their name in Japan, and the imports came from this country but just go with me.
Omega and Moxley, and the two factions they head, will be dancing around, and through each other for most of this enticing summer, one would have to guess. Every company, at its height, is built on one great rivalry. Hogan and Andre made WWF. Flair and Dusty made WCW and Southern wrestling in general. Rock and Austin gave the Attitude Era a base. Michaels and Hart. Everyone needs a hit song they can return to that the crowd will always eat up.
As AEW is about to rocket into whatever comes next, it made sure last night that it was well-grounded in what it does best. And whenever it gets a little wayward, it can always come back to Moxley, and Omega.
---
Follow Sam on Twitter @Felsgate as he wills Thunder Rosa-Jamie Hayter into existence.