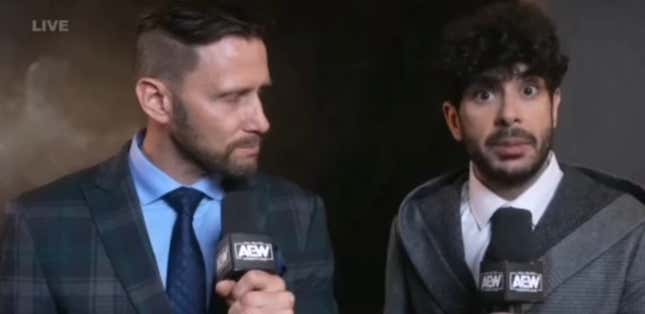 Whenever talking about AEW, it's important to keep in mind that it was formed on, essentially, a bar bet. Dave Meltzer tweeted that no one could fill a 10,000-seat arena with an indie show. Cody Rhodes took that bet, but he had a backer in Tony Khan. That's the base of everything AEW does, which is what gives it the daring, winking, renegade feel it has. The whole company is based on the idea that it's going to do what everyone says it can't simply for the fuck of it, just for the yell they get, just for the smell of it (cue every woman you know over 35 reciting the whole song).
How will The Elite return to AEW? | Deadspin Dropkick
So yeah, Tony Khan can announce a show at London's Wembley Stadium in August, a 90,000-seat soccer stadium, which dwarfs any other building the company has ever run a show in. He can let everyone speculate just how they'll lay it out, how they might reduce capacity, how many tickets they'll actually sell…and then sell 43,000 on the pre-sale, and let everyone think, "Damn, are they actually going to sell 80,000 to this motherfucker?"
Khan can get WB/Discovery to pony up another $50 million for a Saturday night show, giving AEW five hours of TV plus another few on streaming (including Ring of Honor, considered a separate company but another Khan property, as well as AEW's YouTube content), and leave fans wondering just how they're going to fill all that. And then everyone realizes it doesn't really matter once CM Punk returns and anchors the new show (once he's done showing up backstage at every other company to prove all the friends he can make if he wants to).
There's nothing about wrestling that's supposed to be reserved or measured. The bombast of the presentation is one of the main points. And Khan is certainly going to be pushing that for the next few months. Between now and Labor Day, AEW will run Double Or Nothing on Memorial Day Weekend, It's partnership show with NJPW, Forbidden Door, in Toronto at the end of June (that's become Burning Man for wrestling fans), All In at Wembley, and its tentpole, All Out, in Chicago the following week (reportedly). Somewhere in there it will run one or two heightened TV shows like Blood & Guts and Fyter Fest and perhaps a ROH PPV, too, while they're at it. If Khan is ever "making his move," this is it.
And if there ever was a time, it's now. The idea of the casual wrestling fan is pretty much a fantasy. You're either in it or you're not. Also, the idea that most fans of WWE can be converted is a fallacy as well. Everyone's kind of entrenched. But for whatever population is out there that can be grabbed and brought into the AEW world, this feels like an opportunity. While WWE may be flush with cash from their sale to Endeavor, the feeling that Vince McMahon is back in charge (however much he is or not doesn't really matter, because, in wrestling, perception is reality perhaps more than anywhere else), and a deflating ending for most to WrestleMania, the actual product WWE puts out feels pretty stale. Why not get the AEW product out there as much as possible in the biggest ways possible to show something new and different?
It's impossible to measure how much good that Wembley show could do, and not just monetarily (though that's not to be ignored either). There is just a different look to everyone between running a show in a college basketball arena, where most of AEW's shows have taken place, and tuning in on a vacant Sunday afternoon and seeing the company put on a show in front of 70,000 or 80,000 people (and as of now it hasn't been officially announced as a PPV, so there's a decent chance it might just be on TV). There's a legitimacy there that can't be quantified. Anyone not even familiar with wrestling is going to wonder what's going on there.
As for the second show on Saturdays, it's not that AEW doesn't have the amount of talent to fill another couple hours (especially if it's ending its streaming shows, Dark, and Elevation, and can move some of that to TV). But one strength of Dynamite and (to a lesser extent) Rampage is just how packed they feel. Fans are left breathless after the show, because so much has happened in those hours. It is certainly a contrast to the dirge that Monday Night Raw feels like most episodes.
Yes, that overstuffed nature can leave some wrestlers going weeks without being on TV, or some stories taking months to complete simply because they can only rotate onto TV once every two, or three weeks. But it also makes it feel more important when they do appear. Will some of that be lost when more and more are appearing every week?
Tony Khan's magic touch
But Khan always seems to come out on the right side of these kinds of bets. When he introduced the International title, many wondered if the show really needed yet another midcard belt. Orange Cassidy's run with it might be the best title run the company has ever had. The trios title felt superfluous, and while it may have undercut the tag division a touch, The Elite, and The Lucha Bros along with Pac put on some of the best matches in the past year, and the House of Black have carried on that torch just as high. And splitting all of the company's titles onto two separate shows might let them breathe just a little more (but seriously, stop putting the TNT title on Wardlow).
There could be pitfalls. There always are. While the Wembley bet looks pretty sure after that presale news, perhaps the new show doesn't garner ratings on a Saturday night and softens some of the energy the booking has had for all of AEW's existence. Though it's hard to see how a Punk-anchored show ever sags too badly, and Dynamite has a core audience that will never leave. A rash of injuries, like the one the company suffered almost exactly a year ago before the first Forbidden Door, exposes a lack of depth to cover five hours of TV. And yet AEW pulled through that to put on that first Forbidden Door, one of the best wrestling shows of the past few years. Maybe Khan simply gets too stretched booking-wise thanks to the number of PPVs and shows, along with Ring of Honor, and things go loopy. But it hasn't yet.
The more AEW stretches out, the more wagers they make, the greater the chance of something falling off. But AEW and Khan have never operated that way, taking on more, and more — be it shows, free agents, titles, ambition, or just exhuming a new company in ROH — and keep heading to the window to cash. Sometimes life is just better in fifth gear, and it doesn't look like Khan or AEW have any plans to downshift anytime soon.
---
Follow Sam on Twitter @Felsgate while he taps his foot and checks his watch waiting for Mercedes.