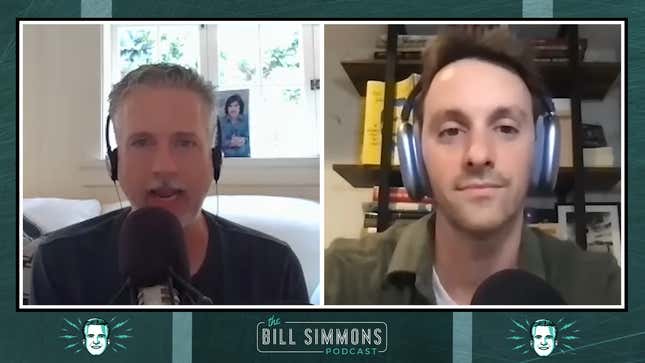 Sports media is the most cavernous of echo chambers. The takes write themselves, and the only catch is finding a stooge willing to scream some dumb shit. Most people hesitate to get all Skip Bayless-y because rational humans view trading their morals to become a walking Twitter troll as a bad thing. However, AI will say anything you command it to, and soon it will be able to do it in any voice you want it to.
I can't wait for hours of directionless chatter to become even more incoherent, and a whole host of interviews that nobody asked for. Please, flood iTunes with imposters, and see how successful Bill Simons and Dam LeBatard do. I want sane journalists sounding like Kendrick Perkins, and heel turns in the name of gaslighting.
While I hope there will be an onslaught of deeptake podcasts with your favorite hosts simply for the temporary jolt of comedy, I'm sure only a few will make the rounds due to copyright and likeness objections. What I'm concerned about — other than the folks who write gamers — are bored producers and untalented talking heads using AI to generate lists of takes, and propping up the most ridiculous one. (Are we sure ESPN isn't doing this already?)
Every day is going to feel like a hot-take summer, and eventually, if it hasn't happened already, consumers' digestive tracts will adapt to the heat, and no amount of Sichuan chilis will singe their assholes. The real hope is sports media becomes so overrun with spice that the heat loses its effect. (Kind of how slideshows and quizzes couldn't save Buzzfeed.)
Scared of what, and who, will stand out
Sports news cycles are going to get really abstract, or dangerously hot. Stories like whatever happened with Andrew Wiggins will no longer be respected, and the rest of the time it will be Pat McAfee howling into a microphone for the sake of ratings. Writers, myself included, are going to drive themselves insane trying to come up with original angles, and I'm already pondering redefining the English language to try to get around ChatGPT stealing my mannerisms.
Obviously, I care about whether there's a human behind the keyboard, but do normies? Society has developed a fear of being bored, and the yearning for more content and more stimulation has usurped all else. No one cares if it's really Drake. It sounds like him, it's catchy, and most importantly it bumps.
A lot of websites and newsmakers are already heavily influenced by what's trending, and the more that kind of thinking is reinforced and rewarded, the easier AI can ape it. (This also is the case for ending the MCU, along with all other IP, right fucking now.) Corporate greed knows no bounds, and they've already proven the only thing that matters is the bottom line.
In the field of journalism, we want to believe that traditional stories still have value and impact. Original reporting, unlike what I'm doing right now, cannot be fabricated. It has to be vetted, fact-checked, and edited. Investigative journalists still uncover wild stories, local government reporters still hold elected officials accountable, and a bot isn't intuitive, smart, or sentient enough to figure out how many massages Deshaun Watson booked.
The future of journalism is… journalism. The catch is very few backers are willing to shell out salaries for pieces that require more than a couple of hours to produce. It's easier to bounce a bunch of takes around the echo chamber in hopes that one goes viral.
Now that computers are able to assist in accessing our deepest, darkest takes, it might be time to double down on stories that AI can't write.