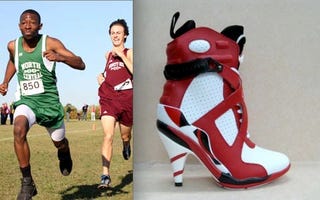 The Nike mainstays have popped up a couple of times today, in fairly unique incarnations. Is there anything these iconic sneakers can't do? (Besides costing UCF their $3 million endorsement deal, of course.)
Chad Hampton won the South Carolina boys Class A cross-country championship, wearing stock Air Jordans, the type you'd buy off the shelves — to play basketball. While not high tops, I can't overemphasize how uncomfortable that has to be. With solid ankle support, and weighing at least twice as much as normal track and field shoes, Hampton should have a minute shaved off his time for sheer badassery.
Oh, and his shoes were untied.
But maybe running's not your thing. Maybe you're a club whore who can't live without your 4-inch heels, but can't bear the thought of wearing shoes without a Jumpman logo. Well you're in luck, because we we found the perfect footwear for the woman who's a lady on the court but a freak in the sheets.
While the heels are Chinese knockoffs, there's an untapped market here. Imagine: AIr Jordan penny loafers, Air Jordan combat boots, AIr Jordan ballet slippers. If only MJ was the sort of person who'd put his name on just anything to make a quick buck.