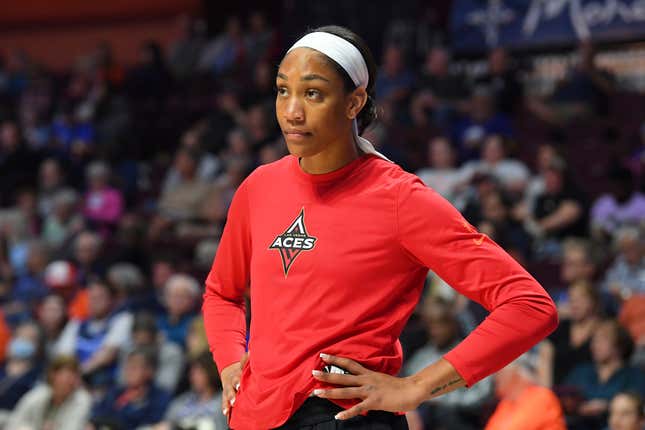 Picking and choosing which championship teams are worthy of being invited to the White House was one of the many reasons why so many people didn't like the last guy who worked in the Oval Office. And according to A'ja Wilson, Joe Biden isn't doing a good job either.
"Twitter not letting me quote tweet potus tweet but …BFFR when is our White House visit cause …" the Las Vegas Aces two-time MVP tweeted on Wednesday.
Biden congratulates Golden Knights, forgets Las Vegas Aces
When President Joe Biden took to Twitter to congratulate the Vegas Golden Knights on winning their first Stanley Cup title in franchise history, it caused Wilson to wonder why her team wasn't invited to the White House after winning the 2022 WNBA Championship.

"Congrats to the Vegas @GoldenKnights on their first Stanley Cup in just their sixth season," wrote POTUS. "The first major professional franchise in such a proud American city. Today, the team and entire community are champions."

It's as if he doesn't know that the Aces existed, let alone won a title last summer.
According to a report from USA Today Sports, Biden hosted the 2020 champion Seattle Storm in 2021. The 2021 champion Chicago Sky met with former President Barack Obama instead. And recently, the Kansas City Chiefs, LSU women's basketball team, and UConn men's basketball team have all made trips to Washington D.C.

LSU's trip was up in the air for a second.

"I know we'll have the champions come to the White House, we always do. So, we hope LSU will come," Dr. Jill Biden said in April while speaking at the Colorado state capital. "But, you know, I'm going to tell Joe I think Iowa should come, too, because they played such a good game."

The comment caused an uproar as the First Lady tried to invite losers to D.C. to share in a champion's moment. It rubbed many the wrong way, as LSU star Angel Reese was planning to boycott the visit before things cooled down and the entire team made the trip.
Ironically enough, the visit meant that LSU head coach Kim Mulkey had to meet with the President — the man that brought Britney Griner home. Mulkey was basically silent the entire time her former star player was in a Russian jail.

"God is good. Prayers are powerful," Mulkey told ESPN in December when we learned that Griner was going to be freed. "Brittney is on her way home where she belongs. Our prayers remain with her and her family as they recover and heal together." Those 29 words are all she could muster after only previously speaking on Griner's situation once when she replied, "And you won't," when asked why she had been publicly silent on the matter.

The Bidens were able to survive the LSU blunder. The alleged slight against the Las Vegas Aces is still to be determined. The Biden Administration should probably hire a Sports Information Director.