We could have anticipated many of the byproducts of the Penn State scandal—flawed apologies, spunky T-shirts, cardboard cutouts—but we were not expecting a movie deal with Al Pacino attached.
The film isn't necessarily going to get made, but the people who shop things around are shopping it around. And they shop well. Here's Mike Fleming at Deadline.com:
ICM Partners next week will be taking a package for a movie about fallen legend Penn State football head coach Joe Paterno, with Al Pacino attached to play the man called Papa Joe by most student at Happy Valley. The package will be build around Joe Posnanski's biography Paterno, which is now atop The New York Times Bestseller List in its second week. Pacino's manager, Rick Nicita, will produce.
Deadline notes too that Pacino and Posnanski are represented by agents from the same company—ICM—which is sort of terrifying, but we suppose it's how things work in the glitzy world.
So our only curiosity, then, is what comes next? Do we get a video game about Joe Paterno's downfall? Will Pacino coin his best catchphrase since "say hello to my little friend?" Will there be a theme-park ride? Will we get an adapted TV series? A novelization of the movie based on Posnanski's book? The possibilities are, regrettably, endless.
G/O Media may get a commission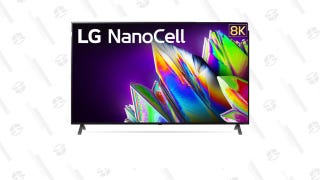 LG 75-Inch 8K TV
Al Pacino To Play Joe Paterno In Movie On Penn State Gridiron Scandal [Deadline]