Alabama quarterback Jalen Hurts is 26-2 as a starter, the reigning MVP of the Sugar Bowl, and the 2016 SEC Offensive Player of the Year. And according to his dad, he'll be the "biggest free agent in college football history" if he's not starting come this August.
In the national title game against Georgia last January, Hurts was replaced after a rough opening half by Alabama freshman Tua Tagovailoa, who'd only seen the field in garbage time up to that point. Tagovailoa led the Crimson Tide to an overtime national championship victory, sealing it himself with a beauty of a 41-yard strike. In becoming a folk hero (as much as a quarterback for the best program of the decade can be a folk hero), Tagovailoa also opened the door for head coach Nick Saban to initiate a quarterback competition.
Last week, Averion Hurts, Jalen's dad, spoke with Bleacher Report for a feature on this very subject. The piece is full of anonymous quotes from NFL scouts and other SEC coaches praising Tagovailoa (likely hoping they can scoop up Hurts). The most important soundbites, though, come from the elder Hurts, who was at first quick to accept Saban's position—"I told Jalen, you fucked up, you opened the door and put yourself in this situation,"—but made clear that his son won't be a benchwarmer.
"Coach Saban's job is to do what's best for his team. I have no problem with that," Averion Hurts said. "My job is to do what's best for Jalen—and make no mistake, Jalen is a quarterback, and he wants to play quarterback. He loves Alabama, loves Coach Saban and everything about that place. But he wants to play, and he will play…"

Averion stops mid-sentence because the idea of his son not playing for Alabama isn't one he takes lightly. What if Jalen doesn't win the job, he is asked?
He shakes his head slowly, answers begrudgingly. "Well, he'd be the biggest free agent in college football history."
College football's news cycle is relatively dormant at this point of the year, so for now the only new entry to this situation is this past weekend's Spring Game outing. Tagovailoa didn't play on Saturday because of a hand injury, so Hurts got the first-string squad to himself for the afternoon. Hurts was 19-of-37 for 195 yards, no TDs, and one interception—not a great day. It certainly didn't help that he was sacked seven times and hurried on another three drop-backs, per ESPN. Nonetheless, Hurts got a nice little talking-to from Saban, who was frustrated with the junior's continued reliance on his legs instead of his arm. The following interaction was picked up by one of ESPN's hot mics after Hurts rushed for a 26-yard gain:
G/O Media may get a commission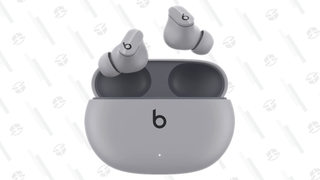 After the game, Saban stuck up for his quarterback, saying the offensive line let a few too many Alabama defenders in the backfield for him to establish any sort of rhythm, hinting that Hurts has a tendency to jet off instead of look downfield when the pocket collapses.
"I was not disappointed in the way Jalen played," Saban said. "I think we have some guys that can rush a little bit ... and there was way too much pressure on the pocket for the quarterback to operate like we like."
Meanwhile, Mac Jones, the third-stringer being referenced in the above video, shared in the Spring Game MVP honors—the Jacksonville native was 23-of-35 for 289 yards, two touchdowns, and one pick. As of now, it doesn't seem as though Jones will leapfrog Tagovailoa or Hurts, but it also didn't seem like Hurts would've ever been benched at halftime of the national title game.