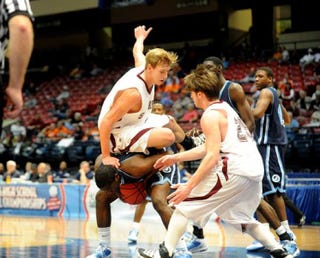 Rare is the basketball game a team wins when its leading scorer goes 1-of-21 from the field. This helps explain why Sand Rock High School failed to advance to the Alabama state high-school finals last night. The Gadsden Times worked the phrase "horrendous shooting" into the first two words of its game story. They probably didn't go far enough.
"They were hard to handle," Sand Rock (23-10) coach Brian Mackey said. "Inside and outside, they have a good group, good team. You hate to go out losing in the last game, but we came and battled. It just wasn't meant to be."

Sand Rock kept the game close until about midway through the second quarter. After Justin Kyser's 3-pointer brought the Wildcats to within 23-20, Barbour County went on an 18-2 run and took command of the game. ... Kyser led Sand Rock with 19 points on 16 of 21 free-throw shooting and pulled down eight rebounds. He shot 1 of 21 from the field.
Yeah, but at least Kyser didn't flop.
Sand Rock loses to Barbour County in state semifinals [Gadsden Times]

Barbour County vs Sand Rock Box Score [JSU Gamecock Sports]
Chris Bosh's 1-for-18 Night Included A Flop For The Ages [Deadspin]