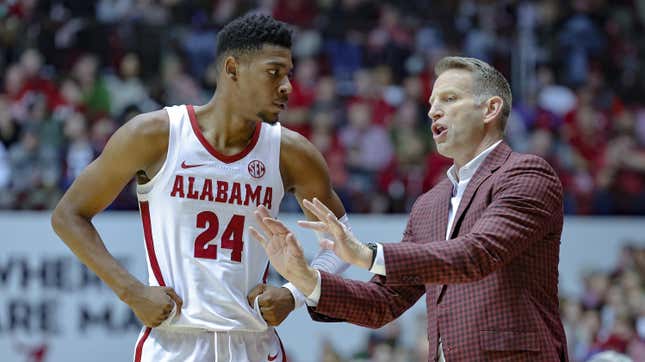 Alabama's men's basketball program thought it had left its ties to the January murder of Jamea Jonae Harris in the past when it dismissed Darius Miles. It might've for about a month, until Tuesday, when a Tuscaloosa Police Department detective testified that the Crimson Tide's best player, Brandon Miller, brought Miles his gun on the night of the shooting.
What has Miller admitted to?
Miles admitted to owning the gun in the shooting, but didn't fire the weapon. Michael Lynn Davis, who allegedly shot Harris, and Miles are both facing capital murder charges. The revelation of Miller's involvement in the murder came during the preliminary hearing for Miles and Davis. Branden Culpepper, the detective who provided the testimony, said Miles told Davis where his gun was in Miller's car. Miller hasn't been charged with a crime and Paula Whitley, the chief deputy district attorney in Tuscaloosa, told AL.com that "there's nothing we could charge [Miller] with."
At his Tuesday press availability, Crimson Tide head coach Nate Oats said the program was aware of Miller's alleged role in the murder and he's faced no disciplinary action from Alabama. Knowing questions on Miller were coming on Tuesday, given his attachment to the case being made public, Oats made things much worse for him, Miller and his program moving forward. "We knew about that," Oats stated about Miller. "Can't control everything everybody does outside of practice. Nobody knew that was going to happen. ... Brandon hasn't been in any type of trouble nor is he in any type of trouble in this case. Wrong spot at the wrong time."
Those who cover sports know how this works. Oats' instinct is to protect his star player — Miller is a likely lottery pick in this year's NBA Draft — went too far. And not realizing how awful he sounded in the moment, Oats had to send out a press release further "explaining" his actions. Essentially Oats explained he chose his words poorly but didn't backtrack on how Miller's involvement will be impacted moving forward.
Entering tonight's game on the road against South Carolina, Miller leads the Crimson Tide in points (18.7 per game), is the team's co-leader in rebounds per game (8.0), averages almost a steal and a block per game, and has a field-goal and 3-point clip of higher than 42 percent. He's an integral part of a likely No. 1 seed in the NCAA Tournament. And if Miller's alleged role in Harris' murder proves true, I'm not sure how Alabama can trot him out on the hardwood to represent its team. Miller needs to sit out at least until all the details of his involvement are settled. And Oats must know that's what's best for his program, not just winning games.