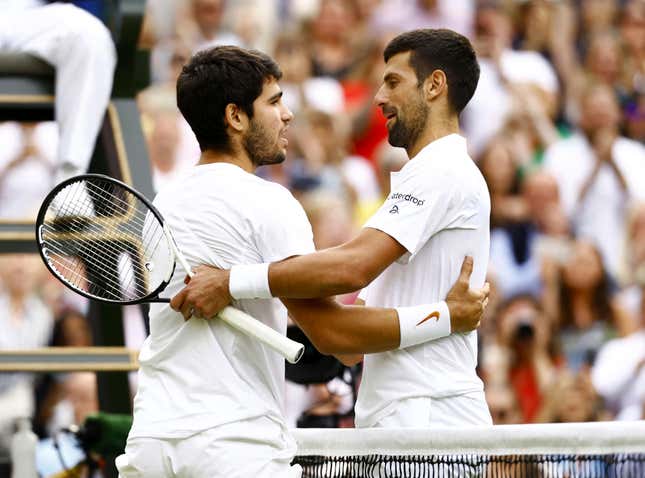 There is a vision of how to beat Novak Djokovic at a major, especially at Wimbledon, and even more especially at Centre Court, where he hadn't lost in 10 years. It's only a vision, because so few have ever achieved it. Only Rafa Nadal and Daniil Medvedev had managed to beat Djokovic in a major in the past four years, as well as his own stubbornness in not taking the COVID vaccine, or accidentally labeling a ball off a linesperson in frustration that knocked him out of the 2020 US Open. But the vision is that some player, perhaps inhabited by various Greek muses or Norse gods, or both, would be able to play the absolute most red-line tennis possible for three to four hours. They would be able to hit every line, never miss the smallest opening, and kind of blow Djokovic off the court. Go for everything, and have it all roll sevens This had been the only vision because no one, other than Nadal, was capable, or even willing to simply grind down Djokovic. Because it wasn't seen as possible.
Being a Tennis Gladiator like Roger Federer | Bear Grylls' Ultimate Sports Fantasy
Until Carlos Alcaraz did it on Sunday.
While Alcaraz opened the Wimbledon Final nervy and intent on going for everything, that plan got him a 6-1 ass-waxing, and required a change of attack. From then on. Alcaraz decided to play Djokovic's game — keeping the ball in play, being safe while also maintaining just enough depth on his shots to avoid getting hurt, and being willing to play points that lasted 15 or 20 shots, or more. When the opening presented itself, Alcaraz pounced, but to do that against Djokovic one must be willing to essentially walk through the desert filled with dogs with bees in their mouth, and when they bark they shoot bees at you to find them. It is a price no one's been willing or able to pay.
What Alcaraz attempted, and succeeded in doing, is the hardest thing in sports right now, or certainly in the team photo. To get the best of Djokovic in long rallies and long games and long sets isn't even beyond the horizon. It's something only spotted with the Hubble. Djokovic is one of the fittest athletes, not just tennis players, on the planet. He revels in going the distance, in outlasting his opponent, remaining standing still while the other guy wilts. He did it to Alcaraz just over a month ago in Paris, when Alcaraz had battled to tie the match at a set apiece and then watched his entire body cramp and throw in the towel from the stress.
The second set lasted nearly an hour and a half. Djokovic has put whole matches away in that time. It went to a tiebreaker, a tempest in which Djokovic had won 16 straight. Djokovic even got the first mini-break in that tiebreak. The numbers are enough to make any other player kind of know he's fucked before he even swings a racket, before you even get to jousting with Novak. Not Alcaraz. He continued to put balls simply back in play, to go out in the deep water with the 7-time Wimbledon champion, and frolic when he got there. It was Djokovic who left the openings, and it was the Spaniard who busted through the door, whether it was his Mjolnir forehand, or stretched backhands from defensive positions you're not supposed to turn points on. Unless you're Djokovic.
It was Djokovic who looked weary, and frustrated, and out of answers as Alcaraz dragged him through a 27-minute service game in the third set that Alcaraz didn't even need. He was already up a break, and could have just Sampras'd it and served out the set himself. But if you're gonna out-Djokovic Djokovic, you'd better be willing to never let off his neck. Alcaraz took that game and the set.
This was still Djokovic though, and he's never dead until you produce a body. Alcaraz's first serve went off the boil in the 4th set, Joker pounced, and surely now there would be no escape. No one tops Djokovic in a fifth set at a major. It's his special place. Especially at Wimbledon, where he made a habit of kneecapping Nadal, or Federer in such circumstances.
Alcaraz apparently read the whole playbook. He found his first-serve just enough, he kept putting balls back in play, and occasionally coming up with silly shit like this:

He had the answers. When he got to the net his volleys were sure and full of swagger. In the clinching game he missed a drop shot to go down 0-15, so he simply hit a better one on the next point. Who does that? Against Djokovic? It is unfathomable that someone 20 years old could harness all the weapons that Alcaraz has. And yet, there he was doing so, while also getting into the bearpit that is a match with Djokovic that no one walks out of. He made Djokovic hit three winners to win one point. He got to everything, he drove his opponent nuts until they felt like there was no way out. Which is Djokovic's M.O.
Alcaraz's first major, last year's U.S. Open, came without Djokovic in the tournament. It didn't have an asterisk, you can only play who's in front of you, but it felt like his rise to the top of the men's tennis game needed a validation of topping the best. Ric Flair told you that long ago. Not only did Alcaraz do that, he did it exactly how Djokovic does it to everyone else. There is no limit to where he can go now.
Follow Sam on Twitter @Felsgate, and also at Bluesky @felsgate.bsky.social.