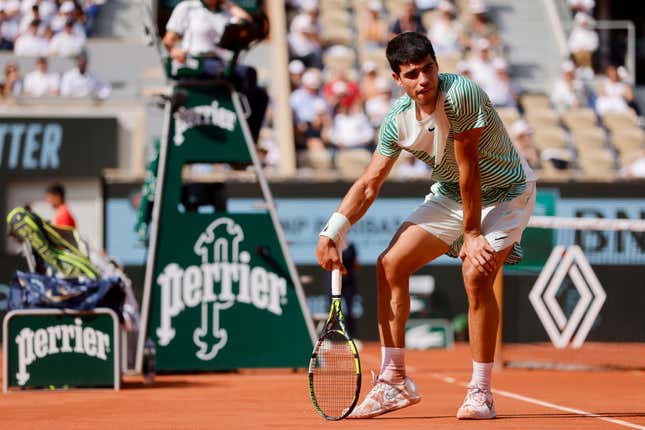 Well, that escalated quickly. It was nearly even in one of the biggest matches tennis has had in decades with a clash of the generations between old-standard Novak Djokovic and rising star Carlos Alcaraz. Then that damn charley horse in Alcaraz's right leg happened and Djokovic won 10 of the next 11 games to finish off the young Spaniard and advance to his 34th career Grand Slam final. Alcaraz's cramp happened early in the third set, tied 1-1, after the duo split the game's first two sets. We got the generational dream match needed to pass the torch or deny the young buck from being too big for his britches. Even with a Djokovic victory, we didn't come to a satisfying conclusion. The battle began and a fully healthy Alcaraz wouldn't have rolled over.
Being a Tennis Gladiator like Roger Federer | Bear Grylls' Ultimate Sports Fantasy
Cramps don't count in tennis as a medical timeout, meaning the world's current No.1 player in Alcaraz didn't have the best chance to recuperate and had to play not at 100 percent, when it was possible even his best wouldn't have been good enough to oust Djokovic at the French Open. Somehow, Djokovic is No. 3 in the ATP rankings, separated by Daniil Medvedev, who lost in the first round at Roland Garros, the first top-two men's seed to lose in the first round of a major tournament since 2003. One thing was clear in the first two sets of Friday afternoon's clash: Alcaraz and Djokovic are the top-two tennis players in the world, no matter what the rankings say. Both were doing things only the man across the net was capable of. Djokovic is exactly 15 years, 348 days older than Alcaraz, as both are May babies. All the record Djokovic is setting now is the pace Alcaraz will chase for the next two decades.
The historic nature of Friday's matchup not being completely robbed from us is slightly brightened by a few factors. First, who doubts we won't get another Grand Slam showdown between Alcaraz and Djokovic soon? With Wimbledon and the US Open on the schedule for the next three months, we might not have to wait long. With the form both men displayed in the first two sets, when they're clicking, who else could stop them? Of course, clay is different from grass and hard court. However, Alcaraz won the US Open last year and what surface has truly hindered Djokovic? They're both good enough that you can take that out of the equation the venue for any matchup.
Second, and this might've been true with a full match, but there's no doubt both men left us all wanting more. How many impressive rallies did we see? And Alcaraz's early-second set dash to the baseline and smash barely over the net and in? How crazy was that? To have the balls, figurative, not tennis, to try that and actually pull it off, figurative again, is insane. How many more crazy moments could this duo produce? Their on-court chemistry was insane, until Alcaraz blew a wheel. And now he has a few weeks to rest up before the next Grand Slam.
This was billed as the clash of generations, similar to Jimmy Connors vs. Andre Agassi at the 1988 US Open, or old-man Agassi against upstart Rafael Nadal at Wimbledon in 2006. In both of those time-colliding encounters, the younger man won. Bucking the trend of history was Djokovic, but he didn't score a decisive knockout. Alcaraz easily could've kept the old heads winless in a battle of the ages. Connors is 17 years older than Agassi, who is 16 years the senior of Nadal. The difference for Friday's match is Djokovic has no signs of his age starting to show and Alcaraz might be the best under-21 athlete in the history of the sport. To look Djokovic across the court and stay with him in your second Grand Slam semifinal, compared to the anti-vaxxer's 45th, is one hell of an accomplishment. Kudos to Alcaraz for not retiring, but it's too bad we didn't get to see their first Grand Slam encounter play all the way through with both men in peak condition.