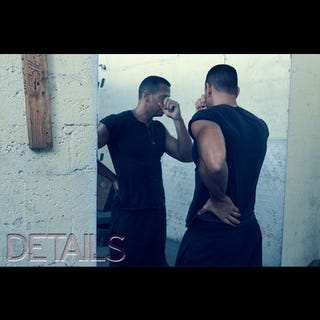 Alex Rodriguez bravely participated in Michael Kay's softball interview for YES's Yankee preview show to continue his post-boli admission contrition tour. He's shape-shifted his persona once again, from a lying ego maniac to American martyr.
At one point during the interview Kay asks A-Rod if he's "worried that people might not like you." Not really, apparently:
"I mean, look, I feel like right now, that, not too many people like me, so I've given up on that. As long as my teammates like me, and they respect me, and my two daughters love their Daddy, I'm going to go out and do the very best I can. Look, I really screwed up, and for that I'm sorry. I'm just happy to be playing baseball again. "
And Alex isn't looking for vindication from elsewhere. He's adamant that he doesn't want the names of the other 103 players released to the public.
"Well this is really about my mistake, Michael. You know, many nights I fell asleep thinking about who I can blame, and this guy, or that guy. And when I woke up I kept coming back to the same person; it's me. I mean, there's no one to blame. I hope those 103 names never come out."
It's me. This interview was conducted pre-hip surgery so, sadly, there was no mention of his alleged whore-mongering. And Kristin Davis, the madam in question, is still not commenting on the specifics of her relationship with A-Rod. Not until the book is out, that is.

Alex Rodriguez Thinks 'Not Too Many People Like Him' [Watchdog]