In sports, everybody is a winner—some people just win better than others. Like Alex Rodriguez, who won the weekend by pretty much just owning these playoffs. He's like some amazing mythical creature!
Our first repeat winner, but it's hard to argue that he doesn't deserve it since he's finally earning a lifetime of $250 million contracts in one shortlong month. ("The New Mr. October and New Mr. November!") After Games 1 and 2 of the World Series (0-8, 6 Ks) it looked like all his post-season "failures" were coming back to haunt him once again. Then, with the Yankees in trouble in Game 3, he bounces one off a camera to start the rally and then comes up with another huge hit—under pressure even!—to give himself the game-winning RBI in Game 4. Plus, he got hit by a pitch three times in two days, because intentional walks just aren't rough enough for this guy.
You know what? I'm just going to say it. If there's anyone on the planet who can get away with hanging a painting of himself depicted as a mighty centaur over his bed, it's Alex Rodriguez. He's got True Yankee coming out of his ... well, everywhere.
G/O Media may get a commission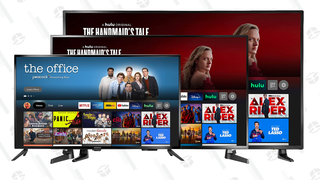 Up to 44% off
Prime Early Access - Insignia Fire TVs
Alex Rodriguez earns "true Yankee' status [Allentown Morning Call]
A-Rod all about quality, not quantity in Series [Daily News]
The 2009 MLB Season Has Belonged To A-Rod [Rumors and Rants]
Cashing in with the best team that money can buy [AP]
Matthews: A-Rod is now a postseason powerhouse [Newsday]
* * * * *
Here are some other big winners, who did not win quite as big:
Johnny Damon: The real hero last night, Damon got a huge hit off Brad Lidge then stole two bases to set up A-Rod's big moment. Didn't he used to play in Rhode Island or something?
Vince Young: By waiting until his team played a very beatable Jacksonville squad (and until the Titans' season was pretty much over) to work his way into the starting lineup, Vince Young looks like a hero again. It was a very sane and mentally balanced performance. [The Tennessean]
Ted Ginn: Two 100-yard kickoff returns and 299 total kick return yards after not being allowed to start the game at WR. Obviously, he's much too valuable to be allowed to play offense. Also, I think the Jets might have some concerns on special teams. [Star-Ledger]
Unidentified Minnesota Quarterback: Yeah, yeah. I know.
Texas Longhorns: UT leapt over Alabama in the polls and the BCS simply because the Tide took the week off. Pussies. [AP]
U.S.A.! U.S.A.!: For the first time in 27 years, the NYC Marathon was won by a goddamn red-blooded American. (Who was born in Eritrea.) We will take that. [New York Times]
And the Weekend Loser?: The Oakland Raiders Receiving Corps. Just the way they drew it up.