One day during the NFL offseason, I got a text message.
"Hey Nate. Great meeting you a few weeks ago. I'm finally back to Michigan after a long trip. Thought I would say hello so you don't forget me—Lauren."
I didn't remember Lauren. But it didn't surprise me that I didn't remember Lauren. I was playing for the Broncos at the time. The Denver social scene was a lively, burbling cesspool. I met a new girl every night. In the morning I would look at my phone and there would be new numbers, new names of new girls whom I couldn't remember meeting.
"We met outside of that bar downtown. You were drunk."
OK, that sounds plausible. In fact, that rings a bell. Yes, Lauren from Michigan. Now I remember.
"How was your trip?"
"It was amazing. What's your email address? I'll send you some pictures."
Lauren sent me pictures. She was a cute blonde. She was in a bikini on the beach in the Cayman Islands. She was in a dress with her friends. She was in the mirror in her bathroom.
G/O Media may get a commission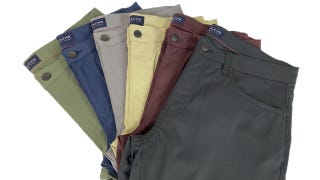 JACHS NY Fall Stretch Tech Pants
The texts grew increasingly flirty. Then she called me one day and we talked. She had a Michigan accent. She was nice. She was also horny. She said she loved to have phone sex. I said maybe some other time.
The communication continued sporadically. I didn't respond in a timely manner, and this disturbed her. She sent me increasingly suggestive texts and phone calls. She sent me nude photos of herself. She sent me a picture of her ass that I especially liked.
One night I was drunk and answered her late-night call. I have never felt comfortable having phone sex. Not before then and not since. But Lauren swept me up in her unrelenting horniness. It was fascinating. All I had to do was answer her very specific questions. She held the phone between her legs as she came. I couldn't help but follow.
That night would be the high point of our relationship. We had a few more late-night conversations, but they fell between her bouts of frustration that I wasn't more available.
Months later I was playing poker with some friends. It was late at night. We were drinking beer. There was a lot of money on the table. We were talking about girls. A defensive lineman from Georgia named Paul was talking about a girl he knew. She's real freaky, he said. Check out this picture.
He passed his phone around the table. When it reached me I didn't want to look at it. Something about the way he described this girl struck me as familiar. I looked at the phone. It was Lauren's ass: the same exact photo that she had sent me.
"Hold on. You know this girl?" I asked Paul.
"Yeah. I met her a few months ago."
"Outside of the bar?"
"Yeah."
"And you were drunk, right?"
"Yeah."
"But you don't really remember it, do you?"
"Oh, shit. No, I don't."
I pulled up the photo on my phone. It was identical.
"Lauren from Michigan, right?"
"Oh, man."
"Did you get the Cayman Islands photos too?"
"Yes."
"Phone sex?"
"Shit!"
I called her when I got home and told her that I'd talked to Paul. I'd seen the pictures. This was not OK! She denied all accusations, started crying, told me not to do this. I told her not to do this. This was sick. Goodbye. She never contacted me again. To this day, I have no idea how she got my number. I have no idea if I was texting with the woman in the photos. I'd like to believe I was, for obvious reasons.
I thought about Lauren again—if Lauren really was her name—when I read the story of Manti Te'o's fake dead internet girlfriend.
How could Manti have been so stupid, a lot of people are wondering today. I am in no position to speculate about Manti Te'o. No one knows the full story except him and the man who perpetrated the hoax. But I am certain that Manti meets a new girl every night; that many of them are interested in him: that he often wakes up in the morning with new names in his phone, names he does not recognize.
Football players, because of their fame, because of their money, live in a world where their fantasies lie within reach. It's normal for strangers to come on to them. Maybe that's what makes them such easy marks. Even the ones at Notre Dame, where the dirty realities of life aren't supposed to apply. Even the no-namers like me.
Nate Jackson played tight end for the Denver Broncos from 2003 to 2008. His writing has also appeared in Slate and The New York Times. He is working on a book about life in the NFL, to be published by HarperCollins. Follow him on Twitter, @NathanSerious.