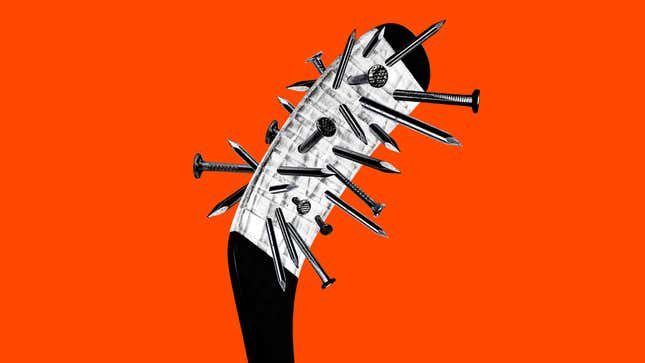 Boys and girls and babes, we all learned so much during the 2017–2018 NHL season. For example, I learned that chaos rules the universe, sports predictions are horoscopes but less accurate, and hockey games are won by pure, defiant, you-said-I-couldn't-do-it spite and very little else.

The meteoric rise of the Vegas Golden Knights and the triumph of the Washington Capitals reveal the true keys to hockey success. Depth at center and a hot goalie? No. You need a team that is obsessed with each other, and feels unfairly maligned by God. "Nobody believes in us but we believe in each other." Romance, and grim vindictive gall: it's how the ragtag Knights sailed past the West and how the cursed Caps clawed through the East. Throw in that center depth and the hot goalie, and you've got a Stanley Cup champion.
Amid the rampant parity of the NHL, a team needs to nail it in three categories: spite, love, and I guess something to do with being good at hockey, each on a scale of 1–5. Here's how all 31 teams stack up.
---
Eastern conference
Atlantic division

Boston Bruins
Spite: 🔪🔪🔪🔪
Spite is the birthright of the Boston Bruins, and truly Boston as a city. Patrice Bergeron may do three yoga breaths and then forgive the haters out of the benevolence of his nurturing and peaceful heart, but Brad Marchand has a list of his enemies written in bar soap on his bathroom mirror and he intends to collect.
Love: ❤️❤️
Just as with talent, the top line of Pastrnak-Bergeron-Marchand scores high. Everybody else still does those bro-hugs where you thump each other really hard on the back to make sure a lingering reminder of violence undercuts the threat of male intimacy. Perhaps Zdeno Chara's big dad energy (BDE) hinders the development of his team's chaotic frat love? The Bruins are two house parties and a weekend bender away from advancing.
"Good" at "hockey": 🏒🏒🏒🏒
The precocious infants of the Boston Bruins are only getting bigger and stronger. The specter of death has only begun to haunt their aging veterans.
Buffalo Sabres
Spite: 🔪🔪🔪
Nascent star Jack Eichel projects a palpable irritation so vicious I thought that nothing could put his team's spite ranking lower than a four. Then the Sabres acquired benevolent forest sprite Jeff Skinner from sunny North Carolina. Skinner, as preternaturally young as Eichel is preternaturally a World War II veteran sneering at quinoa in Wegmans, docks several points for woodland contentment. But do not discount the possibility that Buffalo gnarls Skinner like it has everyone else.
Love: ❤️❤️❤️
Former alternate captain Ryan O'Reilly may have "lost the love for the game multiple times" in the gray and joyless void of last season's dismal Sabres season, but they shipped that sad sack to St. Louis for new blood and things are getting sensual. Buffalo has landed enough shiny new heartthrobs that I expect love to bloom out of sheer relief.
"Good" at "hockey": 🏒🏒
Ain't gonna be last place again, baby! The Sabres refreshed their roster and are starting to look pretty good, but also like a hunk of bread dough: unproven. Stick 'em in the oven for a while and we'll see how they rise.
Detroit Red Wings
Spite: 🔪🔪🔪
Freshly hatched rookie Filip Zadina came out strong this summer, gunning for the teams who passed him up in the draft by swearing to "fill up their nets with pucks." The Wings go into the season feeling thwarted by God and by Henrik Zetterberg's back, and both are emotionally productive.
Love: ❤️❤️
Cherish your young stars. Give them every opportunity to fall in love. Someday, Zadina and Dylan Larkin could have something beautiful with 21 other gigantic dudes sweating and spitting all over an arena named for pizza. That day is not today. Love blooms when you suck a little bit, but not when you suck a lot.
"Good" at "hockey": 🏒
Yikes. Maybe they'll get the final rose and land Jack Hughes?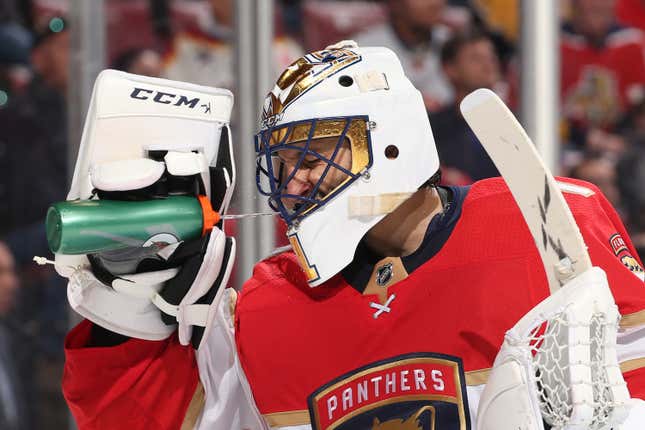 Florida Panthers
Spite: 🔪🔪🔪🔪
I always forget the Panthers exist, and you probably do too. This is ideal for a team's spite score; their thirst to prove themselves remains unencumbered by expectations. The Panthers missed the playoffs by one point last season after a hell of a final stretch. That's gotta sting. Now everybody's eyeing younger, sexier teams in their division. While we're buzzing about the Leafs, the Panthers are talking mad shit in the group chat.
Love: ❤️❤️
The Panthers built camaraderie and trust playing for a cause during their second half upswing last season. They've got some real love connections blooming. The big question is Mike Hoffman and whether the established crew accepts him and his weighty past into the pack. His alleged cyberbully fiancée, the subsequent hasty hot-potato trade from the Sharks—the man has some oversized baggage items.
"Good" at "hockey": 🏒🏒🏒
A lot rides on goalie Roberto Luongo. Dude's 39, which in hockey years is about ninety-four with brittle bones. Luongo's old man energy bolsters his team's spite vibes, but could hurt their hockey, which is lowkey dope.
Montreal Canadiens
Spite: 🔪🔪🔪🔪🔪
A five-knifer! The Habs are a living, breathing Taylor Swift revenge song, however, the spite is usually directed at their own organization. Look what you made me do, Marc Bergevin. This is why we can't have nice things, Marc Bergevin. Carey Price has so much spite about last year's slump he'll probably drag his sorry team into the playoffs, unfortunately allowing Marc Bergevin to live another day.
Love: ❤️
See ya, Max Pacioretty. Nobody else wants to be there either. Brendan Gallagher, a wind-up plastic toy chittering across the locker room floor, has lost hair by the fistful trying to compensate for the tension, and things are only getting worse. In his first game as a Hab, new acquisition Max Domi sucker-punched Aaron Ekblad and was relegated to the naughty corner for the rest of the preseason. Welcome to the team!
"Good" at "hockey": 🏒
The Canadiens are still obsessed with their ex(es), and their rebound boo is out until December. Frankly, Shea Weber is a respectable slab of chicken breast, but without him their defense is six chunks of soggy tofu wiggling ineffectively in front of a furious Price. We'll see if Max Domi rebounds from his temper tantrum, but odds are the Habs will add Alex Galchenyuk's Instagram story to their sadness binge.
Ottawa Senators
Spite: 🔪🔪
Spite is a hard wood. It burns quick, it burns clean, and it can hold all the nails you need to tack up the mean tweets of your enemies. Ottawa's feelings are soft wood. Mossy. Decomposed. The kindling of their underwhelming season was doused by an unrelenting flood of drama. From the Erik Karlsson cyberbullying investigation to owner Eugene Melnyk's whole … everything, the Sens are too sad and confused for their bitterness to find an effective outlet.
Love: ❤️
A common enemy can really bring a group together. Unfortunately, the Sens have too many enemies. Eugene Melnyk. Social media. The inconvenient drive to their suburban office. Their own hearts. This is not a locker room in which love will flourish. This is a locker room in which players will make strained jokes while they nervously eye the handful of medium Canadians and a Snickers bar where Erik Karlsson used to be. Matt Duchene has a countdown to free agency inside of his locker. Will Mark Stone even last the year?
"Good" at "hockey": 🏒
Remember 15 months ago when Ottawa was one goal away from the Stanley Cup Final? Oh, buddy. I saw a dude in a Sens jersey at a bar last week and I apologized to him straight up.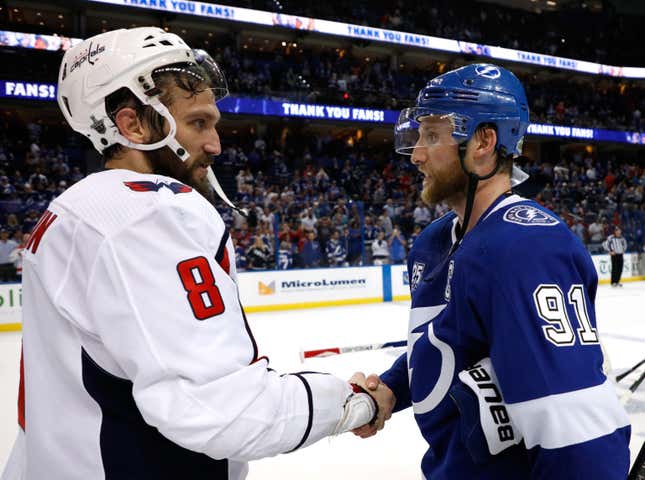 Tampa Bay Lightning
Spite: 🔪
Spite grows every year the Lightning enter into the playoffs a solid Cup favorite and exit pursued by two dozen scrappy underdogs with a dream. Unfortunately, everyone still loves their chances. Spite does not flourish under the yoke of high expectations; it curdles into anxiety.
Love: ❤️❤️❤️❤️
These large men love each other—for now. Another disappointing postseason or two and they'll start looking around the locker room for someone to blame. Just as the Lightning should take advantage of the time before they have to re-sign half a dozen superstars, they need to strike while the iron is still romantic.
"Good" at "hockey": 🏒🏒🏒🏒🏒
Stacks on stacks. Known witch Steve Yzerman may have stepped down as GM, but he still used his eldritch powers to develop the team. With this much talent crammed into one sweaty Floridian locker room, the big shiny thing is theirs to lose, and they know it.
Toronto Maple Leafs
Spite: 🔪🔪
Auston Matthews spite-reads Twitter at every free moment, obviously, but he can't carry his whole team. Some of those dudes still use an abacus, and William Nylander's hair has a glossy sheen that prevents criticism from ever truly penetrating. Morgan Rielly isn't mad, he's disappointed. At least Mitch Marner is a yappy Jack Russell terrier thirsty for glory.
Love: ❤️❤️❤️
Change is hard. Now that old flame Matt Martin has moved on from the Leafs' press box, Mitch Marner needs to find a new boo to stalk on Instagram. Introducing a hot young stepdad into the mix is never easy. Who's gonna get that C? You're not my real dad, John Tavares! There's a lot of promise here.
"Good" at "hockey": 🏒🏒🏒🏒
Yeah, yeah. But what about that blue line?
Metro division
Carolina Hurricanes
Spite: 🔪
Wizened captain Justin Williams is doing his best to set firm boundaries and goals for his wayward sons, but new owner Thomas Dundon is still in the "my mom's new boyfriend took us to IHOP" stage. "Sure, buddy, we can get you a new coach! How about a new GM too, little man? Of course you can invite 50 of your friends to training camp!" How are these kids gonna learn accountability?
Love: ❤️❤️
The GM, coaching staff, and half a dozen players are wandering around the arena trying to pretend like they're not lost, but not a single one of them can find the bathroom. Sometimes unfamiliar surroundings can forge a beautiful love connection. Sometimes you gotta know where the bathrooms are. Somebody ask head coach Rod Brind'amour; he's still wearing his 2006 Stanley Cup varsity jacket.
"Good" at "hockey": 🏒🏒
What the hell happens to goalies in Raleigh? If Scott Darling can wrangle his soul back from wherever Carolina stashes its goalie horcruxes, this could shift, but I doubt it. Also, it's been nice knowing you, Petr Mrazek! Your save percentage is about to plummet. Dope blueline, though.
Columbus Blue Jackets
Spite: 🔪🔪🔪🔪
John Tortorella is the most spiteful NHL coach by a tremendous margin. Accordingly, Columbus scores high here. The Jackets are defensive about everything on God's green earth: their perennial first-round exits, Jack Johnson, Ohio. "Actually, Columbus boasts many fine parks and museums," Torts hisses through gritted teeth.
Love: ❤️❤️
Artemi Panarin wants to bounce, the cloud of dust from another disappointing postseason is still floating through the building, and are Brandon Dubinsky's stats on a rollercoaster that only goes down? Uncertainty is not an aphrodisiac.
"Good" at "hockey": 🏒🏒🏒🏒
Columbus has the pieces, but can they hold onto them? Where did you come from and where are you gonna sign next season, Sergei Bobrovsky and Artemi Panarin?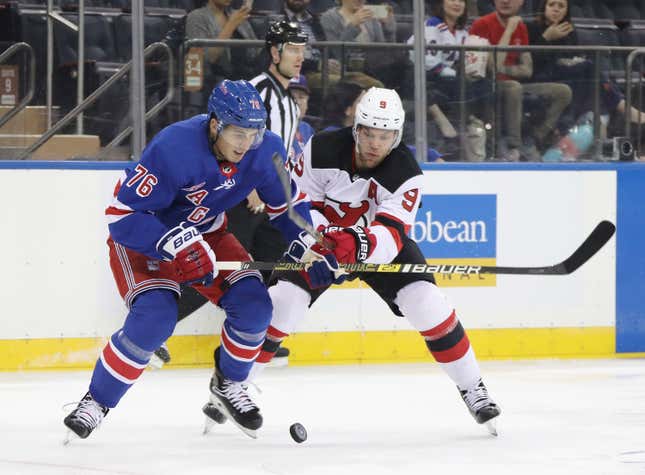 New Jersey Devils

Spite: 🔪🔪
Taylor Hall and his merry men spent most of their spite capital last season as Hall went on a revenge tour of North America and landed the Hart Trophy in the process. Thanks for the memories, Taylor! Can Hall still carry his team to the playoffs now that he's no longer showing off for his ex, the Oilers?
Love: ❤️❤️❤️❤️
Ah, young love. The New Jersey Devils spent all of last season writing each other acoustic ballads and surpassing our expectations. What rhymes with Jesper? It's a new school year and these kids are still going strong.
"Good" at "hockey": 🏒🏒
Does Taylor Hall make up for New Jersey's shallow dating pool? The Devs have some top-six stunners, and everybody else has a really nice personality. You just have to get to know them!
New York Islanders
Spite: 🔪🔪🔪🔪🔪
Cut to the Islanders exiting their locker room, giving a Brooklyn salute to their hate talisman on the way. "Screw you, man," Mathew Barzal mutters to the framed photograph of John Tavares. "Suck it, buddy," adds Nick Leddy, forcing his middle finger up in his gloves. After getting unceremoniously jilted by their captain over the summer, the Isles are stuffed with spite.
Love: ❤️❤️❤️
New coach Barry Trotz is an experienced matchmaker. They're gonna go on field trips. They'll do trust falls. They'll talk shit about their ex and his new boo, the Leafs. Plus, their arena is the size of a shoebox so they'll have to sit close together all the time.
"Good" at "hockey": 🏒🏒
Just don't look at that gaping hole in the top line. Put a picture over it. It's fine! The landlord won't notice.
New York Rangers
Spite: 🔪🔪
The Rangers organization waved the white flag last season. They're going out of business and all merchandise must go. Like the apathetic employees of a liquidating Sears, the rebuilding Rangers just want to loiter by the dumpsters to smoke and swipe through Tinder for a new team. Maybe hardass shift manager Henrik Lundqvist will put the fear of God into them?
Love: ❤️
Henrik Lundqvist in a flawless three-piece suit absolutely stink-eying 22 unwashed frat bros in tattered sweatpants. The Rangers are rebuilding and their star goalie ain't into it. Hank does not enjoy casual Friday. Nobody is having fun in the break room.
"Good" at "hockey": 🏒
The spite of one goalie can propel a team farther than they deserve, but that is still not very far.
Philadelphia Flyers
Spite: 🔪🔪🔪🔪
Nobody does spite like the Flyers, historically and presently. Claude Giroux screw you–ed his way to a triple-digit-point comeback last season, scoring a career high in goals immediately after various pundits signed his death certificate. New mascot Gritty, the muppet incarnation of freewheeling nihilism, has captured half the hearts of North America with feral googly eyes that convey the unfettered terror and elation of a child careening downhill on a flaming bicycle with no breaks. This team of pugnacious gingers cannot wait to challenge you to a fight outside a dive bar in Fishtown.
Love: ❤️❤️❤️❤️
The drunk bonding they did last season looks to carry over as the Flyers move into 2018–19 full of beans, beer and appreciation for their fellow bro. Hopefully Wayne Simmonds's contract negotiations don't cockblock the mood. If all else fails, they can get wasted and tell each other they're pretty.
"Good" at "hockey": 🏒🏒🏒
Barring Sean Couturier's bum knee and that perennial goaltending issue, Philly's in fairly sexy playing shape.
Pittsburgh Penguins
Spite: 🔪🔪🔪🔪
Sidney Crosby keeps a penitence gallery of non-Penguins Stanley Cup winners in his lake house. What a fun and frothy summer activity, doing squats in front of photographs of his enemies with a protein shake and a grim look of joyless determination. Meanwhile, Evgeni Malkin's been tenderly nursing various grudges with an eyedropper full of resentment. He's busy, Evgeny Kuznetsov!
Love: ❤️❤️
I'm not convinced that Phil Kessel and the Pens are a long-term love connection. Great for a fling, but can they go the distance?
"Good" at "hockey": 🏒🏒🏒🏒
We get it, Pittsburgh.
Washington Capitals
Spite: 🔪
Twenty-four years of institutional grudges drowned in a tsunami of vodka and cheap beer this past June. The Caps are so happy that even Nicklas Bäckström is smiling in pictures. They blew their spite wad last season and it paid off big.
Love: ❤️❤️❤️❤️❤️
The drunken singalong looks to continue as the band is back together again. Brought together by spite, sealed together by victory, these dudes have friendship tattoos and have shared all kinds of bodily fluids. It's been quite the honeymoon. Jakub Vrana is still alive, right?
"Good" at "hockey": 🏒🏒🏒
There's a reason not a lot of people rated the Caps highly last season, and those reasons remain, with an extra dose of Cup hangover. Love is blind, and Brooks Orpik is still a Washington Capital.
Western Conference
Central division
Chicago Blackhawks
Spite: 🔪
The Blackhawks are too comfortable for spite. All those Stanley Cups and outdoor games have rendered them out of touch with reality. Swept in the first round in 2017, missed the playoffs in 2018—the Hawks are repeating all the right platitudes, but do they mean them? Jonathan Toews is probably cutting gluten or joy or nightshade vegetables from his diet, but Toews enjoys abnegation too much for this to be effective.
Love: ❤️❤️
The Hawks keep trying to recreate the magic of their Cup years, but it's like meeting up with your high school friends at Applebees over Thanksgiving weekend. Toews immediately launches into a composting lecture. Duncan Keith falls asleep at the table. Who brought their kids?—Alex DeBrincat wants chicken nuggets and will not stop banging on the table. Why did you come to this thing again?
"Good" at "hockey": 🏒🏒
Do the Blackhawks know they're not that good anymore? It's okay bud, your center depth went to live on a farm upstate!
Colorado Avalanche
Spite: 🔪
The Avalanche rocketed from a dismal 48-point season to 95 points in one year. That is one steep glow-up. No spite, just delight.
Love: ❤️❤️❤️❤️❤️
The Avs have been to heaven and they've been through hell. They've been stuck on an airplane tarmac with a resentful Matt Duchene after losing 12 straight and they've squeaked triumphantly into the playoffs one year after bottoming out. The Avs are in sweet, summer camp love. Their cabin survived a bout of food poisoning and went on to win capture the flag. These dudes swear they'll be pen pals forever.
"Good" at "hockey": 🏒🏒
Former Capitals backup Philipp Grubauer has his little heart set on the starter's net. Goalie competition can only help the Avalanche, but this division doesn't leave a lot of space for mistakes.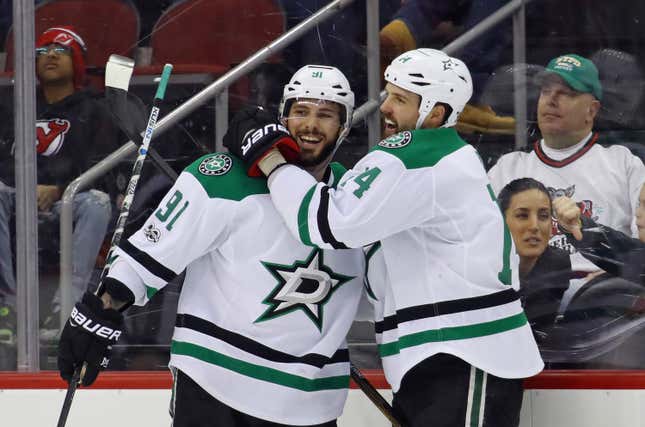 Dallas Stars

Spite: 🔪🔪🔪
The Dallas Stars have limped through the past few seasons, tripping over identities on the way. Will the Stars find themselves now that they're free of former coach Ken Hitchcock? Defensive responsibility was your dream, Dad, not mine! Maybe they'll quit ballet to eat pizza and play in the offensive zone.
Love: ❤️❤️❤️❤️
The Stars were smart to lock up Tyler Seguin for the next eight years. Sure, he can score, but what he really brings to the table is a knack for cultivating tender frat bonds. The Stars are hard at work holding video-game tournaments by candlelight and playing flip cup with protein shakes.
"Good" at "hockey": 🏒🏒🏒
Swaddle your big guns in bubble wrap, Dallas, and you've got a shot.
Minnesota Wild
Spite: 🔪🔪
The Wild have heard this song before. After a solid regular season, Minnesota withered and died in the playoffs. They fired their GM in April to paper over their postseason disappointments and what does the new guy do? Absolutely nothing. C is for credit, D is for diploma. If anything, this team's gotta direct its spite within.
Love: ❤️❤️
Ryan Suter and Zach Parise are standing off to the side of the Western Conference bloodbath wrinkling their noses. "I don't know, man," Suter mutters, flinching as Patrik Laine drives a stake through the heart of yet another goalie. Parise is wondering if they can duck out and go to DQ. This is not a team that will murder for one another and in the Central Division, they're gonna have to.
"Good" at "hockey": 🏒🏒🏒
The Wild are rolling up to a drag race in a Nissan Altima. It's fine, but fine's not really gonna cut it.
Nashville Predators
Spite: 🔪🔪🔪
The Presidents' Trophy let all the air out of Nashville's spite tires. Luckily, their second-round exit pumped 'em up again. Have the Preds learned their lesson now? Never win the President's Trophy. It is a cursed object. Protect your arena with a ring of salt.
Love: ❤️❤️
Austin Watson is suspended for 27 games for domestic assault, so, you know. Kind of hard to make a dumb joke about this locker room! Save me, P.K. Subban.
"Good" at "hockey": 🏒🏒🏒🏒🏒
The Predators and the San Jose Sharks are stocking a battle royale for the Norris Trophy. The Preds are stacked in the back, fairly stacked in the front, and Pekka Rinne is not dead yet.
St Louis Blues
Spite: 🔪🔪🔪🔪
The Blues needed a single point in their final game to make the playoffs. They could beat the Avs in regulation. They could beat the Avs in a shootout. They could lose to the Avs in a shootout. Then the Colorado Avalanche won in regulation and the Blues were shoved out the back door and into an early summer. Vladimir Tarasenko is too inherently kind to wish ill upon his fellow man, but fuck you Nate MacKinnon, am I right?
Love: ❤️❤️❤️
The Blues were a series of feel-good Christmas commercials this offseason. "I won't let you down," Ryan O'Reilly swears as he scrambles onto a lifeboat to escape the Sabres. Patrick Maroon hometown-discounted in order to hang with his kid, and David Perron was a lost dog on a big adventure in Vegas but he made his way back home! St. Louis didn't just stockpile new players, they stockpiled goodwill.
"Good" at "hockey": 🏒🏒🏒🏒
The Blues must be pissed that moves by the Knights and the Sharks dwarfed their offseason upgrades. Yeah, St. Louis didn't land Erik Karlsson or Max Pacioretty, but check out their forward lines! Look ma, no holes!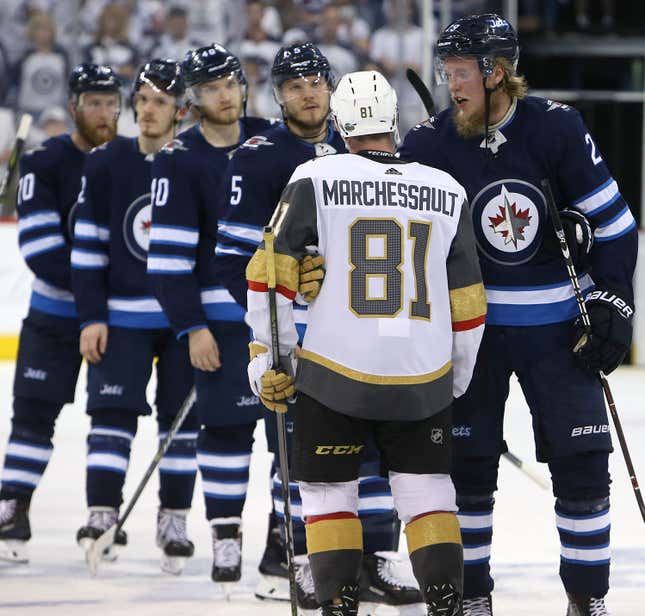 Winnipeg Jets

Spite: 🔪🔪🔪
Winnipeg won just one playoff game against the Golden Knights, which I suppose is more than we can say about any Western Conference team not named the Sharks. After making it to the conference final, the Jets are huddled together talking grimly about accountability. What a solid way to stoke that spite reserve—now can all the pundits shut up about their window to win? You'll startle Patrik Laine!
Love: ❤️❤️❤️❤️
Rental center Paul Stastny broke up with the Jets over the summer and ran away to Las Vegas. "Come back, baby," Winnipeg cried, offloading salary by the bucket, but Stastny still trotted away to sandier, wealthier pastures. It's okay, the Jets still have each other. A soupçon of rejection will only strengthen their bond.
"Good" at "hockey": 🏒🏒🏒🏒🏒
Stastny is the unattainable hot guy in a teen movie, and the Jets are about to realize that their nerdy best friend had what they were looking for all along. This team still ticks all the boxes.
Pacific division
Anaheim Ducks
Spite: 🔪🔪🔪
The spite of the Ducks is reflexive at this point. They were swept by the San Jose Sharks in the first round this past spring but there is zero chance they can convert their defeat into a targeted revenge narrative. The Sharks will eat them, and laugh about it.
Love: ❤️❤️
The Ducks embody the secret loneliness of the mean jocks who keep stealing the Arizona Coyotes' lunch money. The Ducks are unified when they're slashing at kneecaps but when one of them needs a ride to the airport, everybody else suddenly has plans.
"Good" at "hockey": 🏒🏒🏒
This battered tank is starting to drop body parts along the freeway. Has anyone seen Ryan Kesler's hip? Anaheim is still in the mix, but for how long?
Arizona Coyotes
Spite: 🔪🔪🔪
Spite grows from many seeds, but all those seeds need to be watered by thwarted hopes. Without thwarted hopes, spite withers into fatalism. The Arizona Coyotes, historically, have been this-is-fine.jpg. Luckily the Yotes have an ex-Hab searching for redemption on their roster: Alex Galchenyuk's existence raises their score by a full mark.
Love: ❤️❤️❤️❤️
The Coyotes had a stellar second half and now they have acquired Galchenyuk from the pits of hell. He is so delirious with joy at being set free that he is ready to buy everybody on his team a bunless burger and an iPad. Excitement is infectious. The Yotes aren't used to being the pretty girl!
"Good" at "hockey": 🏒🏒
This pit of despair landed itself some shiplap siding and a chandelier, but their kitchen's still a mess.
Calgary Flames
Spite: 🔪🔪
Jaunty youths are constantly on the cusp. Their report cards always talk about how much potential they have, if only they would put forth more effort in class. Raise your hand, Sean Monahan! Lots of thwarted hopes here, but this is a young team that seems to lack a sense of urgency. Death comes for us all, Calgary.
Love: ❤️❤️❤️
The Flames are hoping a romantic preseason trip to China will nurture intimacy after an offseason overhaul. This is a high-risk, high-reward first date. Will the Flames fall madly in love, or will they squabble over the breakfast buffet? Did you lose your keycard again, Johnny Gaudreau?
"Good" at "hockey": 🏒🏒🏒
You ever play Hot and Cold with a first-grader? That's what the Calgary Flames are doing. Warmer, warmer, colder. .. oh no, colder, colder, go the other way, Brad! Close, but maybe not quite.
Edmonton Oilers
Spite: 🔪🔪🔪🔪
A meteoric rise, a catastrophic fall. This organization has whiplash, a generational player and a whole lot of questions. The Oilers have Connor McDavid and still missed the playoffs? Luckily McDavid comes from the Sidney Crosby school of unflagging Canadian penitence. He's been wearing a hair shirt all summer to atone for his sins.
Love: ❤️❤️❤️
Connor McDavid is a nervous chihuahua whose therapy labrador Patrick Maroon just signed in St. Louis. The Oilers need to find him a soothing winger, stat. On the other hand, due to fame and weather the Oilers spend a lot of time indoors, like cosseted only children with severe allergies. This fosters intimacy.
"Good" at "hockey": 🏒🏒
You can just handle everything by yourself, right, Connor? Can you sub in as goalie? How about concessions, we want to make some budget cuts. Take one for the team!
Los Angeles Kings
Spite: 🔪🔪🔪🔪
The Kings were swept by the Golden Knights in the first round, which is like getting owned by your little brother at Horse in front of the whole neighborhood. Sure, he then went on to trounce all your friends except for the big Russian kid down the block, but your pride still took a hit. The Kings want to steal all of Vegas's Halloween candy and blame it on San Jose.
Love: ❤️❤️❤️
The Kings are sailing through their long marriage with the ease of comfortable familiarity, although passion has withered on the vine. On the bright side, all the kids are old enough to drink now, so family dinners are more fun.
"Good" at "hockey": 🏒🏒
The Kings are old, man. Even their hottest new player Ilya Kovalchuk is old. Dude played for the Atlanta Thrashers. Dude played against the Mighty Ducks of Anaheim. Luckily the Kings are Rich People Old, so they can still play golf and walk unassisted.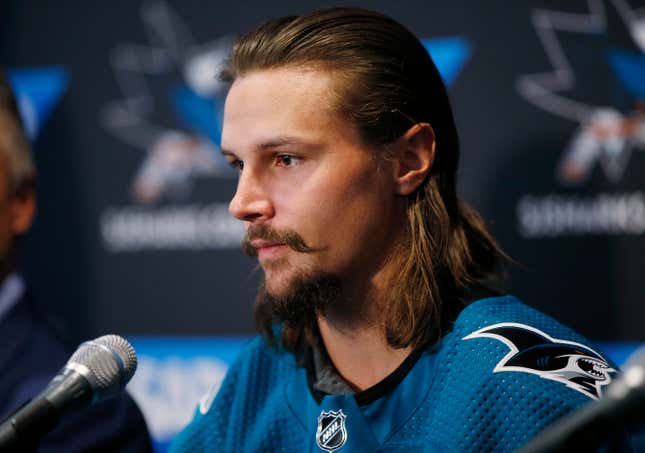 San Jose Sharks

Spite: 🔪🔪
Always the bridesmaid, never the bride, the San Jose Sharks ought to be more spiteful than they are. To reach the next level, these California babes need to spend less time living in the moment and more time dwelling on the past. Too much yoga, bud.
Love: ❤️❤️❤️❤️
Under the gentle guidance of Jumbo Joe Thornton, the San Jose Sharks have collected a goofy, whimsical assortment of hirsute bros. Erik Karlsson is an ideal add to this menagerie. He's not gonna mind pet-sitting 12 snakes, four parrots, and Brent Burns's beard.
"Good" at "hockey": 🏒🏒🏒🏒🏒
Y'all ready for 30 straight Shark Weeks? San Jose won the Erik Karlsson Sweepstakes and the Pacific is about to be a bloodbath.
Vancouver Canucks
Spite: 🔪
Oh, this is a disaster, but the poor sweet beleaguered boys of the Canucks aren't taking it personally. These labradors got a new therapy dog, Jay Beagle, and they're going on a hike! At least they're not the Sens.
Love: ❤️❤️❤️❤️
The fay fathers of the Vancouver Canucks have retired to beneath the elvenhill and it's time for Brock Boeser to sit upon the mossy throne. We'll all miss the Sedins, but it's way easier to get tipsy on dwafmead and whisper secrets without your dads around.
"Good" at "hockey": 🏒
Nope.
Vegas Golden Knights
Spite: 🔪🔪🔪
In their infancy this motley crew of jilted underdogs trafficked almost exclusively in spite. Vegas not only saved tweets from their haters, they displayed them nightly on the jumbotron. That level of jaunty vengeance is unsustainable long-term, but thanks to the contested suspension of Nate Schmidt, the vigor of a liberated Max Pacioretty, and the general consensus that the Knights will have a severe sophomore slump, the Knights maintain an edge.
Love: ❤️❤️❤️❤️
After a freewheeling honeymoon trip to the Stanley Cup Final, it's time for the Knights to see how their relationship pans out when they're no longer on vacation. It's been a lot of fun, but what happens when they have to do their own dishes?
"Good" at "hockey": 🏒🏒🏒
Last season the Knights were plucky college freshmen with day-planners and a dream. Are these teens about to chuck their flashcards in the trash and go chill behind the 7-Eleven? If a sophomore slump approaches, they could fall.
---
Hockey predictions are about as flimsy as a Forever 21 T-shirt, so preventative congrats to our surprise overlords, the Carolina Hurricanes, or whatever. Can't wait for that Canes-Yotes final. Life is chaos! May you too get the chance to see your hoard of petty grudges dissolve in a vat of victory vodka.

---
Kelly Harris is an internationally recognized expert on hockey, love, and spite. She explores these topics and more on You Can't Do That, a hockey podcast. She is on Twitter.