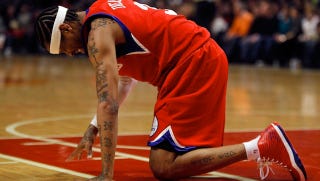 Milton Nunez, the president of Pueblo Nuevo, a team in the Dominican Republic, said yesterday that Allen Iverson would play for his team. Gary Moore, Iverson's manager, denied that to the Associated Press:
Moore says Iverson is "shocked" by Nunez's announcement.

Moore says Iverson is still working out, "waiting for another opportunity."
Just in case any of the NBA's 30 teams hadn't noticed for the last, oh, two years or so.
Photo via Getty
Allen Iverson won't join Dominican Republic team [AP]