It takes a special kind of person to come into a verbal confrontation with White Sox manager Ozzie Guillen and come out looking like the more unreasonable one ... but if anyone can do it, it's Andy Van Slyke.
The Tigers first base coach — and former Pirate and Cardinal; he was one of our favorite players when we were a kid — was on Sporting News Radio yesterday and was asked about Guillen's handling of pitcher Jon Garland and their bitch session in the dugout the other day. Van Slyke's view was a curious one.
"[Guillen's] a guy who wears his emotions on his sleeve,'' Van Slyke said. "He is, if you want to call it, an atypical [sic] Latin baseball player. I don't believe that it's true for all Latinos, but a lot of people's perception is that Latinos are hotheaded. He has certainly shown that he gets a little upset and a little excited about the littlest, silliest things. ... Do I like what he does sometimes? No. Would I like it if he showed me up like that in the dugout? No. I probably would have punched him."
As far as culturally insensitive comments go, we wouldn't quite put this one in the Roger Clemens, "hey, where are all the Asians who usually do my laundry?" camp, but it's not far from it. We particularly appreciated Guillen's response:
"That's why he's coaching first base and I'm managing in the big leagues. I'm going to manage in the big leagues longer than he's going to coach first base.'' Guillen then said, "First-base coach,'' before laughing and adding, "Just make sure you pick the right helmet at the right time.''
G/O Media may get a commission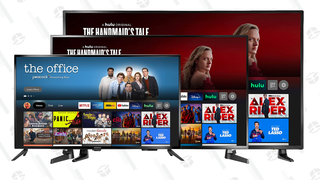 Up to 44% off
Prime Early Access - Insignia Fire TVs
Heck, he even resisted calling Van Slyke a fag. Aw ... Ozzie's growing. It's so cute.
Tigers Coach Latest To Take On Ozzie [Chicago Sun-Times]
Roger Clemens' Multinational Laundry [Deadspin]
(UPDATE: A reader sends in this Van Slyke quote, from a Sports Illustrated story from 1992:

Hillary Clinton, for one, really bakes his cookies. "My wife has done more for this country than Hillary Clinton ever did," says Van Slyke. "It is great security for a child to come home from school and know that his mother will be there. Good mothers are underrated, just like good defense.")