Whenever you have, coming into today's games, six teams within six points of the league leaders, nearly every week will bring a matchup that seems like the Game of the Season. But while many of those earlier competitions ended up being cagey affairs with both sides playing to avoid defeat, today's Manchester City vs. Liverpool match really felt like two teams at peak form fighting for the right to be called the best in the league.
This was probably the best game outside of the Champions League knockout rounds we've seen in a long time. Liverpool was enjoying it's place at the top of the league for the first time this year after a fairly surprising first half of the season. The start has been fueled by Luis Suarez's leap from great player to unreal one. Scoring 19 goals before Christmas to tie the highest total ever in the Premier League in that span tends to do that for a club.
So the unstoppable force that is Suarez and Liverpool was to meet the immovable object that is Manchester City at home. As we noted earlier this season, City at home are a completely different side than they are away. Coming into the game, though, they had won four of their last five, three of those five being two wins and a draw away from the Etihad. The team was starting to look more like the consistent title favorites many expected them to be from the start.
From the outset, the magnitude of this game was palpable. The immense quality of passing and movement on the pitch meant that the game was very open the entire time. Philippe Coutinho was bisecting Joleon Lescott and Vincent Kompany—who both spent most of the game on either hip of Suarez—with inch-perfect through balls to Liverpool's striker at one end, while at the other the equally incisive passing of Manchester City's midfielders was doing the same.
G/O Media may get a commission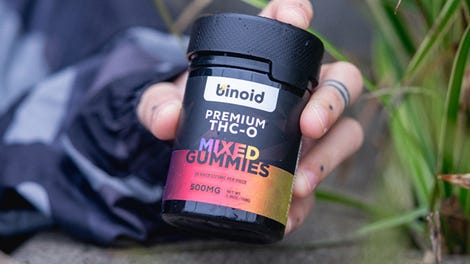 25% Off + Free Shipping
Binoid THC-O Gummies
Manchester City are really growing into their new counter attacking identity this year. It seems sort of curious to call a team that fields the creatively-minded talents of David Silva, Samir Nasri, and Yaya Toure counterattacking but it's the truth. The technical proficiency and passing accuracy of those midfielders mean that at any moment a fast break is only a pass away.
Most of City's best chances came from these sorts of counters, and in fact Negredo's game winner involved all City's major attacking threats. Immediately after dispossessing Liverpool just before the half, Silva slid a pass to Toure, who one-touched one up to Nasri to initiate the break. Nasri spotted the streaking run of Navas and drove a perfectly weighted ball between a couple Liverpool players and right into the run of the Spaniard. As soon as Nasri played his pass, Negredo started sprinting forward, trying to create a passing option for what became a two on two with the defense. Navas took but one touch before splitting what remained of the disjointed Liverpool back line with another perfect through ball that found on-rushing Negredo.
Now would be a good time to recognize the greatness of Alvaro Negredo's left foot. While he may be a fairly one-footed player, we now know that this one foot has two equally deadly sides—inside and out. The outside of his left foot first made a name for itself in City's last EPL game against Fulham. The absolutely pounded pass that hooked around the Fulham defense and found James Milner clear on the other side of the pitch for the game-sealing goal put the soccer world on notice that his outer foot was a force to be reckoned with.
While at least one similar outside-foot pass created a chance in this game, it was the unorthodox decision to shoot with it to culminate the movement in the video above that confounded Liverpool's goalkeeper Simon Mignolet for the winner. Mignolet must have been expecting a more traditional shot across his body and not an outside bender because he totally misjudged the trajectory and merely deflected what was a very savable shot.
If the second half was a bit of a let down from the first, it's only because of the quality of the first 45 would have made anything else seem almost boring. Liverpool continued to threaten Manchester City and probably should have leveled the game when a Suarez cross found an open Raheem Sterling whose volley went straight over the goal. Manchester City's decision to mark Suarez with at least two players the entire game limited the opportunities of Liverpool's most dangerous player, though on his incredible form he still had a couple opportunities to influence the game. It was his looping pass behind the defense that opened up room for Sterling and finally Philippe Coutinho to send home the opening goal, and his deft touch again to a Coutinho shot was part of the game's most beautiful move, full of one touch passes at pace between him, the Brazilian, and Sterling.
Manchester City will definitely feel overjoyed with this result. After Arsenal finally lost the top spot they've held for the vast majority of the season, it felt like top-dog status was open again. City, with their unreal +32 goal differential, could definitely claim to have played the best during the season, shaky away form or not. After this win, they will feel like the league title is theirs to lose should they continue performing as everyone expects.
Liverpool, though, may feel a little hard done by not to salvage a point. They were by no means outclassed here—the shots and possession statistics were nearly identical—and if, say, their injured forward Daniel Sturridge had been on the end of that Suarez cross instead of Sterling, I bet they'd feel like they would have left the lion's den of the Etihad with a hard-earned point.
But with this performance and their showing in the league as a whole this season, no one should doubt their status as genuine title contenders. They have the best player in the league, who may also have finally became the third amigo in the Messi-Ronaldo greatness discussion. In Coutinho, Sterling, and Jordan Henderson, they also have three extremely promising young talents who already play with a confidence and ability that belies their relative inexperience.
So while Man City today may have staked the best claim so far for recognition as title favorites, Liverpool and a handful of other contenders will not feel so far behind as to be discouraged. This season just may well be even closer than the last time Man City were crowned champions.