It's been quite a while since Amar'e Stoudemire was a great or even good NBA player, and so I was a bit surprised at how genuinely bummed I was to learn that he is retiring today at age 33.

Despite never having been a fan of any team Stoudemire ever played for, he occupies a huge chunk of my NBA memory bank. All of Stoudemire's iconic dunks are in there, as are all those incredible playoff games against the Spurs, most of which Stoudemire and Steve Nash spent operating as the deadliest pick-and-roll combo to ever walk the earth. The Seven Seconds or Less Suns were always at their most appealing when Stoudemire was receiving a perfect pocket pass from Nash, and then rising up to spike one on some schmuck's head.
Even after knee injuries sapped Stoudemire of all the explosiveness that had made him such a terror, he was still a good time. I'll never forget his buzzer-beater-that-wasn't against the Celtics in 2010, simply because I still get a huge kick out of Stoudemire's jubilant reaction right after his meaningless shot went in. I'll remember his charming reaction to losing his car to Hurricane Sandy, the time he punked Shane Battier, and that day he bathed in red wine.
And I will remain upset that Stoudemire never got the chance to play with LeBron James. As you surely recall, the Cavs spent the last two years of LeBron's first reign in Cleveland desperately trying to get their franchise player some reinforcements. In 2009, the Cavs made inquiries about trading for Stoudemire, but eventually settled for Shaquille O'Neal. Then in 2010, it looked like the Suns were all set to finally send Stoudemire to Cleveland, but the Cavs nixed the trade because they didn't want to surrender J.J. Fucking Hickson in the deal. Instead, they went out and traded for Antawn Jamison, who sucks big time, and got their asses beat by the Celtics in the Eastern Conference Finals.
God, can you imagine how much fun it would have been to watch LeBron James and Amar'e Stoudemire run the pick-and-roll together? As someone who spent multiple seasons of NBA 2K10 destroying the rest of the league with a LeBron-Amar'e combo in Cleveland, I can tell you that it would have been a lot of goddamn fun. We'll have to settle for the good times provided by Stoudemire's actual career, which are plenty.
G/O Media may get a commission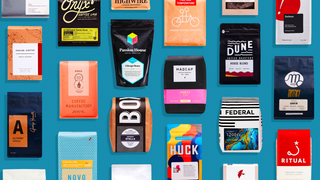 Get $25 free
Trade Coffee - National Coffee Day