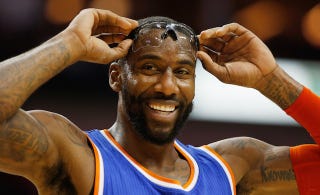 The Knicks and Amar'e Stoudemire have finally parted ways, bringing an end to what was supposed to be an era of fortune and glory. Amar'e may not have ever lived up to his contract from a production standpoint, but he was a great Knick, as further evidenced by how he said goodbye to the city.
The caption attached to this photograph reads:
Poem by: Amar'e Stoudemire

NY NY what a beautiful city

A place where you can hang out with Anna, JayZ & Diddy

Its a place absent of excuses and patience

If your smart, you can meet leaders of every nation

NY NY big city of dreams

Everything in NY isnt always what it seems

In the land where the jungle is concrete

The money flows Dow Jones and Wall Street

Home of #STATcity and the #KnickstapeOrginator,

Shalom to all my fans, Salute to all my haters.

Peace and Love

Amar'e Carsares Stoudemire Sr.
And so goes the last likable thing about the 2015 Knicks.