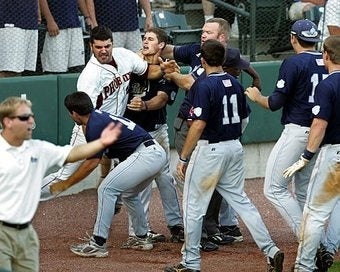 A ninth-inning play at the plate lead to a ninth-inning brawl between Elon and the Citadel. And not one of those lame "let's come out of the dugout and look concerned" fake brawls you see in the pros.
The fight happened after a hard slide during the Southern Conference tournament yesterday. It might have ended with just some harsh words between catcher and runner, if Elon's third baseman Scott Riddle—who is also the starting quarterback on the football team—hadn't charged into the fray to mix it up. Then chaos reigned and police had to help break up the donnybrook. Riddle and another Elon player were suspended three games.
(You can see most of the brawl here, though the video may be acting a little wonky.)
Meanwhile, Citadel's coach came out of the scrum with what appeared to be an arm injury, but his team rallied to win in the 10th and advance. Old men are fair game in the SoCon! Although, it's nice to see kids legitimately try to bruise each other too. People tend to get more feisty when they don't have a professional contract to worry about.
Bulldogs Fight Back [Post and Courier]
Elon's Riddle, Kernodle suspended for role in fight at tournament [Burlington Times News]
Citadel Elon Brawl [ABC News 4 Video]
[Photo by Wade Spees, Post and Courier]