When Jigar Desai got a text from his friend Brian Halloran after the NFC title game Sunday, he said it wasn't him in the already-viral video.
"Did you run into a post near the subway?" Halloran texted him. "No really... there is a vid online."
"Not me," Desai replied. "Would have been possible but not me." Desai says he wasn't ashamed. The video hadn't loaded, and he didn't think his pregame crash into a pole at the Ellsworth-Federal station on the Broad Street Line was much of a thing.
Then the video loaded. "Oh shit," he replied. "That's me."
Less than a day later, Desai is an internet celebrity. The videos of him crashing into a pillar have been viewed millions of times. Desai has had Eagles season tickets in Section 134 since the new stadium opened; he said he never expected to become part of a viral news story about the team.
G/O Media may get a commission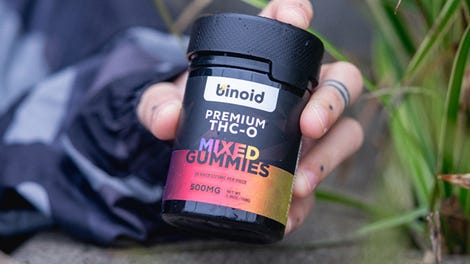 25% Off + Free Shipping
Binoid THC-O Gummies
He's been interviewed by the AP. Last night he was on the FOX 29 news, along with the people who filmed one of the viral videos. (Never accuse the Philadelphia local news of doing an important story half-assed.)

Desai is one of the few people on earth who have been hit in the head by a train and can talk about it, so I gave him a call this morning. This interview has been lightly edited and condensed.
So how are you feeling this morning?
Emotionally, I feel great. The Eagles are going to the Super Bowl. Physically, I have a little bit of soreness but the good news is it's just in the shoulder, arm, chest area and I feel better this morning than I did yesterday. Hopefully that will continue.
Have you gone to a doctor?
I don't think it's anything serious. I'm going to see how it feels. I may just get it checked out. But I feel great. It feels like I just worked out or something.
So what exactly happened at the subway station?
I think there are a couple of misconceptions. One, this all happened before the game and not after. Two, I was not trying to hop on that train or jump for it.
I was pregaming at my brother's place. He lives in South Philly. We watched the Pats-Jaguars game, then headed down to the Linc. And a train was leaving the Linc and going into Center City; we were waiting for a train coming on the platform across from it. And I just saw Eagles fans, and it got me all excited.
At the end of it, when I was running toward the train I just wanted to give a final "Go Birds!" to the folks that were there. And that's when the pole made a great tackle.
It's amazing how many people have seen this thing that there are "misconceptions" about it.
I didn't know about this until after the game. I was at the subway station when I got my first text about it, and they're like, "Dude, is this you?" And I'm like, "It's probably not, I don't know what you're talking about." I finally got it open and I was like, "Oh yeah. That is me."
And it already had so many hits. My friends started flooding me with text messages, and I realized this might be bigger than I thought.
I actually met the guys who took the video from inside the subway. They were tailgating at the game and had lost their tickets, actually. And when they saw me, they felt like they were seeing Dawk. They got excited. They got pumped up. They said I put them in a good mood in an otherwise crappy situation.
Watching the video again, does it look scarier than it seemed at the time?
I feel very fortunate and very lucky that nothing worse had happened. It's a little bit of a blur for me. Yeah, I hit the pole, I was on the ground and I got right up. But after seeing that second video where I actually hit the subway train it made me rethink a lot of things. I am very lucky.
How did you become an Eagles fan?
I was a 10-pound baby born in India. I moved to the states at a very young age, about a year and a half. And I grew up to be an Eagles fan. It doesn't make any sense, right?
My parents were in Chicago for a couple years. We lived in Harrisburg for a year. But, for the most part, from third grade on I grew up in Lancaster County. I grew up watching Randall Cunningham. And that's where the fandom started. I lived in Pittsburgh for 11 years. I lived in Jersey City for another 11 years—I wore my Eagles cap into New York City every single day. Now, I'm proud to say, I'm at home in the Philly suburbs.