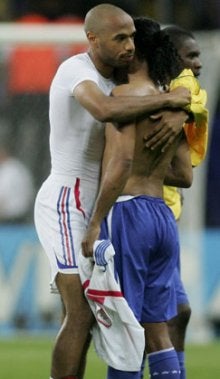 Bad news for Arsenal fans ... in fact, bad news for all Premiership fans. Thierry Henry is taking his nifty feet and moving to Barcelona. With the move, Arsenal now seems like just another team while Barcelona inspires thoughts of, "Holy Christ, look at that line-up."
Ronaldinho, Lionel Messi, Deco, Samuel Eto'o ... and Thierry Henry. I know who I'm playing with on FIFA 2008. It's not just that they're all good, but they all play so ... pretty. For the sake of my own television viewing ability, is there any way we can get them into the Premiership?
In other soccer action this weekend, the United States men's national team takes on Mexico tomorrow. On the line are the 2007 Gold Cup, an invitation to the 2009 Confederations Cup, and, I believe, Texas. It's an intense rivalry, the US vs. Mexico ... we sort of don't like them, and they hate us like we raped their sister.
For a seriously in-depth preview, visit That's On Point. They like our chances.
Au revoire, TH14 [That's On Point]
Goodbye Thierry, now let's move on. [Arseblog]
Tri, Tri again [That's On Point]