There's nothing quite like hockey players to make you feel old. Even if you're a hockey player yourself.
"He was joking his mom is the same age is me and I almost punched him," 43-year-old Teemu Selanne said of his 20-year-old goalie John Gibson. "One of us is in the wrong place, and it's not him."
Except Selanne's in the exact right place—not retired yet—and he has a pair of teammates whose ages don't quite add up to his to thank for the Ducks being a game away from the conference final. 21-year-old Devante Smith-Pelly's two goals last night gave him the team postseason lead, and Gibson stopped 39 shots, as the Ducks topped the Kings to take their third straight and a 3-2 series lead.
Smith-Pelly, an April call-up who scored the OT series clincher against Dallas, finds himself on Anaheim's top line alongside Ryan Getzlaf and Corey Perry. It's treating him well, with three goals in his last two games, and five in his last six. He says he's just letting his linemates "play their game...if I tried to play like them, I probably wouldn't do too well." His own game's not half-bad. His second last night, the Ducks' third, was set up by Getzlaf intercepting a pass. But that just left Smith-Pelly in alone on Jonathan Quick, no simple matter. Smith-Pelly made it look easy.
G/O Media may get a commission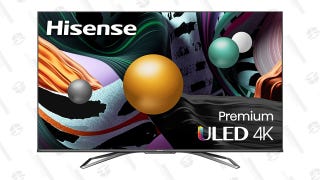 Save $350
Hisense ULED 65" Android 4K HDR Smart TV
The Ducks would take a 4-1 lead, which led to competing chants of "Beat L.A." and "We Want Wings" (Ducks fans get free buffalo wings when the team scores five) but it wouldn't have held up without the efforts of 20-year-old John Gibson, who, like Smith-Pelly, spent most of the season in the AHL. ("Norfolk's not happy," Bruce Boudreau joked as the Admirals are down 3-1 in their own playoff series.)
Gibson's a great story. A big, raw project who unexpectedly slipped to the second round of the 2011 draft, he's refined his game in the past season or two and emerged as one of the U.S.'s surprise stars in international play. He was solid in the AHL this year—not great—but his very first NHL game, in April, was a shutout. His first playoff start, on Saturday, was also a shutout. Last night may have been even more impressive, facing a barrage of shots that only intensified as the Ducks sat back on their lead. The fenwick chart (via Extra Skater) looks like it belongs to two separate games. The Kings outshot Anaheim 14-2 in the third (this after outshooting the Ducks 19-3 over the final two frames on Saturday) and Gibson once again hung on.
His best sequence came midway through the second, making four saves in five seconds:
This is the bizarro series that didn't really start until the home team won a game. Well, now we're there, and the Kings need to find a way to beat Gibson twice. The psychological warfare has already begun:
"He's the best goalie I've ever seen," Kings Coach Darryl Sutter said sarcastically, sending a message for Game 6. "A lot of pressure on him, though."
But that's the thing about kids like Gibson and Smith-Pelly. Sometimes, they're too dumb to know they should be nervous. The Ducks are counting on it.