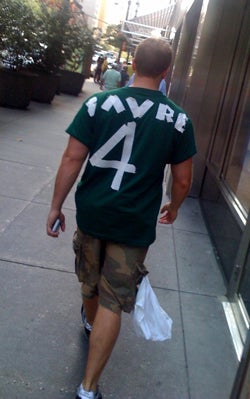 Remember this photo of an overexcited Jets fan prancing around Manhattan on a balmy August afternoon with his homemade Favre jersey soon after the news broke that Brett!Brett!Brett! was coming to town?
Fast forward to present day, where the New York Jets are doing everything possible to erase the memories of the broken down quarterback who cost them the AFC East title this year. This is the latest email NY Jets fans received just a few minutes ago from Jetsshop.com:
Celebrate the historic career of Brett Favre.
All Brett Favre jerseys, caps, collectibles and more now 50% Off!
Yeah. I guess that makes it official. For now. That is until Favre receives the inevitable phone call from Brad Childress which will rattle the Ol' Gunslinger into rethinking his decision once again.
PHOTO: Andrew Goldberg